Summary

Barclays partners with Propel for offering quick access to asset finance its one million customers in the SME segment.
The bank officials would connect with Propel's online portal called propeller to offer a faster credit decision to its SME customers.
Over the last few years, Barclays has associated with Nimbla and MarketFinance to offer invoice insurance and invoice financing products to its business banking customers.
Driving ahead the strategic initiative of employing fintech tools to better service its customers, Barclays plc (LON: BARC) recently partnered with Propel, a specialist asset finance provider, to provide its one million small-and medium-size customers (SMEs) with quick access to asset finance. The lender's country wide network of 1,100 relationship managers would connect with Propel's online portal called propeller that is designed to offer a faster credit decision for up to £1,00,000 to the SME customers.
Prior to its association with Propel, over the last few years, Barclays had also formed other strategic partnerships in the fintech space. For instance, the UK lender had associated with Nimbla that offers invoice insurance and MarketFinance, thereby providing invoice financing products to thousands of its business banking customers.
With the latest partnership, Barclays would become the first High Street bank to collaborate with Propel and offer equipment and vehicle finance through an online platform to the SMEs. The SMEs would be benefited by being able to purchase equipment up to £2 million as funds would be released as soon as within 24 hours.
This partnership regarding critical aspects of asset financing made sense as it forms an important fund source for the SMEs. It is known that the SMEs require to invest in various equipment to support their operations, expansion, and growth. By using the funds, SMEs would quickly purchase necessary equipment without drawing from their cash reserves.
The cost could be distributed over several years, while the finance would remain secured against the asset rather than any business collateral. In 2019, Barclays provided more than £35.7 billion of finance to businesses for investing in new equipment.
It has been observed that during the coronavirus pandemic, there has been a strong investment in IT and manufacturing related equipment. Hannah Bernard, Head of Barclays Business Banking, mentioned that several small businesses are seeking to diversify and strengthen their businesses as they recover from the impact of the pandemic. Companies have been buying a new van to provide home deliveries and investing in improved cleaning equipment to cater to the changing requirements.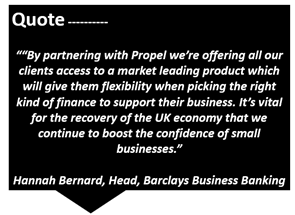 As per the Small Business Finance Markets 2019/2020 report from Barclays, there has been a 32 per cent rise in asset finance over the last few years. The lending institution felt that the demand would continue to grow. So far, the bank has lent in excess of £10 billion under the government's Coronavirus Business Interruption Loan Scheme (CBILS) and the Bounce Back Loan Scheme (BBLS) to more than 275,000 businesses across Britain. Noticing the strength of Barclays both in terms of relation managers and SME customers, Mark Catton, CEO of Propel, stated that the company believed that a combination of efficient customer service and robust technology would provide a real difference to the customers.
Recent financial update from Barclays
In end-July 2020, Barclays released its half year report for six months ended 30 June 2020. Due to a diversified business model, the British bank presented a resilient operating performance in H120. Regardless of the impacts of the coronavirus-led crisis, Barclays posted a Group profit before tax (PBT) of £1.3 billion in H120 (H119: £3.0 billion). The PBT excluding credit impairment charges rose by 27 per cent to £5.0 billion. The credit impairment charges rose to £3.7 billion (H119: £0.9 billion).
The bank said that during the period it focused on supporting its clients and the British economy to recover from the impacts of the coronavirus pandemic. Though the rest of the year 2020 seemed to be challenging, the bank's diversified business model suggested that it would remain financially resilient and keep supporting its customers.
On 29 September 2020, at 11.10 AM, the company's stock (LON: BARC) was trading at £97.59 down 0.42 per cent from its previous day's close of £98.00.
Rise in fintech usage
There has been a significant growth in the use of financial technology or popularly known as fintech during the coronavirus pandemic period. Over the past few years, financial institutions have been seeking ways to adopt different fintech tools to service its customers, acquire new customers and retain existing customers. It was during the lockdown period that customers across the banking divisions embraced and made use of several digital solutions to bank. A recent survey revealed that around 66 per cent of its customers used financial technology between March and July 2020. This usage was a rise of more than 50 per cent as compared to 2019.
Be it movement from the local IT infrastructure to cloud, or using big data and artificial intelligence, it is important that banks need to focus on scalable technologies to better service their customers, increase profitability, and remain competitive in the market. Be it day to day operations like onboarding, new account opening, credit checks, and communication between bank and customer – all need to become simpler, secure, and easy to use for various bank customers.
Key trends
The key trends in the fintech space for the banking industry would revolve mainly around using AI, data-driven tools, wealthtech, giving importance to execution, and shifting beyond user experience (UX).
Importance of execution: Fintech solution providers would be required to device ways to execute harder and more efficiently than their competitors. The market would need quick deployment of latest apps and digital products within shortest possible timeframe.
Banco Bilbao Vizcaya Argentaria, S.A. (BBVA) a multinational financial services company from Spain is known for combining traditional banking approach with technology to increase customer experience. In the past couple of years, BBVA hiked its investment in UK- based Atom bank with around 30 per cent stake. Over 50 per cent of its customers are accessing core banking services through digital modes. To execute and expedite digital transformation, BBVA focused on cultural adaptation and data-backed systems. The customers need quality and timely services.
Need to move beyond UX: The trend for 2020 and beyond calls the fintech firms to think beyond UX as the requisites now with the banks are about winning newer customers and retaining the existing ones.
Monzo BanK Limited, known as Britain's first 'digital only' bank provides traditional banking services on a mobile app. Monzo brought notifications regarding predictive overspending, saving pots, and auto budgeting options to its customers. The onboarding system allows the user to validate their identity by scanning ID documents on the app itself after creating an account.
Usage of AI: AI has been used for different functions ranging from virtual AI assistants and chatbots, risk management, prediction of consumer behaviour patterns, and internal process optimization, among others.
Innovations in wealthtech: with considerable transformation in wealth management domain, disruptive technologies would be required to redefine and discover ways to manage personal finances. The core wealth management services need to emerge faster and need better tools of engaging the customers. Today's customers looking to invest their money through digital channels need concrete tools to manage their day-to-day finances for making a timely and informed investment decision.
Conclusion
By partnering with Propel, Barclays has strengthened its strategy of servicing its customers by adopting another fintech technology to service its SME customers. Over the past few years, banks have been increasingly using data driven apps and investing in technology to drive growth. Right technology at the right time has helped financial institutions to remain competitive and the rise in usage of digital banking during the pandemic lockdown period has already proven it. With several experts agreeing that digital banking would grow further from here, banks need to focus on providing easy to use and secure technology for their customers.