UK Market News: The UK stock market was trading in the red on Thursday, with the blue-chip FTSE 100 index losing over half a percent. Fears among investors increased about the prospect of a more aggressive monetary policy by major central banks to address the rising inflation. The International Monetary Fund (IMF) has warned that the global economic outlook has "darkened significantly" as the Russia-Ukraine conflict has aggravated the cost-of-living crisis. Meanwhile, the Royal Institution of Chartered Surveyors' (RICS) has revealed that UK house prices rose at their slowest pace in more than a year last month due to a drop in demand.
Playtech Plc (LON: PTEC): The shares of the gambling software development company fell by 19.5%, with a day's low of GBX 408.80. Hong Kong-based investment and advisory firm TTB Partners has announced that it does not intend to make a takeover offer for the company, citing market conditions.
Sabre Insurance Group Plc (LON: SBRE): The shares of the private motor insurance provider fell by around 38.5%, with a day's low of GBX 116.40. It came after the company issued a profit warning due to elevated claims inflation.
Barratt Developments Plc (LON: BDEV): The shares of Britain's largest homebuilder fell by around 1.4%, with a day's low of GBX 445.50. The company reported fewer home completions than expected for FY2022, despite a profit forecast slightly above estimates.
US Markets: The US market is likely to get a negative start, as indicated by the futures indices. S&P 500 future was down by 61.17 points or 1.63% at 3,737.49, while the Dow Jones 30 futures was down by 1.61% or 494.81 points at 30,277.98. The technology-heavy index Nasdaq Composite future was down by 1.63% at 11,529.73 (At the time of writing – 9:37 AM ET).
US Market News:
Shares of the American multinational investment bank and financial services provider JP Morgan Chase (JPM) slumped by 2.9% in the premarket trading session after falling 12 cents shy of estimates with a quarterly profit of US$2.76 per share. The investment bank also announced it was temporarily suspending its share buybacks.
Shares of the multinational investment management and financial services company Morgan Stanley (MS) fell by 2.6% in the premarket trading session. The company reported quarterly earnings of US$1.39 per share, 14 cents shy of consensus estimates.
European Indices Performance (at the time of writing):
FTSE 100 Index One Year Performance (as on 14 July 2022)
(Source: Refinitiv)
Top 3 Volume Stocks in FTSE 100*: Lloyds Banking Group plc (LLOY), Barclays Plc (BARC), Glencore plc (GLEN).
Top 3 Sectors traded in green*: Industrials (0.36%).
Top 3 Sectors traded in red*: Basic Material (-2.47%), Energy (-2.42%), Financials (-1.58%)
London Stock Exchange: Stocks Performance (at the time of writing)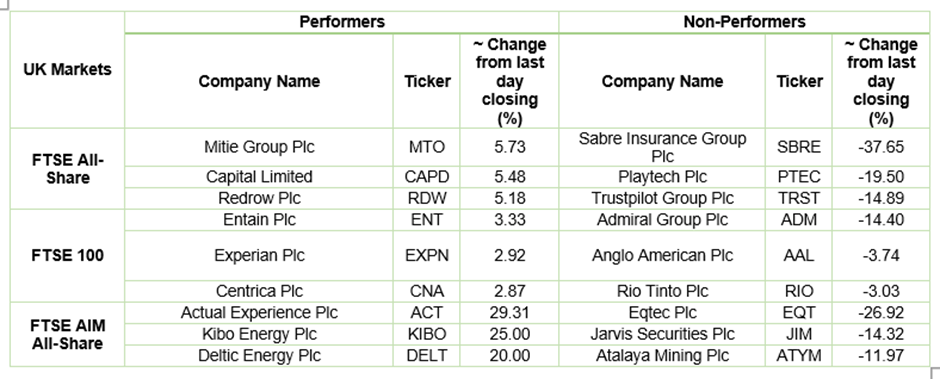 Crude Oil Future Prices*: Brent future crude oil (future) price and WTI crude oil (future) price were hovering at $97.24/barrel and $93.50/barrel, respectively.
Gold Price*: Gold price was quoting at US$ 1,709.90 per ounce, down by 1.48% against the prior day closing.
Currency Rates*: GBP to USD: 1.1825; EUR to USD: 1.0013.
Bond Yields*: US 10-Year Treasury yield: 2.959%; UK 10-Year Government Bond yield: 2.1105%.
*At the time of writing