Source: Copyright © 2021 Kalkine Media Pty Ltd.
US Markets: Broader indices in the United States traded in red - particularly, the S&P 500 index traded 18.07 points or 0.43 per cent lower at 4,167.40, Dow Jones Industrial Average Index dipped by 154.54 points or 0.45 per cent lower at 34,046.13, and the technology benchmark index Nasdaq Composite traded lower at 13,937.16, down by 115.19 points or 0.82 per cent against the previous day close (at the time of writing - 11:30 AM ET).
US Market News: The major indices of Wall Street traded in a red zone as the rising number of coronavirus cases had dented the market sentiment. Among the gaining stocks, Harley-Davidson shares went up by approximately 11.59% after reporting 10% growth in the first-quarter revenue. Coca-Cola shares rose by about 0.89% after the Company had reported quarterly results better than the expectations. Among the gaining stocks, Peloton Interactive shares went down by about 8.19% after the US regulator warned people to stop using the Company's treadmill. Tesla shares dropped by around 4.55% after the death of two people in the Company's electric vehicle over the weekend.
US Stocks Performance*

UK Market News: The London markets traded in a red zone after strengthening of sterling against the US dollar and identification of a new virus variant by Public Health England. FTSE 100 traded lower by around 0.28% after touching record levels in the previous trading session.
British Retailer Marks and Spencer Group shares grew by about 3.48% after the Company updated regarding capacity augmentation by building a new automated online warehouse in its existing distribution centre in Bradford, northern England.
FTSE 100 listed Johnson Matthey had announced a new strategic partnership related to sustainable battery materials production and secured critical raw materials supply. Moreover, the shares went up by around 0.57%.
Melrose Industries shares dropped by about 5.45% after it had agreed to sell Nortek Air Management business to Madison Industries for total cash consideration of 2.62 billion pounds. It had dropped the most on the FTSE 100 index.
Warehouse specialist LondonMetric Property had updated that it had collected around 98% of the rent for the March 2021 quarter. Moreover, the payment remained consistent across all sectors with 99% in distribution and 95% in retail parks. Furthermore, the shares went up by about 0.36%.
European Indices Performance (at the time of writing):

FTSE 100 Index One Year Performance (as on 19 April 2021)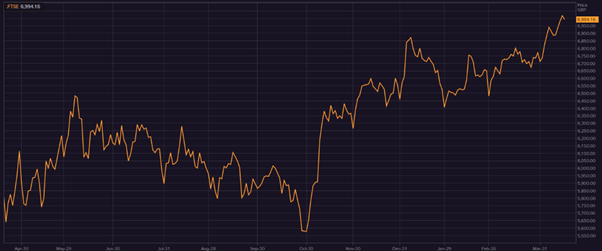 1 Year FTSE 100 Chart (Source: Refinitiv, Thomson Reuters)
Top 3 Volume Stocks in FTSE 100*: Lloyds Banking Group Plc (LLOY); Barclays Plc (BARC); Vodafone Group Plc (VOD).
Top 3 Sectors traded in green*: Utilities (+0.35%), Real Estate (+0.28%) and Technology (+0.15%).
Top 3 Sectors traded in red*: Energy (-1.11%), Basic Materials (-0.72%) and Consumer Cyclicals (-0.67%).
London Stock Exchange: Stocks Performance (at the time of writing)
Crude Oil Future Prices*: Brent future crude oil (future) price and WTI crude oil (future) price were hovering at $67.10/barrel and $63.47/barrel, respectively.
Gold Price*: Gold price was quoting at US$1,770.35 per ounce, down by 0.55% against the prior day closing.
Currency Rates*: GBP to USD: 1.3988; EUR to GBP: 0.8604.
Bond Yields*: US 10-Year Treasury yield: 1.5976%; UK 10-Year Government Bond yield: 0.7560%.
*At the time of writing