US Markets: Broader indices in the United States traded in red - particularly, the S&P 500 index traded 27.98 points or 0.62 per cent lower at 4,452.72, Dow Jones Industrial Average Index dipped by 197.57 points or 0.57 per cent lower at 34,616.82, and the technology benchmark index Nasdaq Composite traded lower at 15,076.70, down by 84.90 points or 0.56 per cent against the previous day close (at the time of writing – 11:35 AM ET).
US Market News: The major indices of Wall Street traded in a red zone despite a surprise jump in US retail sales numbers. Moreover, U.S. retail sales went up by about 0.7% in August 2021. Among the declining stocks, Fisker (FSR) shares went down by around 7.23% after the electric vehicle company got downgraded by Bank of America from "Buy" to "Neutral". Beyond Meat (BYND) shares plunged by around 4.95% after Piper Sandler downgraded the Company to "underweight". Wynn Resorts (WYNN) shares fell by around 3.37% after the authorities put tighter regulations on Macao's gaming industry. Cabot Oil & Gas (COG) shares dropped by around 2.70% after a pullback in natural gas futures.
UK Market News: The London markets traded in a green zone boosted by the travel stocks, which helped to neutralize yesterday's dismal performance.
Ashtead Group shares surged by about 5.84% after the Company had reported a robust increase in first-quarter revenue and operating profit. Moreover, the Company had expected full-year results to remain ahead of expectations.
Superdry shares climbed by around 11.81% after the Company had expected a substantial recovery in revenue for FY22. However, the Company had reported a year-on-year decline of around 21.1% in total revenue during FY21.
Games Workshop Group had stated of pressure on freight costs and currency exchange rates. Moreover, the trading performance for the three months ended in August 2021 remained in line with the expectations. Meanwhile, the shares grew by around 0.78%.
THG shares dropped by around 3.03% after it had decided that THG Beauty would get separated and listed on a public share-trading exchange in 2022.
European Indices Performance (at the time of writing):

FTSE 100 Index One Year Performance (as on 16 September 2021)
1 Year FTSE 100 Chart (Source: Refinitiv)
Top 3 Volume Stocks in FTSE 100*: Lloyds Banking Group PLC (LLOY); BP PLC (BP.); Rolls Royce Holdings PLC (RR.).
Top 3 Sectors traded in green*: Industrials (+2.17%), Consumer Cyclicals (+1.82%), Utilities (1.06%).
Top 3 Sectors traded in red*: Basic Materials (-2.30%), Energy (-0.71%), Consumer Non -Cyclicals (0.02%).
London Stock Exchange: Stocks Performance (at the time of writing)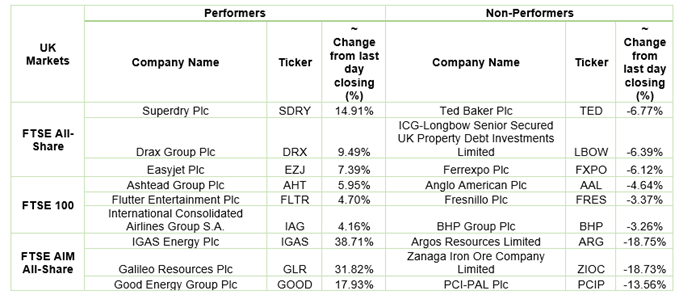 Crude Oil Future Prices*: Brent future crude oil (future) price and WTI crude oil (future) price were hovering at $75.79/barrel and $72.75/barrel, respectively.
Gold Price*: Gold price was quoting at US$ 1,756.05 per ounce, down by 2.16% against the prior day closing.
Currency Rates*: GBP to USD: 1.3787; EUR to USD: 1.1755.
Bond Yields*: US 10-Year Treasury yield: 1.331%; UK 10-Year Government Bond yield: 0.8115%.
*At the time of writing