UK Market: The UK market was trading in the green on Friday as the Office of National Statistics (ONS) reported that the UK's Gross Domestic Product (GDP) grew by 0.2% in the quarter to June. The number surpassed the previous forecasts of a 0.1% decline. The pound sterling improved a little against the US dollar early on Friday but later reversed the gains following a meeting of the Office for Budget Responsibility (OBR) with prime minister Liz Truss and Chancellor Kwasi Kwarteng.
Barclays PLC (LON: BARC): Shares of the leading British banking and financial services provider slipped over 1% after it agreed to pay a $361 million fine to US regulators over a blunder that caused it to oversell structured products worth US$17.7 billion.
JD Sports Fashion PLC (LON: JD.): Shares of the sports apparel retailer fell over 1% after it announced a partnership with sportswear apparel maker Nike for a loyalty programme.
HSBC Holdings Plc (LON: HSBA): Shares of the lender were up by 0.50% after reports of an informal investor briefing for a potential IPO of the bank's Indonesian business. The information has been attributed to sources in the reports.
US Markets: The US market is likely to get a negative start, as indicated by the futures indices. S&P 500 future was down by 78.57 points or 2.11% at 3,640.47, while the Dow Jones 30 future was down by 1.54% or 458.13 points at 29,225.61. The technology-heavy index Nasdaq Composite future was also down by 2.84% or 314.13 points, at 10,737.51. (At the time of writing – 8:51 am ET).
US Market News:
Shares of the sports apparel Nike (NKE) maker fell 10% in the premarket trading session after it reported a 44% rise in inventories for the latest quarter. The company it'll offer more discounts during the upcoming holiday session.
Shares of chipmaker Micron Technology (MU) jumped 1.5% in the premarket trading session after it surpassed expectations in its latest quarterly numbers. The firm has slashed its revenue outlook, citing the waning demand for consumer electronics.
European Indices Performance (at the time of writing):
FTSE 100 Index One Year Performance (as on 30 September)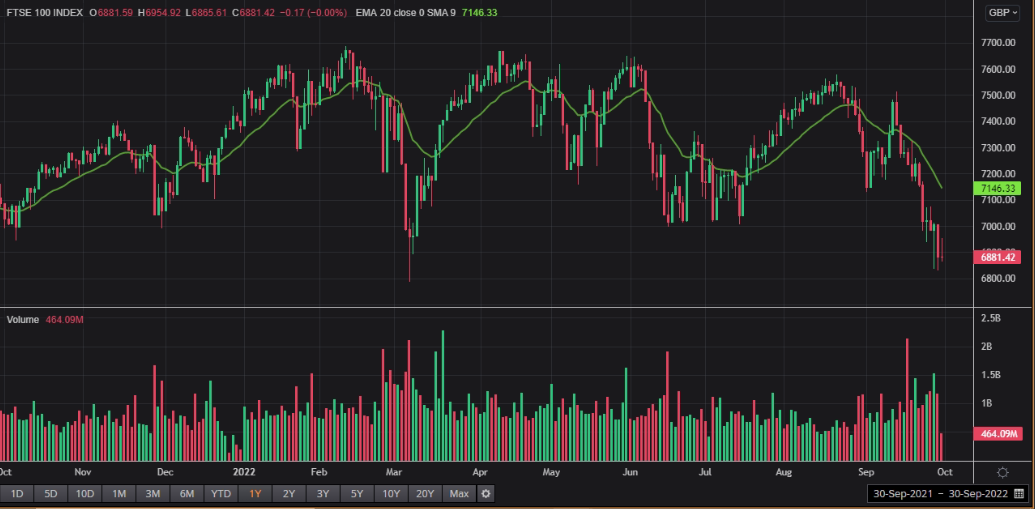 (Source: Refinitiv)
Top 3 Volume Stocks in FTSE 100*: Lloyds Banking Group plc (LLOY), Barclays Plc (BARC), Melrose Industries Plc (MRO)
Top 3 sectors traded in green*: Real Estate (2.77%), Consumer Cyclicals (0.88%), Financials (0.68%)
Top 3 sectors traded in red*: Basic Materials (-1.24%), Industrials (-0.73%), Consumer Non-Cyclicals (-0.64%)
London Stock Exchange: Stocks Performance (at the time of writing):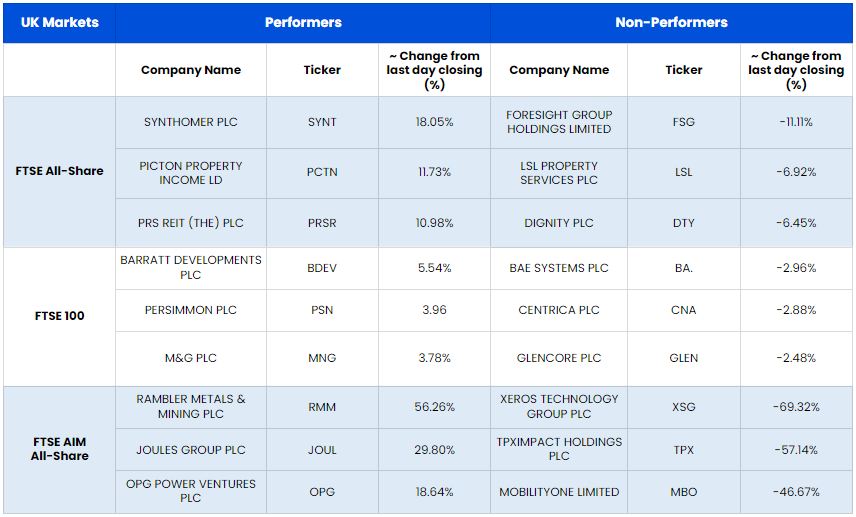 Crude Oil Future Prices*: Brent future crude oil (future) price and WTI crude oil (future) price were hovering at $86.72/barrel and $80.88/barrel, respectively.
Gold Price*: Gold price was quoting at US$1,672.05 per ounce, up 0.21% against the prior day's closing.
Currency Rates*: GBP to USD: 1.1035; EUR to USD: 0.9759.
Bond Yields*: US 10-Year Treasury yield: 3.694%; UK 10-Year Government Bond yield: 4.083%.
*At the time of writing