UK Market: The UK stock market made a strong bounce back on Friday, supported by defensive stock despite mounting fears around the hawkish central bank stance and rising concern over the recession. The blue-chip FTSE 100 index gained over 1.5% tailing the gains in other European and Asian markets. Meanwhile, the Office for National Statistics (ONS) reported a 0.5% drop in retail sales volumes in May, with April's 1.4% growth revised to 0.4%. Also, separate data showed consumer confidence in the UK fell to -41 in June from -40 in May, a new low for the second consecutive month.
Ultra Electronics Holdings Plc (LON: ULE): The share of British defence and security company Ultra Electronics Holdings rose by around 12.5%, with a day's high of GBX 3,462.00. The government launched a consultation on steps to address the national security concerns raised by the proposed acquisition of the company by Cobham Ultra Acquisitions Limited.
Lamprell Plc (LON: LAM): The shares of oil and gas company Lamprell Plc were down by around 81%, with a day's low of GBX 4.03. The company is facing a severe liquidity constraint which are deterring potential customers. It has considered the takeover cash offer from Blofeld Investment Management as it seeks to meet funding requirements of US$75 million over the next two months.
Barclays Plc (LON: BARC): The share of the multinational universal bank, Barclays Plc rose by around 2%, with a day's high of GBX 157.98. The bank has acquired Kensington Mortgage Company Limited, owned by Sixth Street and Blackstone Inc. for around £2.3 billion to expand its reach in the housing market in Britain.
US Markets: The US market is likely to get a positive start, as indicated by futures indices. S&P 500 future was up by 45.01 points or 1.19% at 3,844.49, while the Dow Jones 30 futures was up by 1.07% or 327.37 points at 31,004.73. The technology-heavy index Nasdaq Composite future was up by 1.46% at 11,882.05 (At the time of writing – 9:37 AM ET).
US Market News:
The share of the automobile retailer CarMax (KMX) jumped by 1.1% in the premarket trading session after it beat estimates by 7 cents with quarterly earnings of US$1.56 per share. Its revenue also beat estimates amid what the company called a challenging used vehicle market.
The share of the transportation company FedEx (FDX) jumped by 3.4% in the premarket trading session after it reported quarterly adjusted earnings of US$6.87 per share, 1 cent above estimates. The company also issued upbeat guidance for fiscal 2023.
European Indices Performance (at the time of writing):
FTSE 100 Index One Year Performance (as on 24 June 2022)
(Source: Refinitiv)
Top 3 Volume Stocks in FTSE 100*: Lloyds Banking Group plc (LLOY), Rolls-Royce Holdings Plc (RR.), Barclays Plc (BARC).
Top 3 Sectors traded in green*: Healthcare (2.58%), Industrials (2.38%) and Real Estate (2.03%).
Top 3 Sectors traded in red*: Basic Materials (-0.41%).
London Stock Exchange: Stocks Performance (at the time of writing)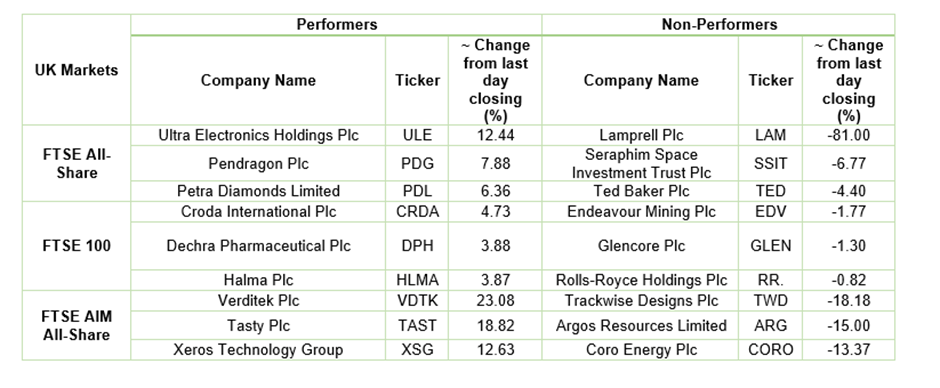 Crude Oil Future Prices*: Brent future crude oil (future) price and WTI crude oil (future) price were hovering at $111.44/barrel and $105.70/barrel, respectively.
Gold Price*: Gold price was hovering at around US$ 1,827.35 per ounce, down by 0.13% against the prior day's closing.
Currency Rates*: GBP to USD: 1.2304; EUR to USD: 1.0542.
Bond Yields*: US 10-Year Treasury yield: 3.106%; UK 10-Year Government Bond yield: 2.3520%.
*At the time of writing