UK Market News: The UK market gave up some last session gains on Tuesday, with the blue-chip FTSE 100 index falling by 0.12 per cent. The British pound fell to its lowest level in nearly three weeks after Boris Johnson survived a "no confidence" vote by 211 votes to 148 votes against his leadership, and investor fears over how high-interest rates might go fuelled caution. According to the British Retail Consortium data, UK retail sales in May dropped by 1.5% compared to a year ago as the cost-of-living crisis hampered demand.
Ted Baker Plc (LON: TED): The share of the high street clothing retail company Ted Baker Plc, plunged nearly 20%, with a day's low of GBX 103.40. The fashion chain said its preferred buyer decided not to buy the company after it was given full access to the company's accounts.
National Express Group Plc (LON: NEX): The share of the multinational public transport company National Express Group Plc plunged nearly 9.5%, with a day's low of GBX 241.20. The company said it expects 2022 revenue to be around £2.7 billion, close to pre-pandemic levels, but expects profitability to lag revenue recovery resulting in margins below the target of the 2022-2027 average.
JD Sports Fashion Plc (LON: JD.): The share of the sports-fashion retail company JD Sports Fashion Plc slumped by 4.85%, with a day's low of GBX 115.45. The competition and Market Authority (CMA) said JD fashion and Elite would face fines for fixing prices on ranger's replica kits and short-sleeve shirts.
US Markets: The US market is likely to get a negative start, as suggested by the future indices. S&P 500 future was down by 26.33 points or 0.67% at 4,094.40, while the Dow Jones 30 futures was down by 0.68% or 223.91 points at 32,691.87. The technology-heavy index Nasdaq Composite future was down by 0.76% at 12,504.17 (At the time of writing – 9:45 AM ET).
US Market News:
The share of the big-box department store chain, Target (TGT) slumped by 7.9% in the premarket trading session after it announced a series of moves to right-size its inventory levels, including additional markdowns and cancelling orders. The big-box store company cut its operating margin forecast for the current quarter from 5.3% to 2%.
The share of the food product manufacturer J.M. Smucker (SJM) slid by 3.5% in the premarket trading session despite reporting better-than-expected quarterly results. The company said the supply chain crisis, inflation and other factors continue to impact its results and increase uncertainty.
European Indices Performance (at the time of writing):

FTSE 100 Index One Year Performance (as on 7 June 2022)
(Source: Refinitiv)
Top 3 Volume Stocks in FTSE 100*: Lloyds Banking Group plc (LLOY), Glencore plc (GLEN), International Consolidated Airline Group S.A.
Top 3 Sectors traded in green*: Healthcare (1.38%), Energy (0.97%) and Basic Materials (0.43%)
Top 3 Sectors traded in red*: Consumer Cyclicals (-1.58%), Financials (-1.32%) and Technology (-1.01%).
London Stock Exchange: Stocks Performance (at the time of writing)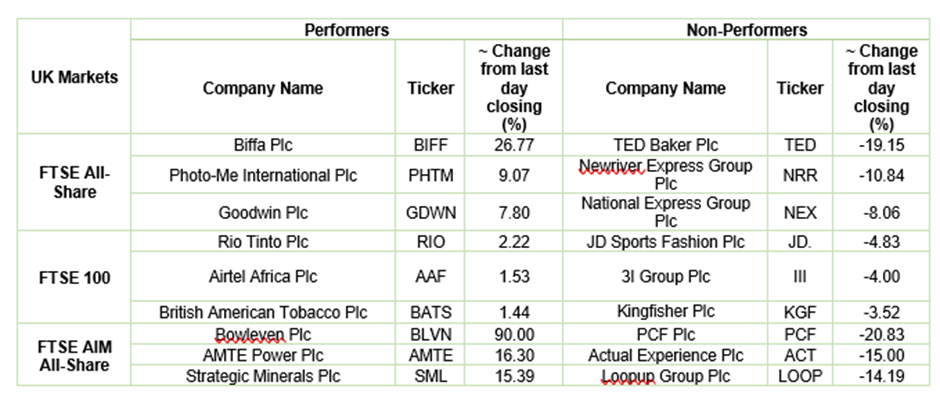 Crude Oil Future Prices*: Brent future crude oil (future) price and WTI crude oil (future) price were hovering at $119.06/barrel and $117.91/barrel, respectively.
Gold Price*: Gold price hovered at US$ 1,851.95 per ounce, up by 0.45% against the prior day's closing.
Currency Rates*: GBP to USD: 1.2492; EUR to USD: 1.0672.
Bond Yields*: US 10-Year Treasury yield: 2.988%; UK 10-Year Government Bond yield: 2.2425%.
*At the time of writing