US Markets: Broader indices in the United States traded on a mixed note - particularly, the S&P 500 index traded 3.75 points or 0.09 per cent higher at 4,190.47, Dow Jones Industrial Average Index dipped by 112.22 points or 0.33 per cent lower at 33,872.71, and the technology benchmark index Nasdaq Composite traded lower at 14,078.50, down by 11.72 points or 0.08 per cent against the previous day close (at the time of writing - 11:30 AM ET).
US Market News: The major indices of Wall Street traded on a mixed note after a mixed bag of earnings from big technology firms. Among the gaining stocks, Alphabet Class A shares climbed by about 4.46% after the Company had beaten quarterly revenue estimates and further announced USD 50 billion share buyback. Advanced Micro Devices shares went up by around 0.20% after the Company had reported first-quarter results better than the expectations. Among the declining stocks, Pinterest shares plunged by about 12.18% after the social media company had expected a "flat" user growth in the US market during its second quarter. Boeing shares went down by about 3.32% after the Company had posted another quarterly loss.
US Stocks Performance*

UK Market News: The London markets traded in a green zone after some of the heavyweight companies had posted their corporate earnings and trading updates. FTSE 100 advanced higher by around 0.27%, driven by the strong performance of Lloyds Banking Group and WPP ahead of the Federal monetary policy announcement.
Lloyds Banking Group shares rose by about 3.16% after the Company had reported first-quarter profits better than the expectations after releasing 459 million pounds set aside for the potential Covid-19 related bad loans.
Tobacco Company British American Tobacco had mentioned in AGM statement that it would achieve the target of 5 billion pounds of new category revenue by 2025. However, the shares went down by around 0.89%.
Advertising giant WPP shares surged by about 4.35% after the Company had posted organic sales growth of around 3.1% on a comparable basis during the first quarter. The Company remained the best performer on the FTSE 100 index.
Homebuilder Persimmon had shown significant improvements of 23% year-on-year in the year-to-date forward sales position to 3.0 billion pounds. Moreover, the shares went up by about 0.60%.
European Indices Performance (at the time of writing):
FTSE 100 Index One Year Performance (as on 28 April 2021)
1 Year FTSE 100 Chart (Source: Refinitiv, Thomson Reuters)
Top 3 Volume Stocks in FTSE 100*: Lloyds Banking Group Plc (LLOY); Barclays Plc (BARC); BP Plc (BP.).
Top 3 Sectors traded in green*: Energy (+1.72%), Financials (+0.89%) and Consumer Cyclicals (+0.59%).
Top 3 Sectors traded in red*: Real Estate (-0.30%), Technology (-0.22%) and Industrials (-0.18%).
London Stock Exchange: Stocks Performance (at the time of writing)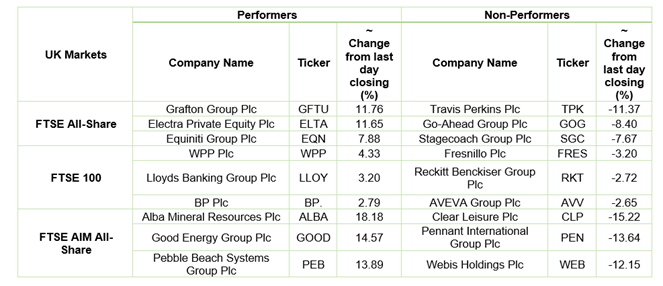 Crude Oil Future Prices*: Brent future crude oil (future) price and WTI crude oil (future) price were hovering at $66.77/barrel and $63.89/barrel, respectively.
Gold Price*: Gold price was quoting at US$1,774.40 per ounce, down by 0.25% against the prior day closing.
Currency Rates*: GBP to USD: 1.3916; EUR to GBP: 0.8696.
Bond Yields*: US 10-Year Treasury yield: 1.645%; UK 10-Year Government Bond yield: 0.7980%.
*At the time of writing