US Markets: Broader indices in the United States traded on a mixed note - particularly, the S&P 500 index traded 0.24 points or 0.01 per cent higher at 4,280.94, Dow Jones Industrial Average Index dipped by 175.94 points or 0.51 per cent lower at 34,257.90, and the technology benchmark index Nasdaq Composite traded higher at 14,464.30, up by 103.90 points or 0.72 per cent against the previous day close (at the time of writing - 11:55 AM ET).
US Market News: The major indices of Wall Street traded on a mixed note, but tech-related stocks edged up. Among the gaining stocks, Intellia Therapeutics (NTLA) shares surged by about 38.06% after it had announced positive results for the phase 1 study for a disease called transthyretin amyloidosis. Perion Network (PERI) shares climbed by about 18.76% after the Company reported upbeat second-quarter results and subsequently raised the full-year guidance. NRG Energy (NRG) shares went up by about 5.20% after the stock was added to the "conviction Buy" list of Goldman Sachs. Among the declining stocks, Biogen (BIIB) shares went down by around 3.13% after the lawmakers enquired against the process that approved Alzheimer's treatment.
UK Market News: The London markets traded in a red zone dragged down by heavyweight financials and consumer discretionary stocks. Moreover, Britain Prime Minister Boris Johnson confirmed that Britain would be on track to lift remaining Covid-19 related restrictions on 19 July 2021. According to the leading researcher, the UK shopper numbers had dropped by around 0.2% for the week ended 26 June 2021 as compared to the prior week.
Luxury Fashion Brand Burberry Group shares plunged by about 8.40% after the Company's CEO had decided to step down at the end of the year.
FTSE 100 listed Natwest Group stated that it had sold most of the Irish business to Allied Irish Banks. Moreover, the shares went down by approximately 1.54%.
Carnival shares dropped by around 2.03% after the Company posted a quarterly loss of around negative USD 2.10 billion.
Greggs shares went up by around 2.57% after the Company reported a stronger than expected recovery in sales since 10 May 2021. Moreover, the Company will release interim results on 03 August 2021.
European Indices Performance (at the time of writing):
FTSE 100 Index One Year Performance (as on 28 June 2021)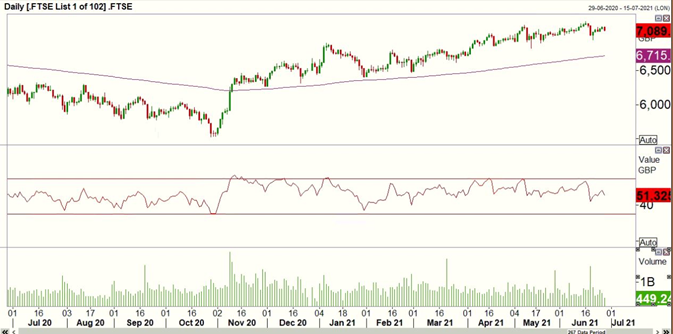 1 Year FTSE 100 Chart (Source: Refinitiv)
Top 3 Volume Stocks in FTSE 100*: Vodafone Group Plc (VOD); Lloyds Banking Group Plc (LLOY); Rolls-Royce Holdings Plc. (RR.).
Top 3 Sectors traded in green*: Healthcare (+1.24%), Consumer Non-Cyclicals (+0.39%) and Utilities (+0.34%).
Top 3 Sectors traded in red*: Energy (-2.59%), Consumer Cyclicals (-1.32%) and Real Estate (-1.28%).
London Stock Exchange: Stocks Performance (at the time of writing)
Crude Oil Future Prices*: Brent future crude oil (future) price and WTI crude oil (future) price were hovering at $74.21/barrel and $72.99/barrel, respectively.
Gold Price*: Gold price was quoting at US$ 1,779.05 per ounce, up by 0.07% against the prior day closing.
Currency Rates*: GBP to USD: 1.3879; EUR to GBP: 0.8591.
Bond Yields*: US 10-Year Treasury yield: 1.477%; UK 10-Year Government Bond yield: 0.7310%.
*At the time of writing