US Markets: Broader indices in the United States traded in green - particularly, the S&P 500 index traded 17.82 points or 0.40 per cent higher at 4,420.50, Dow Jones Industrial Average Index surged by 208.18 points or 0.60 per cent higher at 35,000.85, and the technology benchmark index Nasdaq Composite traded higher at 14,876.90, up by 96.40 points or 0.65 per cent against the previous day close (at the time of writing – 12:10 PM ET).
US Market News: The major indices of Wall Street traded in a green zone boosted by encouraging jobless claims data. Among the gaining stocks, Penn National Gaming (PENN) shares surged by about 9.66% after the Company had decided to acquire digital media and sports betting company Score Media in a lucrative deal. Regeneron (REGN) shares grew by about 2.89% after beating top-line and bottom-line estimates by a wide margin. Among the declining stocks, Cigna (CI) shares went down by around 11.29% after the Company had highlighted an adverse impact of the higher medical costs. Moderna (MRNA) shares dropped by about 2.04%, even after the Company's revenue and earnings remained more than the consensus estimates.
UK Market News: The London markets traded on a mixed note after the Bank of England decided to keep interest rates unchanged at 0.10%. Moreover, the UK construction sector growth fell short of expectations during July 2021 as the adjusted IHS Markit/CIPS UK Construction Purchasing Managers' Index (PMI) came out to be 58.7 for July 2021.
FTSE 100 listed Rolls-Royce Holdings shares surged by about 5.87% after the Company had swung into interim profits boosted by efficient cost management. Furthermore, the Company had expected to deliver positive cash flow during the second half of the year.
Lloyds Banking Group shares went down by around 1.48% after Goldman Sachs had downgraded the Company to "Sell".
FTSE 250 listed Frasers Group had reported a decline in full-year top-line revenue and bottom-line profitability. Furthermore, the shares dropped by around 0.39%.
Centamin shares fell by around 3.29% after the Company had reported a significant drop of around 39% in the first-half pre-tax profits.
European Indices Performance (at the time of writing):
FTSE 100 Index One Year Performance (as on 5 August 2021)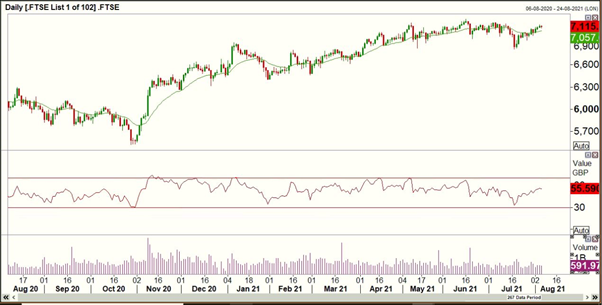 1 Year FTSE 100 Chart (Source: Refinitiv)
Top 3 Volume Stocks in FTSE 100*: Lloyds Banking Group Plc (LLOY); Vodafone Group Plc (VOD); Rolls-Royce Holdings Plc (RR.).
Top 3 Sectors traded in green*: Real Estate (+2.02%), Energy (+0.98%) and Consumer Cyclicals (+0.90%).
Top 3 Sectors traded in red*: Basic Materials (-2.95%), Consumer Non-Cyclicals (-0.33%) and Utilities (-0.01%).
London Stock Exchange: Stocks Performance (at the time of writing)
Crude Oil Future Prices*: Brent future crude oil (future) price and WTI crude oil (future) price were hovering at $71.30/barrel and $69.05/barrel, respectively.
Gold Price*: Gold price was quoting at US$ 1,806.90 per ounce, down by 0.42% against the prior day closing.
Currency Rates*: GBP to USD: 1.3936; EUR to GBP: 0.8496.
Bond Yields*: US 10-Year Treasury yield: 1.217%; UK 10-Year Government Bond yield: 0.5230%.
*At the time of writing