US Markets: Broader indices in the United States traded in red - particularly, the S&P 500 index traded 41.20 points or 0.95 per cent lower at 4,317.00, Dow Jones Industrial Average Index declined by 271.52 points or 0.78 per cent lower at 34,410.27, and the technology benchmark index Nasdaq Composite traded lower at 14,508.10, down by 156.90 points or 1.07 per cent against the previous day close (at the time of writing – 11:45 AM ET).
US Market News: The major indices of Wall Street traded in a red zone after the release of initial jobless claims data. Among the gaining stocks, WD-40 Company (WDFC) shares went up by about 2.29% as the chemical company had raised the full-year forecast after reporting strong third-quarter results. Among the declining stocks, Coinbase Global (COIN) shares fell by around 2.53% after a significant drop in the Bitcoin price. Charles Schwab (SCHW) shares dropped by around 2.08% after Goldman Sachs had downgraded the stock from "Buy" to "Neutral". Alphabet (GOOGL) shares went down by around 0.89% after the group of states had announced an antitrust case focused on Google Play Store.
UK Market News: The London markets traded in a red zone as the latest federal reserve meeting minutes indicated that the central bank had discussed slowing down the stimulus.
FTSE 250 listed WH Smith shares went down by about 1.64%, although it had reported an accelerated recovery in sales as the Covid-19 restrictions eased down. Furthermore, the Company had lifted full-year guidance boosted by strong performance in North America.
Housebuilder Persimmon shares dropped by around 4.79%, although the Company stated that the housing boom had taken the sales past pre-pandemic levels. Moreover, it had accelerated the capital returns to shareholders.
Entain shares rose by around 0.72% after the Company lifted the full-year guidance driven by the strong performance from the gambling business division during the first half.
Food Group Deliveroo shares dropped by around 2.62%, even after the Company had raised full-year guidance after reporting strong business performance during the second quarter.
European Indices Performance (at the time of writing):

FTSE 100 Index One Year Performance (as on 08 July 2021)
1 Year FTSE 100 Chart (Source: REFINITIV)
Top 3 Volume Stocks in FTSE 100*: Lloyds Banking Group Plc (LLOY); Vodafone Group PLC (VOD); Rolls-Royce Holdings PLC (RR).
Top 3 Sectors traded in red*: Consumer Cyclicals (-2.91%), Financials (-2.44%), and Basic Materials (-2.24%).
London Stock Exchange: Stocks Performance (at the time of writing)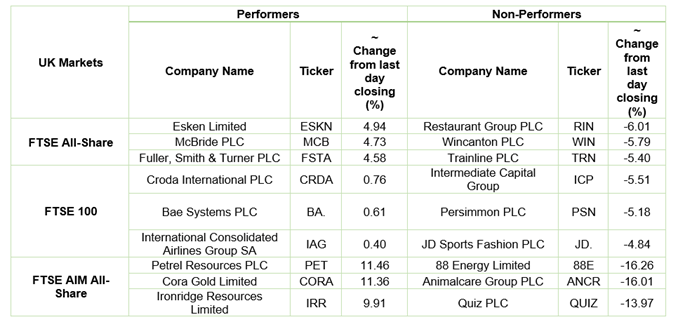 Crude Oil Future Prices*: Brent future crude oil (future) price and WTI crude oil (future) price were hovering at $74.02/barrel and $72.82/barrel, respectively.
Gold Price*: Gold price was quoting at US$ 1,798.75 per ounce, down by 0.19% against the prior day closing.
Currency Rates*: GBP to USD: 1.3769; EUR to GBP: 0.8598.
Bond Yields*: US 10-Year Treasury yield: 1.290%; UK 10-Year Government Bond yield: 0.6160%.
*At the time of writing