Several factors influenced the United Kingdom and European markets on Friday (22nd May 2020), and a few of them are listed below:
Britain extended its scheme for mortgage payment holidays for another three months. However, it is mindful to note that payment deferrals do not mean a default on payments. Therefore, the Financial Conduct Authority (FCA) clarified separately in a statement regarding the treatment of payment deferrals for accounting purposes.
Furthermore, Asia-focused lenders dragged FTSE 100 into negative territory after China proposed to impose national security laws on Hong Kong.
British consumer confidence tumbled in early May despite easing Coronavirus-imposed lockdown.
UK's borrowing reported a record hike in April to GBP 62.1 billion as the government is tackling the economic turbulence with enhanced spending.
The European Central Bank signalled another stimulus and policy easing in June.
The Bank of England indicated to phase out some emergency support for financial markets as banks are not facing difficulty in accessing cash any longer.
In light of the current market sentiments hovering around the above-stated factors, we are going to discuss two LSE listed stocks from the financial services industry – a Life Insurance stock, Prudential PLC (LON: PRU) and a Banking stock, HSBC Holdings PLC (LON: HSBA). As on 22nd May 2020, PRU and HSBA closed the week on a negative note as both stocks were hammered and plunged by 9.29 per cent and 4.99 per cent, respectively. Let us deep dive through the Company's position in terms of recent updates, financials, and trading conditions to foretell the plausible outlook scenario. We will quickly go through the financial and operational position of both the Companies to inference over their outlook scenario.
Prudential PLC (LON: PRU) – COVID-19 dragged Asian Sales Down but Profit was Up
Prudential PLC is a FTSE 100 financial services Company, which caters around 20 million customers with around 18,125 employees worldwide. The Company provides products ad services related to retail financial and asset management services. Its Asia-led business is focussed on structural growth markets and provides solutions related to life and health insurance along with retirement and asset management services.
(Source: Company Website)
Recent Major Developments of 2020
29th April 2020: The Group declared a dividend for second interim 2019 as 25.97 US cents per ordinary share on 11th March 2020 and thus, shareholders of UK and Hong registers received the payment on 23rd April 2020.
16th April 2020: The Group affirmed the approval of the prospectus for $10,000,000,000 Medium Term Note Programme by the Financial Conduct Authority.
19th March 2020: The Company entered a strategic partnership with TMB Bank Public Company Limited for bancassurance, with an initial term of 15 years.
Business Update for the 2020 AGM - Decent Financial Performance in Volatile and Uncertain Environment
On 14th May 2020, the Group announced their business update for the 2020 Annual General Meeting, with accelerated innovation to meet consumer needs, robust financial performance in a volatile and uncertain environment, and conservatively positioned balance sheet. Some additional highlights are stated below:
There are several services that will accelerate innovation to meet consumer needs: 'Pulse by Prudential' app downloaded on 4 million devices; 1.2 million policies sold through the digital ecosystem, majority of which were to new customers; products equivalent to around 2/3 of APE can now be sold virtually; recruitment, selection, training & where possible, licensing of agency force moved online.
Excluding Hong Kong and China, Asia APE sales were up by 1 per cent. The total Asia APE sales decreased by 24 per cent, reflecting the effects of Coronavirus on Hong Kong and China.
Asia in-force resilient with IFRS adjusted operating profit was up by 14 per cent.
The Group has robust LCSM (local capital summation method) capital position, with an estimated 31 March 2020 shareholder surplus of USD 11.1 billion and shareholder cover ratio of 302 per cent.
Whilst TAC (Total Adjusted Capital) & absolute level of surplus increased substantially during 1Q FY20, the required capital increase resulted in a reduction in the estimated RBC (risk-based capital) ratio.
Non-operating movements include: USD 2.2 billion benefits from the implementation of new Singapore RBC framework and USD (0.8) billion effect of bancassurance partnership with TMB.
Second interim dividend of USD (0.7) billion, which is to be paid in May'20.
Share Price Performance

(Source: Refinitiv, Thomson Reuters) - Daily Chart as of May 22nd, 2020, after the market closed
PRU's shares closed at GBX 1,011 on 22nd May 2020. Stock's 52 weeks High is GBX 1,532.79 and Low is GBX 682.80. Total outstanding market capitalization stood at around GBP 29.12 billion, with a dividend yield of 3.69 per cent.
Short Term Scenario
It stated that the overall market was broadly unchanged in the insurance sector. The Company is focusing on underwriting enhancement with robust cost control which could sustain the business of the Group amid the short-term disruption. Since the beginning of the current year, the economic growth worldwide has been slowing. Overall, decline in the new business profit in Q1 FY20 reflects lower volumes and interest rates.
HSBC Holdings PLC (LON: HSBA) – Global Business which Caters Over 40 Million Customers and Having USD 2.7 trillion in Total Assets as of FY2019
HSBC Holdings PLC is FTSE-100 listed bank, which provides services and solutions related to commercial banking, retail banking, global private banking, and global banking & markets. It provides various financial and banking services with operations in around 64 countries. It caters over 40 million customers with around 235,000 employees. It is headquartered in London but has operations in several geographical regions.

(Source: Presentation, Company Website)
Geographic Operations at a Glance
The Split of geographic revenue can be seen in the picture below, which reflects that 49 per cent of the total adjusted revenue came from Asia operations in FY2019.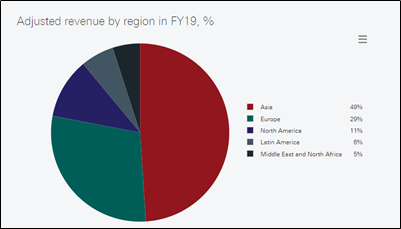 (Source: Presentation, Company Website)
Recent Developments
24th April 2020: The Group released an annual general statement and decided to cancel the dividend for the fourth quarter of FY2019.
23rd April 2020: Steven Guggenheimer was appointed as an independent non-executive Director, with effect from 1st May 2020.
26th March 2020: The Group priced an issue of 4.950 per cent Senior Unsecured Notes due 2030 of US$2,500,000,000, which was completed on 31st March 2020.
First Quarter of 2020 - Reflecting Good Volume Growth and Loans & Advances to Customers Increased
On 28th April 2020, the Group provided the first quarter results of 2020, with the profits impacted by Covid-19 and fall in oil prices; revenue impacted by volatile items, resilient underlying performance; controlled costs; elevated ECL (Expected credit losses and other credit impairment charges) charge; robust balance sheet. Additional points are stated below:
During the first quarter of 2020, the reported profit before tax was down by 48 per cent to $3.2 billion, and adjusted profit before tax decreased by 51 per cent to $3 billion as compared with the corresponding period of the last year.
The reported revenue reduced by 5 per cent or $0.7 billion to $13.7 billion against the same period last year (Q1 FY19: $14.4 billion), driven by adverse valuation adjustments in GB&M (Global Banking and Markets) and adverse market impacts in life insurance manufacturing
Net interest margin (NIM) for Q1 FY20 was 1.54 per cent, a decrease of 5 basis points (bps) from Q1 FY19 and 2 basis points (bps) from Q4 FY19.
Customer lending rose by 4 per cent against the Q4 FY19, mainly driven by surged term lending in GB&M and CMB.
Led by the impact of Covid-19 (including funds deposited following loan drawdowns), the customer accounts increased by $47 billion in Q1 FY20.
CET1 ratio of 14.6 per cent; robust liquidity and funding position with LCR (Liquidity coverage ratio) of 156 per cent and LDR (Loan-to-deposit ratio) of 72.2 per cent.
Share Price Performance
(Source: Refinitiv, Thomson Reuters) - Daily Chart as of May 22nd, 2020, after the market closed
HSBA's shares closed at GBX 379 on 22nd May 2020. Stock's 52 weeks High is GBX 674.80 and Low is GBX 373.05. Total outstanding market capitalization stood at around GBP 81.35 billion.
Outlook
In 2020, the outlook for world economies has substantially worsened, mainly in the past two months. In RWA, the company expects mid to high single-digit percentage growth in the year 2020. The group enhanced support for customers through digital channels and also showed a good volume growth. The Group has strong growth in both lending and customer accounts. The Group enhanced support for customers through digital channels and also showed a good volume growth.