Highlights

Reabold's West Newton Project, located onshore UK, has significant potential for natural gas production.
Reabold's recently released, eight-well development plan sees production as early 2025.
Reabold Resources PLC (LON:RBD) is continuing its strategic moves in the upstream oil and gas sector as a key industry player. The company has a long list of world-class assets, with many in the development and appraisal phase with potential for quick monetisation, either through the sale of the assets or bringing them into production.
The West Newton Project is one such asset in Reabold's portfolio, located onshore, which is considered to be one of the biggest onshore discoveries in the UK's oil and gas sector in the last five decades.
Reabold holds a total economic interest of 56.3% in PEDL 183, which contains West Newton. This 56.3% interest comprises Reabold's majority stake of 59.5% in Rathlin Energy, the project operator, which owns 66.7% of PEDL 183, and a further direct interest of 16.7% in PEDL 183.
To know more about Reabold, click here.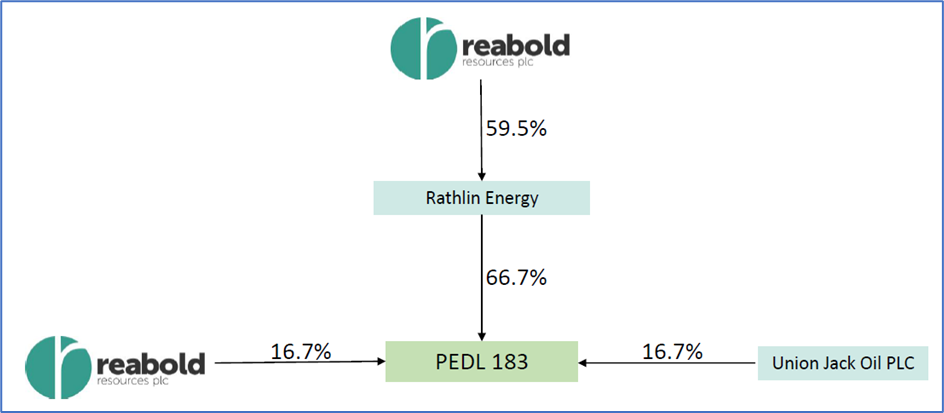 Image source: RBD update
Operational highlights on West Newton confirm the presence of a large resource
Data from drilling operations at West Newton has confirmed the presence of a considerable amount of oil and gas. The recovery per well and the well productivity are key factors underpinning the robust economics of the overall development.
The data gathered from previous drilling activities and well testing has been analysed by consultant, RPS Energy, and RPS Energy has modelled that an optimised horizontal well has the potential for an initial average production rate, over the first month's production, of 35.6mmscf/d gas (5.9mboe/d). Delivering this production profile would provide compelling economics for the project, and more so given the current price scenario.
The data gathered from the analysis of core samples under reservoir conditions is being used to refine future drilling and completion operations, most likely the West Newton B-2 well.
Image source: RBD update
Reabold's recent update on the West Newton development concept includes a plan for an eight-well program to achieve a plateau production of ~44Mcfd. The project model assumes a total gas production of 203 Bcf.