Highlights

The much-awaited Ropsten test network successfully merged its PoW execution layer with the Beacon Chain PoS on 8 June.
On Thursday, Ethereum was trading at US$1,798.81 2:00 (GMT+1) with a volume of US$13,97,38,94,151 in the last 24 hours, according to CoinMarketCap.
The last 24 hours have been quite eventful for the Ethereum protocol. With the entire crypto world looking forward to the Ropsten test network (testnet) upgrade results, many believed this could be a pivotal moment for the second most preferred cryptocurrency.
As it completed its Ropsten's successfully merged its proof-of-work chain with the proof-of-stake beacon chain, Ethereum has crossed its first hurdle, at least for now, in its eventual attempt to move onto Eth 2.0 on 8 June.
The momentum had been building up since the Ethereum Merge was announced on 3 June. As of now, Ethereum still depends on the proof-of-work (PoW) consensus for discovering new blocks and adding them to the blockchain.
In the long run, it intends to switch to the more energy-efficient proof-of-stake (PoS). Therefore, the success of the Ropsten test network may be significant in the practice session for the mainnet, which will see Ethereum's eventual transition to PoS.
Hurdles and glitches
Ethereum developer Parithosh Jayanthi congratulated the team on the Ropsten upgrade, which would offer unique ways to set up a node.
However, he hinted that there were specific challenges that the team faced during the merge. The Ethereum team is working towards fixing the bugs and would be monitoring them in the next few weeks.
Ethereum is expected to undergo two more of the public testnet Goelri and Sepolia networks, which will be executed in due course before the mainnet merge.
How is the market reacting post the Ropsten merge?
Ethereum did seem to gain momentum following the merge, witnessing a minor rally of 0.37% on 9 June. Ethereum, which dropped below US$2000 for the first time on 12 May, has struggled to hit the mark since then.
On Thursday, it struggled to reach US$2,000 and was trading at US$1,798.81 around 2:00 PM (GMT+1). The trading volume of US$13,97,38,94,151 in the past 24 hours, according to CoinMarketCap.
The RSI stood at 39.59 during intraday trading. But it doesn't seem to indicate that the development has significantly impacted the market.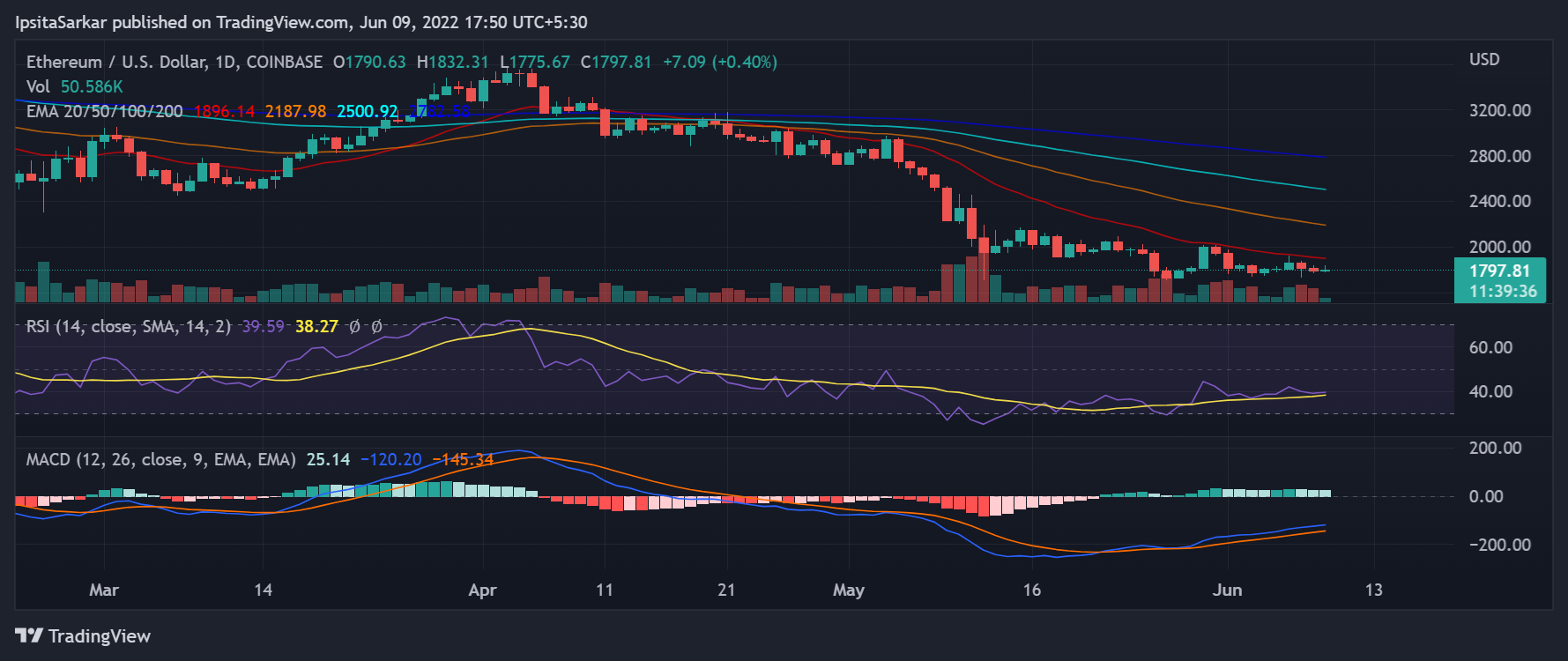 Image Credit: Trading View
However, Ethereum's MACD does show a slight movement upwards, with the signal line below the MACD line. This is reflected in the 50, 100, and 200 EMAs, assuming that it can hold its momentum and that Ethereum's price may touch US$1,896.14, US$2,187.98, and US$2,500.92, respectively.
Whether Ethereum gets the much-needed momentum with this remains to be seen, but the Ropsten test network success will go a long way in their subsequent test launches, which are due later this year.
The development would buoy the market participants, but at the same time, they need to be careful. A study of market trends would hold them in good stead while making investment decisions.
Risk Disclosure: Trading in cryptocurrencies involves high risks including the risk of losing some, or all, of your investment amount, and may not be suitable for all investors. Prices of cryptocurrencies are extremely volatile and may be affected by external factors such as financial, regulatory, or political events. The laws that apply to crypto products (and how a particular crypto product is regulated) may change. Before deciding to trade in financial instruments or cryptocurrencies you should be fully informed of the risks and costs associated with trading in the financial markets, carefully consider your investment objectives, level of experience, and risk appetite, and seek professional advice where needed. Kalkine Media cannot and does not represent or guarantee that any of the information/data available here is accurate, reliable, current, complete, or appropriate for your needs. Kalkine Media will not accept liability for any loss or damage as a result of your trading or your reliance on the information shared on this website.