Summary

Healthcare companies are playing a crucial role in combating the novel coronavirus. Combining their expertise with technological enhancements, critical materials, and continuous efforts, the companies are focused on developing a vaccine.
While several vaccines are under development, experts claim that approval of a vaccine is still far away.
WHO disclosed that there is a total of 133 vaccine candidates against COVID-19 at various stage of development.
Recently, the Trump Administration shortlisted five healthcare companies, including Moderna, most likely to develop a COVID-19 vaccine.
COVID-19 has infected over 6.2 million individuals and is the cause of 379,941 deaths across the globe, as reported to the World Health Organization (WHO). Healthcare and biotech companies all over the world are focused on developing a treatment/vaccine for this deadly disease that has caused massive harm to human life and the world economy.
Recently, Moderna Therapeutics was selected by the Trump administration among the top five companies, with the list also including Johnson & Johnson, Oxford University and AstraZeneca Plc collaboration, Merck & Co Inc, and Pfizer Inc. According to the latest record for COVID-19 vaccines provided by the WHO (2 June 2020), there are 133 candidates at various stages of development with distinct technologies. Out of which 123 vaccines candidate are under preclinical evaluation, and ten candidate vaccines are in clinical assessment.
ALSO READ: Search for COVID-19 Vaccine; Top 10 Names Across the Globe
In this article, we will acquaint you with Moderna Inc., a biotech firm that has been garnering worldwide attention after revealing positive preliminary results-
About Moderna Inc
Cambridge, Massachusetts-headquartered biotech company Moderna Inc (NASDAQ:MRNA) is engaged in developing mRNA-based medicines for a broad range of disorders including rare diseases, infectious diseases, cardiovascular disease, and cancers.
The platform of Moderna builds on continuous developments in basic as well as applied mRNA science, manufacturing, and delivery technology, and all these things combinedly provide the Company with the potential to pursue a robust drug pipeline of novel drug candidates. Moderna has developed an mRNA vaccine that uses genetic material part of SARS-CoV-2 virus to stimulate an immune response from the human body.
DID YOU READ: COVID-19: Treatment or vaccines? What seems more likely, and what could be more beneficial?
Moderna's Share Price Soared
In May share price of Moderna has seen a sharp rise due to the positive outcomes from the phase 1 clinical trial study of its vaccine against novel coronavirus.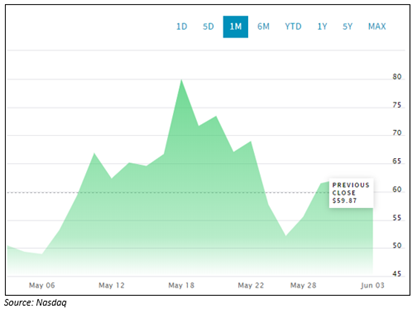 On 3 June 2020, Moderna's stock ended at USD 59.89 up by 0.03%. Moderna's market capitalization stood at ~USD 22.23 billion.
Moderna's SARS-CoV-2 vaccine (mRNA-1273) Development
Moderna is gaining momentum to develop a vaccine against the dangerous novel coronavirus and has commenced phase 2 clinical trial study as per the plan.
The developmental plan for mRNA-1273: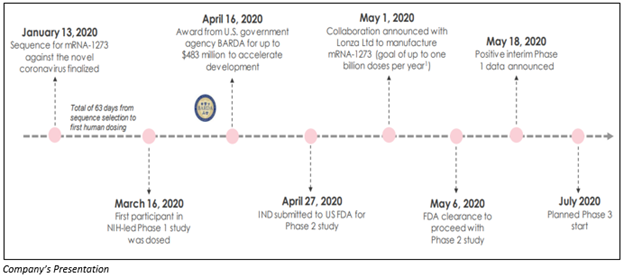 Commenced Phase 2 study after Promising Results In Phase 1
On 29 May 2020, Moderna announced the commencement of phase 2 clinical trial and stated the first applicants in each age group had been administered by mRNA-1273 (mRNA vaccine candidate of Moderna) against the SARS-CoV-2 which is responsible for COVID-19.
This Phase 2 clinical trial is being conducted by the Company under its IND (Investigational New Drug) application. In the trial, the safety, immunogenicity as well as reactogenicity would be assessed with two vaccinations of mRNA-1273 administered at an interval of twenty-eight days.
The Company plans to enroll nearly six hundred healthy participants across two groups- one with adults aged between 18-55 years and other group is of older adults more than 55 years of age and above. Each cohort will have 300 participants.
Moreover, for implementing the Phase 3 clinical trial, the Company anticipates collaborating with NIAID. The expected dose for the Phase 3 clinical trial is in between 25-100 µg and the initiation of the trial is projected to commence in July 2020.
DID YOU READ: COVID-19 Vaccine Development: Updates from Novartis, Moderna and Novavax
Positive Interim Phase 1 Data
On 18 May 2020, Moderna revealed positive interim results from Phase 1 clinical trial. The early-stage study was performed for two doses, and all participants assessed for the 25 µg and the 100 µg dose groups. mRNA-1273 stimulated neutralizing antibody titer concentrations in all eight initial participants across both dose cohorts (25 µg as well as 100 µg). Moderna's vaccine was reported to be safe and well-tolerated.
It is noteworthy to mention that in a mouse challenge model, mRNA-1273 provided complete protection against viral replication in the lungs.
mRNA-1273 in brief:
mRNA-1273 is an mRNA vaccine developed by Moderna against the novel coronavirus. This vaccine was selected by Moderna, in collaboration with the researchers from the Vaccine Research Center (VRC) at NIAID, which is a part of the National Institutes of Health (NIH).
mRNA-1273 received a grant for fast track designation by FDA on 12 May 2020, and its Phase 3 study is anticipated to commence in July 2020. The Company is currently is finalizing the protocol for the study.
Bottomline
With positive development in the race to produce a vaccine for COVID-19, Moderna is on the cusp of setting new goals. As the Company moves ahead with Phase 2 clinical study in a planned manner, and with the anticipation of commencing Phase 3 clinical trial in July 2020, it could be expected that we are moving closer to a vaccine to combat the deadly coronavirus.
HAVE YOU READ: Biotech companies in the race to seek COVID-19 cure