The global pharmaceutical industry has been under the pump since the onslaught of the coronavirus pandemic. Lockdown, social distancing, and health safety are all passive measures to curb the spread of the contagious virus. The world is in dire need of a Covid-19 vaccine as most of the economies are at risk of sliding into recession. According to a report by International Monetary Fund (IMF), the real GDP (Gross Domestic Product) of UK is expected to decline by 10.2 per cent during 2020.
The world has pinned high hopes on the global pharmaceutical industry for a potential vaccine to combat against the deadly pandemic. As most of the drug makers have shifted their focus on fighting coronavirus, inoculation rates for other diseases have gone down substantially. This could be detrimental for the investors and other stakeholders as their financial performance might suffer this year. Due to the carnage caused by the coronavirus pandemic, crucial vaccination programmes run by the companies have come to a halt during lockdowns across the globe.
Also read: UK Government Goes in For A Second Contract to Acquire Vaccines for Its Citizens
Most of the countries are in a hunt for the potential vaccine and securing supplies through contractual agreements so that they can be used as soon as the testing is completed. British drug maker, AstraZeneca PLC (LON: AZN) has been making the headlines for being close in finding the potential Covid-19 vaccine, as it has partnered with researchers at the University of Oxford. US based drug maker, Moderna Inc is another company which is at the forefront of vaccine development against the deadly pandemic.
Also read: Moderna Buzzing as it Enters Phase 2 Trial for COVID-19 vaccine
Britain has been in the hunt for a potential vaccine for a while now. Recently, UK has signed a contractual agreement with the FTSE 100 listed drug maker, GlaxoSmithKline Plc (LON: GSK) and its partner, Sanofi Pasteur, to procure 60 million doses of the Covid-19 vaccine. UK had previously signed a contract with AstraZeneca Plc to procure 100 million doses of the potential Covid-19 vaccine. In addition, Britain has also secured 90 million doses of the coronavirus vaccine by signing multiple deals with global pharmaceutical giants such as Valneva, Pfizer Inc, and BioNTech.
Also read: AstraZeneca to supply Europe with up to 400 million Doses of Covid-19 vaccine by the end of 2020
GlaxoSmithKline Plc and Sanofi would join hands to supply up to 60 million doses of Covid-19 vaccine to the British government. Both drug makers are committed to develop an affordable Covid-19 vaccine by leveraging upon each other's strength. The potential vaccine would be developed by using GSK's pandemic adjuvant system along with Sanofi's recombinant protein-based technology. Both drug makers are leading the clinical development and registration of the COVID-19 vaccine. Phase 3 study is expected to be completed by the end of 2020 followed by regulatory approval, which is expected in the first half of 2021. Sanofi is scaling up manufacturing of the antigen and adjuvant to produce up to billion doses per year along with GSK.
GSK's proven pandemic adjuvant technology along with Sanofi's S-protein is being used to develop the potential vaccine. The use of an adjuvant can be of great significance because it can minimise the amount of vaccine protein needed per dose, allowing more doses of vaccine to be created and thereby helping to protect more individuals. The synthesis of a protein-based antibody and an adjuvant is well-established and utilised nowadays in a variety of already being used vaccines. To improve the inflammatory response, an adjuvant is introduced to certain vaccines, and it has been proven to deliver effective and long-lasting disease protection than the vaccine itself. It may also improve the chances of providing a successful treatment which can be delivered on a greater magnitude.
Also read: GSK Join Forces with Sanofi To Develop Covid-19 Vaccine
GSK and Sanofi are committed to serve the world and are in active discussions with the developed economies to provide the potential vaccine at affordable rates. GSK looks forward to leveraging upon its innovative vaccine adjuvant technology and is therefore collaborating with companies and research groups across the world.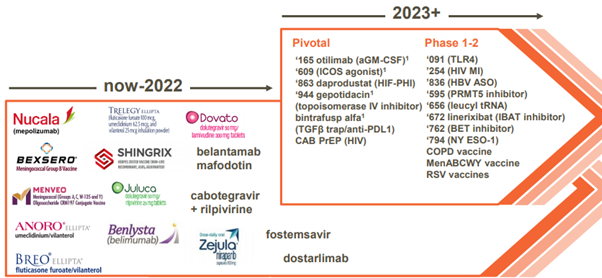 (Source: Company's presentation, Pivotal studies in process by GSK)
Despite the carnage caused by the pandemic, the fundamentals of GSK's business remain strong. According to the second quarter release, the company has made further progress in development of speciality pipeline medicines to treat Oncology and HIV.
However, just like other players in the pharmaceutical sector, GSK's performance was disrupted by Covid-19 in the second quarter due to poor performance in the 'vaccine business'. This particular business was severely impacted by the lockdown induced by the coronavirus pandemic due to limited number of healthcare professionals. Notwithstanding this, the company seems to be confident of the future performance and has been witnessing good underlying demand for its major products. These company had been developing these vaccines before the coronavirus crisis. Due to outbreak of Covid-19, the company changed its priorities to fight the pandemic, and therefore, vaccine development took a backseat.
Financial Highlights of GlaxoSmithKline PLC
Recently, GSK released its results for the second quarter of 2020. The Group recorded a turnover of £7,624 million in the quarter, down by 2 per cent over the same period in 2019. Group sales for H1 2020 were £16.7 billion, up by 8 per cent as compared to H1 2019. However, the group sales declined for Q2 2020, due to the disruption from COVID-19, particularly in vaccines as well as destocking from Q1 2020 in pharmaceuticals and consumer healthcare.
Stock Performance
GlaxoSmithKline PLC (LON: GSK) stocks traded at GBX 1,532.80 on 31 July 2020 at 8:48 AM, up by 0.24 per cent. The 52-week low price of the stock was GBX 1,374.60, and the 52-week high price was GBX 1,846.00. The market cap of the company was reported at £76,724.12 million, while it has given a negative return of 13.95 per cent on a year to date basis.
Conclusion
GSK has several vaccines under development which could drive growth for the company in the years to come. As the lockdown has eased, the activity in the vaccine business shall gradually pick up and reach the pre-pandemic levels. Meanwhile, GSK is likely to continue discussions with various countries and aims to provide a Covid-19 vaccine at an affordable price.
---
Disclaimer
The website https://kalkinemedia.com/uk is a service of Kalkine Media Ltd, Company Number 12643132. The article has been prepared for informational purposes only and is not intended to be used as a complete source of information on any particular company. Kalkine Media does not in any way endorse or recommend individuals, products or services that may be discussed on this site. Our publications are NOT a solicitation or recommendation to buy, sell or hold the stock of the company (or companies) or engage in any investment activity under discussion. We are neither licensed nor qualified to provide investment advice through this platform.
With Bank of England reducing the interest rates to a historic low level, the spotlight is back on diverse investment opportunities.
Amidst this, are you getting worried about these falling interest rates and wondering where to put your money?
Well! Team Kalkine has a solution for you. You still can earn a relatively stable income by putting money in the dividend-paying stocks.
We think it is the perfect time when you should start accumulating selective dividend stocks to beat the low-interest rates, while we provide a tailored offering in view of valuable stock opportunities and any dividend cut backs to be considered amid scenarios including a prolonged market meltdown.


CLICK HERE FOR YOUR FREE REPORT!