© Mangpor2004 | Megapixl.com
Summary

One of the leading Australian sites for forex traders, Compare Forex Brokers, helps traders shortlist brokers according to their trading style.
Compare Forex Brokers advises the right forex broker to traders on the basis of multiple factors - spreads, leverage, reviews, trading commission, customer support, currency pairs and range of markets.
Foreign exchange market is the largest financial market in the world. As there is no central exchange for forex trading, as a retail trader, you will require the services of a forex brokers to connect with liquidity providers in order to undertake trading activities.
With hundreds of forex brokers offering their services to help you trade, it can be an overwhelming task to choose the right broker. This is where Compare Forex Broker's comparison site for experienced and new forex traders can assist you.
Compare Forex Brokers helps traders shortlist brokers by reviewing the right forex broker, based on different factors - spreads, leverage, reviews, trading commission, range of markets, customer support and currency pairs to help you find the right forex broker for your needs.
Picking a Forex Broker
There are many variables to consider when choosing the right forex broker. Some of these considerations will apply to all traders, while others may matter more to certain individuals.
Compare Forex Brokers have a deep understanding of the features that Australian and international forex brokers bring to the table and can help you as a trader, better understand the features to look for, so you can find the right broker for your needs.
Features that that you should know when choosing a broker:
The brokers execution style – dealing desk versus no-dealing desk and the pros and cons of each.
Types of trading account and pricing structure – ECN accounts with commission fees versus standard accounts with no commission.
The trading platform brokers offer - types of platforms and tools they offer.
Available investor protection – risk management tools & ASIC regulation.
Leading Forex Brokers in Australia
Compare Forex Brokers have compared 39 ASIC-regulated forex brokers in Australia and created a shortlist for March 2021 of the right forex brokers. This shortlist is broken down into a range of criteria that will have different priority for different traders – customer service, brokerage, and the top forex trading platforms.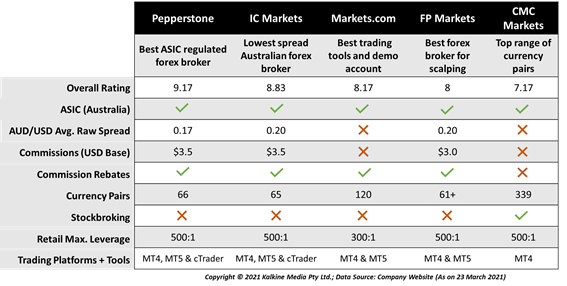 Choosing the Right Forex Trading Platforms for Beginners
It is important to choose a forex trading platform that suits your individual needs. Compare Forex Brokers suggests different features you may wish to consider when selecting a trading platform, these include - technical analysis tools, applications for mobiles, social-copy trading tools on platforms like cTrader, MetaTrader 4 (MT4) and MetaTrader 5 (MT5).
The site advises the following forex broker platforms for beginner traders in 2021: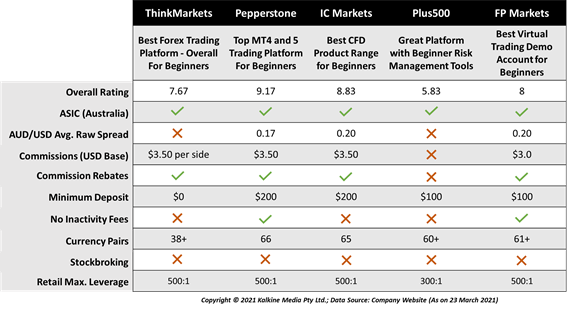 Compare Forex Brokers states that despite the availability of several forex trading platforms, most retail forex traders will use one of three trading platforms: cTrader, MetaTrader 4 and MetaTrader 5. The statistics of the site suggest that 54 % of retail CFDs (Contracts for difference) traded on MT4 or MT5.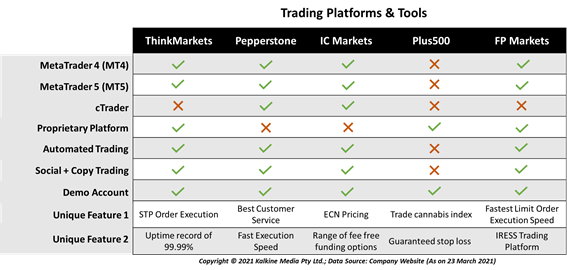 Foremost MetaTrader 4 Forex Brokers
To help traders choose an MT4 forex broker, Compare Forex Brokers has a list of the best MetaTrader 4 brokers in March 2021 which they chose based on execution speed, spreads, and forex trading platform features. The shortlisted MT4 brokers all have regulation and a solid reputation globally.
Finest MetaTrader 5 Forex Brokers
Compare Forex Brokers suggests traders looking to trade other CFDs than just forex to consider MetaTrader 5 as this platform offers more CFDs to trade with than other platforms. This is because this platform works with both financial derivatives that use a central exchange and those that are decentralised. A range of brokers that offer MetaTrader 5 have been recommended for different circumstances.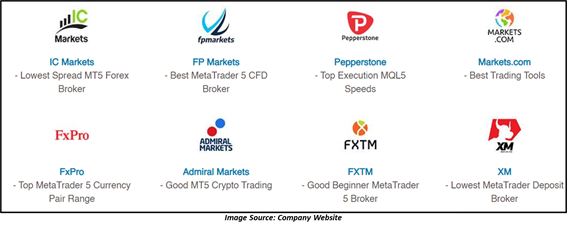 First-rate cTrader Forex Brokers
cTrader by Spotware is a prominent platform for expert currency traders with Level II pricing. Compare Forex Brokers has included the following cTrader forex brokers in March 2021 list:

Supreme CFD Trading Platforms
MetaTrader 4, Metatrader 5 and cTrader are not the only platforms to choose from. Other trading platforms are also good for CFD trading; likewise, Compare Forex Brokers suggest some of these brokers. Plus500 for example offers some unique CFD options such as cryptocurrency baskets and easyMarkets has risk management tools.
Below are the best CFD trading platforms shortlisted by Compare Forex Brokers based on critical trading considerations: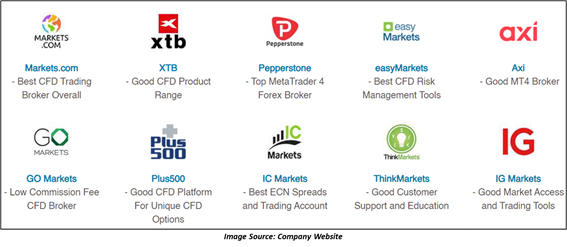 With hundreds of trading platforms and forex brokers options available in the market, it is imperative for traders to know what CFDs and trading tools they need as well as the trading strategies they plan to implement. Compare Forex Brokers provides traders with the option to make a choice in sync with their individual trading style and helps them navigate through the crowded Forex brokerage space.
For more details on Compare Forex Brokers read here.