Highlights

Radiopharm Theranostics is anticipated to start trading on the ASX on 25 November 2021.
The Company is expected to have a market cap of $152 million on offer completion.
The funds raised will provide the Company with working capital to support its growth strategy.
Radiopharm Theranostics Limited is a clinical-stage radiotherapeutics company aiming for some of the largest markets in cancer.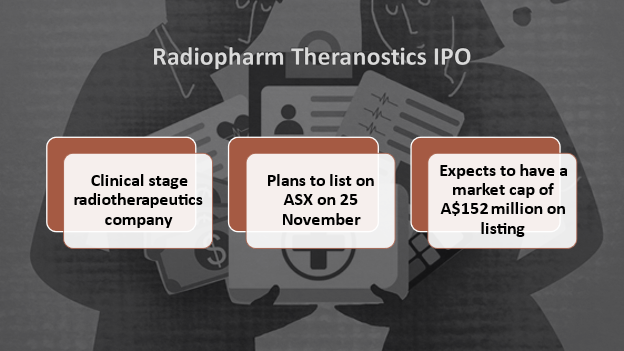 Image source: © 2021 Kalkine Media, Data source- Refinitiv
The Company is looking to raise a minimum of $50 million by issuing 83,333,333 new shares at $0.6 per share to fund its growth plan and fund payments under the Company's Licence Agreements. The Company is likely to begin trading publicly on the ASX on 25 November 2021.
Key benefits of investment
Radiopharm's clinical program includes five completed Phase 1 clinical trials, five Phase 2 clinical trials and two Phase 1 clinical trials targeting a range of cancers, including breast, lung, kidney, head & neck, pancreatic and brain.
Did you miss Reading-Investing in IPOs? 10 things to keep in mind
The Group's business is bolstered by the following:
A highly probable portfolio that comprises clinical and pre-clinical stage Radiopharm assets.
Broad and robust intellectual property portfolios in the major territories where Radiopharm hopes to conduct its business activities.
A world-class management team that has the C-suite executive team recruited from the most influential radiopharmaceutical companies and universities worldwide.
Commercially appealing licence arrangements.
The Company also secures R&D resources through its Sponsored Research agreements while the manufacturing process uses widely adopted radioisotopes in the existing supply chain.
Risks associated with business
There are certain risks as well in investing in this Company for Kiwis. Radiopharm relies on continuing operations of the Licence Agreements and failure to comply with the same can have an adverse impact on the business. The Company's success will depend on the success of the clinical trials that are ongoing to get the regulatory approval for commercialisation.
RELATED READ: 10 global IPOs to watch out for this year
The Company's R&D, manufacturing, and the sale of products are subject to different regulations by authorities in the US, Australia, and other countries.
Radiopharm remains dependent on key personnel that are its key assets and can impact the firm if any of them leaves. It may also need to raise additional capital in the future and delay or scale down its operations as there is no assurance of the raise being successful.
Bottom Line
Radiopharm has a good scope ahead amid the growing demand of pharmaceuticals.
The global pharma market is projected to be at a valuation of US$6.7 billion in 2020 with a prediction to almost double to US$11.5 billion by 2027 at a CAGR of 8%.
(NOTE: Currency is reported in Australian Dollar unless stated otherwise)