Summary

Younger generations are often categorised as spendthrifts, but in reality, they seem to save more money than older generations.
Millennials tend to have less faith in banks, as loans bring high interest rates and unnecessary fees.
There seem to be five consistent financial trends that millennials seem to be following, according to AlphaBeta's research.
A mutual distrust between younger generations and banks is growing every year, with millennials turning to buy now, pay later (BNPL).
Compared to decades ago, millennials at present need to spend more money on necessities, such as education and real estate.
New trends will need to be recognised by older generations, who are still mostly running the financial institutions.
Millennials and Generation Z (Gen Z) are often misunderstood, while talking about their savings and spending preferences.
Nowadays, millennials consist of 44% of the workforce in Australia, slowly replacing baby boomers as most of them are retiring gradually. By representing almost, a half of the total workers, their contribution to the economy is greater than some may think.
Baby boomers and Generation X believe that millennials spend a lot of money on unnecessary things. There is a popular inside joke going around that says how millennials are more likely to spend more money on avocado on toast than save for a house purchase.
Do Read; Retirement, Baby Boomer Generation and Australia's Tax Scenario
Banks and other financial institutions tend to have less belief in millennials than in older generations. However, millennials also do not have a lot more faith in banks, as they believe that borrowing from banks is risky and brings unnecessary fees. A record number of 35% of millennials stated they do not trust banks with their money.
Did You Miss Reading? Five Smart Investment Tips for Millennials
What is Buy Now, Pay Later?
The concept of buy now, pay later (BNPL) apps has been positively greeted by the younger generations, as they delay payments until sometime later. Usually, users need to pay for the first instalment on the day of purchase, while other instalments mostly come within a week or a fortnight and then until the fee is paid in full.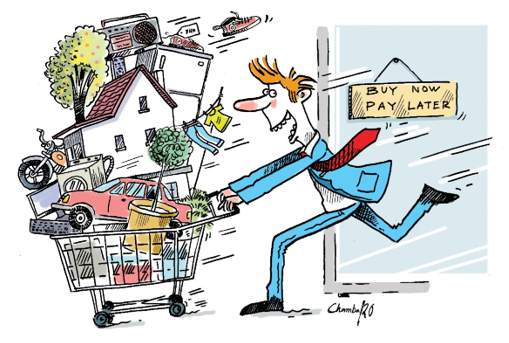 Source: Kalkine Image
Some of the most popular BNPL apps within young Australians are Afterpay, Zip (Zip Pay and Zip Money), humm, Klarna, LatitudePay and others.
Also read: Is the current BNPL crisis boon for Goliath Afterpay as David suffers?
5 financial trends that millennials like
As previously stated, the millennial group tends to be losing trust in banks more and more over the years. Nowadays, millennials and Gen Z usually do not own a credit card as they bring additional costs and are harder to budget.
The number of credit card users had been dropping in the last 14 years, currently resting at 41% of millennials that own a credit card. Buy now, pay later (BNPL) has become more popular as it is cost-free if the instalments are paid within the proposed deadline, which is usually every fortnight.
Spending habits have changed in the last 20 years when the main priority was to buy and own a property. Millennials seem to be more concentrated on their education (22% have a bachelor's degree), healthcare and lifestyle.
The Australian government is urging younger generations to get a private insurance policy by the age of 31 (if they do not want to pay additional 2% of their taxable income) so millennials need to spend more money on health than their parents used to. Their habits are also a lot healthier as they do not spend as much money on alcohol and tobacco, but rather on public transport when getting to work.
ALSO READ: Australia's Healthcare Space and a Boom in the COVID-19 Era
Most millennials prefer spending money from their savings than borrowing loans from banks. Only 28% of older generations say they save regularly, whereas a bigger percentage of millennials (36%) reveal they have recurring savings in their bank accounts.
The similar situation applies to the amount of their budget, where most millennials (80%) have some sort of a budget, compared to their parents and grandparents (67%). In a desperate need of more money, only a quarter of millennials turn to bank, asking for help.
With the existence of the modern technology, there are many apps in the market that can help with managing the budget: 7% of millennials use those apps, and 30% use Internet instruments for the budget tracking.
Before going shopping, 72% of millennials tend to check and compare product prices before they begin shopping, compared to 28% of older generations.
BNPL apps (Afterpay, Klarna and similar) are more favourable within the younger generations, with 57% of millennials, currently, using Afterpay only. Almost all of them (93%) have experienced no late fees, which happens if one does not pay the instalment within the given period.
Do watch: Kunal Sawhney on "Buy Now, Pay Later" (BNPL) stocks
Financial pressure
In the last few years, the cost of living became higher than they used to be when baby boomers and Gen X were settling down. Their priorities were also different compared to present generation, as it was more normal for women to stay at home and take care of the house and children, back then.
40 years ago, 60% of young people already had their own property, whereas 45% of millennials nowadays have their own home, due to risen real estate costs. Houses are reportedly worth around eight times the average income, compared to five, and six times the average income when older generations were buying homes.
Education costs have also drastically changed, almost by double the price. Most baby boomers had no or low education costs back in the day, but millennials nowadays need to pay around A$19,000 for one year of university fees.
Even though the cost related to necessities at present are evidently a lot higher than they used to be, younger generations seem to be more responsible about their money.
The fact that the pandemic caused many millennials to get redundant did not help with the situation, but it made millennials and Gen Z more aware of the money's worth.
12% of millennial Aussies are currently facing unemployment and are struggling to make their ends meet. Due to the coronavirus impacts on the global economy, many young people think pessimistically about their future and their role in stimulating the economy.
ALSO READ: Impact of Coronavirus on Australian Economy and Way Forward
The invention of BNPL apps has changed the young mindset, but their parents who are still mostly running financial institutions need to recognise the change in novel trends.
Interesting read: Is the BNPL market heading towards PayPal dominance?