Highlights

Cryptos are volatile, and hence calling any crypto 'best' or 'worst' may be like looking at some aspects while ignoring some
As of now, only the top hundred crypto assets by market cap seem to be making any sizeable impact on the overall market
Bitcoin and many other major altcoins are trading at subdued prices, but a major and sustained bull-run may change that
Crypto assets are volatile. Volatility in prices brings its own set of risks and opportunities.
Consider an investor who had bought a few Bitcoins when the price was nearly US$29,000 at the start of 2021. In fewer than four months, the investment would have doubled. A 100 per cent return when the global economy reeled from pandemic fallouts and high inflation is no mean feat.
That was an opportunity. Now consider an investor who had bought Bitcoin in April when it was priced nearly US$65,000. In fewer than three months from then, Bitcoin lost nearly half its value. That's the risk of investing in volatile assets. In cryptos, at least for now, it is the timing of investment and exit by the investor which determines the quantum of profit or loss.
In 2021, crypto assets like Axie Infinity, Dogecoin and Solana, which returned multi-fold made big news. Below are three worst-performing crypto assets of 2021. The list includes only large market cap crypto assets since the ones with a relatively lower market cap lack dominance in the cryptocurrency market.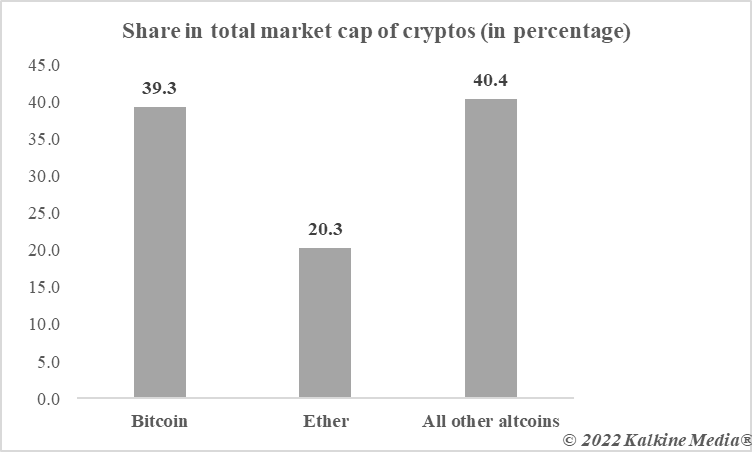 Data provided by CoinMarketCap.com
1. Bitcoin SV (BSV)
Like any other blockchain project, Bitcoin SV also started with a promise to add a unique feature to the distributed ledger technology.
It includes 'Bitcoin' in its name as a reflection of its mission. The project's developers wanted to stick to the original protocol of Satoshi Nakamoto, the creator of Bitcoin (BTC). With time, BTC developed into a tradable asset, with Ethereum's blockchain becoming the favorite of developers to deploy smart contracts.
Also read: The top crypto gainers of 2021, and a couple of underperformers
Bitcoin SV project wants to make the blockchain more scalable without compromising on Nakamoto's original idea. The project claims it can process 100,000 transactions in one second.
BSC serves as the native token of Bitcoin SV project, which promises to continue with the proof-of-work consensus even amid the rising popularity of proof-of stake. BSC is used within Bitcoin SV in the same manner as Ether token is used within Ethereum's ecosystem.
BSV was priced over US$160 on January 1, 2021, but by the end of the year the price fell to approximately US$120.
Also read: As we enter 2022, know how Bitcoin compares with the US dollar
2. Celsius (CEL)
If cryptocurrencies want to substitute fiat currencies like the US dollar, the blockchain ecosystem must have players like banking institutions.
Celsius blockchain project claims to be the one. It allows cryptocurrency holders to deposit their assets, besides providing credit services. The platform makes deposit of cryptos a rewarding activity by giving away new cryptos to users. Celsius also claims to offer low-cost loans and waive off fees and other penalties that are a common sight in the traditional banking world.
The concept is similar to emerging decentralized finance (DeFi) projects that include staking of cryptos to allow the user make money without having to sell the holding.
CEL is the native token of the Celsius project, and it is one of the top 100 cryptos by market cap. CEL traded at nearly US$5.4 on January 1, 2021, but by the end of the year the price was approximately US$4.
Also read: Cryptocurrencies vs. stock market: What can be the best pick for 2022?
3. NEM (XEM)
A billion-dollar market cap crypto, XEM finished 2021 with negative one-year return for its backers.
NEM is acronym for the project New Economy Movement. The project counts its 'proof-of-importance' consensus algorithm as its USP. Most other blockchain projects like Bitcoin or Ethereum use proof-of-work or proof-of-stake mechanism. Though the project has alike features of rewarding users with new crypto token for validating the transactions on the network, NEM claims to be safer than other networks.
At one point in 2018, XEM, the native token of NEM, touched US$1.8 price level. XEM started 2021 with price tag of US$0.2 and ended the year with US$0.12 price tag.
Data provided by CoinMarketCap.com
Though the 24-hour trading volume of XEM crypto is in tens of millions of dollars, it has yet to perform well for its backers.
Also read: Why are people buying virtual real estate? Should you too?
The importance of timing in crypto market
Crypto assets often manifest a similar trend when it comes to price. A bull-run or a bearish trend does not last for too long. Within a single bull-run or a single bearish phase, there can be small ups and downs as well.
This boils down to a fact that there cannot be a single or a list of best cryptocurrencies or worst crypto assets. Investors use their own investment strategy, sometimes innovative, to make the best out of crypto market's volatility. For some, crypto day trading can be the most profitable venture, while for others, it can be HODL (hold on for dear life) as the gold standard.
Also read: Crypto day trading: How to make profits in cryptos?
Most cryptos including Bitcoin and Ether have started the year 2022 with a whimper and not a bang. Analysts are debating if Bitcoin can reach US$100,000 by the end of the year. BTC price is below US$50,000 as of now, and only a sustained bull-run can help. That said, an investor may profit in cryptos at any time, but the condition to be met for this is to buy and sell at the most opportune time.
Takeaway
The three cryptocurrencies listed above have a particular blockchain project and a native token. Though the crypto investment market has yet to be shaped up by fundamentals like market share and revenue growth, investors still look at the project's feasibility and commercial viability before backing the native token.
In 2022, the investor may become even more cautious and would want to place money in those projects that have the potential to add to the distributed ledger technology. Solana, for example, was one of the best performing large cap cryptos of 2021, and much of its growth could be attributed to its projection as a blockchain network that can be the 'Ethereum killer'.