Summary

The usage of blockchain technology is taking giant strides in this digital age.
To facilitate its smooth and efficient use, blockchain platforms come into the picture, which allow the development of blockchain-based applications.
IBM Blockchain, Ethereum, Stellar, EOS are some of the most prominent and globally used blockchain platforms.
As businesses all over the world have realised the importance of blockchain technology, its usage across various industries is widely increasing. It has not only simplified trade and improved financial transactions manifolds but has also enhanced the profitability and sustainability of businesses as well as companies.
Must Read: What is blockchain technology? Why is there an unbelievable hype?
As the demand for blockchain technology grows, the need for a consistent and reliable blockchain platform can never be undermined.
Also Read: Cryptocurrency Boom: Blockchain Stocks to Look for In 2021
In the light of the above background, let us now look at some of the top blockchain platforms in 2021.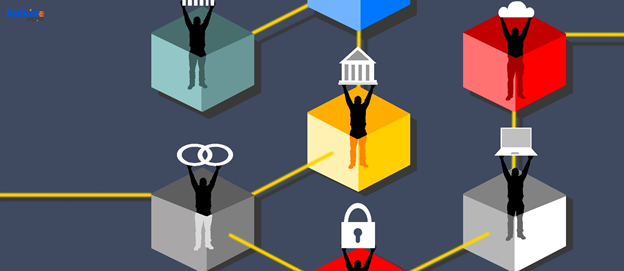 Source: Copyright © 2021 Kalkine Media
IBM Blockchain
This blockchain platform is one of the most popular blockchain platforms across the world, which is hugely favoured by both businesses as well as many industries. Designed to be a user-friendly interface, the IBM Blockchain developer tool is flexible and customisable, and at the same time, simplifies difficult tasks too. Moreover, it offers a 30-day free trial period for its users and connects to the free IBM cloud Kubernetes cluster.
Ethereum
One of the most sought-after blockchain platforms making rounds these days is Ethereum. It boasts a true decentralised platform with smart contracts functionality.
It is pointed out that Ethereum has the biggest community of crypto-economic researchers, core protocol developers, and mining organisations.
Moreover, it has a large online support community where it provides an update about its product enhancements, etc.
Read: Ether vs Ethereum: What is the difference?
Stellar
Stellar is a comparatively new Bblockchain platform used for varied decentralised finance applications. Handling millions of transactions each day, Stellar offers inter-currency cross-border payments within seconds.
By making use of Stellar Consensus Protocol, Stellar allows smart contracts and multi-signatures. Also, it carries 1% as a fixed rate of inflation.
Corda
Corda is a business-oriented open-source blockchain platform that permits open design as well as development processes. Enabling smart contracts clubbed with solid security, Corda was initially designed for the financial industry. It is now being used in various other industries like healthcare, supply chain, government authorities, construction, etc.
It is noted that many big and renowned firms, including Intel and Microsoft, are using the Corda blockchain platform.
Tron
Another popular blockchain platform is Tron, which uses TRX currency and allows its user to trade media assets and develop decentralised apps.
With multi-language functionality, Tron boosts the capacity to handle 2,000 transactions a second. Moreover, it offers greater scalability and eliminates counterfeit chains.
Tezos
This decentralised blockchain network is self-governing and is developed to provide security and reliability of code for high-value transactions and digital assets. It not only provides a dApp platform and enables smart contracts, but at the same time, boosts self-amending cryptographic mechanism, which makes it distinct from other prevalent blockchain platforms.
Quorum
Quorum is a customised version of Ethereum founded by famous financial company, J.P. Morgan.
Being an open-source and free-to-use blockchain platform in perpetuity, Quorum focuses on efficiency and swiftly handles a bulk of Ethereum changes. Moreover, it provides high-speed transactions between financial institutions like banks and insurance companies on a private network.
Multichain
Simple to operate, the Multichain blockchain platform enables the safety of both multi-party as well as multi-asset transactions. Making use of programming languages such as Python, JavaScript, C, C++, this platform is widely used for data sharing, data streaming, and encrypted archiving, among many others.
EOS
EOS was founded by a private company in 2018. It was formed with a primary motive of offering users with decentralised application hosting as well as smart contract capability.
Moreover, its users are not required to pay any fees, i.e., to avail the benefits of a dApp based on the EOS blockchain platform, the user is exempted from paying the fee.
OpenChain
Developed by Coinprism, OpenChain is also one of the most well-liked open-source blockchain platforms. With the absence of the involvement of miners, this platform boasts charging no transaction fee.
Here, the transactions are validated by the asset administrator, thus lending it more efficiency than other available blockchain platforms. Also, being highly scalable, this blockchain platform manages digital assets in a more safe, secure, and robust manner.