Highlights

Sandwich in crypto trading means front loaders raking profit by viewing pending transactions
Flashbots are used in sandwich trade to track transactions yet to be completed by miners
Bitcoin and other cryptos have gained over last 24 hours despite China's latest crackdown
Are there any special tricks to make more profits in the crypto asset trading space?
Although most analysts say that investors should track sentiments in cryptos like Bitcoin and Dogecoin to earn profit, there are special moves that can come handy. A trick to earn quick bucks in crypto trading is the 'sandwich move'.
What is sandwich in cryptocurrency?
It is easy to understand, but complex to implement. Price of any asset relies on demand. To earn money, the investor in a crypto asset must have some other purchaser ready to pay an appreciated price. For this to happen, the investor tracks a purchaser before placing own order. If the buy order of the investor goes through, it prepares the 'sandwich' that already has a purchaser waiting in the queue.
Sandwich trade in cryptocurrencies is not new.
Also read: How Can I Buy Cryptocurrency In Canada?
How is sandwich executed in crypto trade?
The user must know some basics. Decentralized exchanges that enable trading in cryptos use Ethereum's blockchain. Any transaction on its blockchain is visible even before it is executed. Sophisticated tools, in this case the Flashbots, locate such pending transactions. This provides opportunity to front-runners to dip into it and make easy profit.
What is Sandwich trade tactic & should it worry you
At the heart of this lies the lengthy process where miners process transactions using blocks. This process is not prompt and takes considerable time, thus allowing bots to track pendency.
Flashbots are free to use, and miners earn a commission from front-runners by using delaying tactics.
Will sandwich affect the crypto world?
The sandwich tactic used by some traders has evoked a sense of worry. A few traders make profits at the expense of amateur buyers of crypto assets. Although this is a cause of concern, it hasn't taken sheen off crypto assets.
The market manipulation by users of bots on decentralized finance protocols is not new. In the sandwich tactic, experts say that sometimes the costs involved in using it dwarfs any profits made. The 1inch DeFi platform has implemented measures that can stop the pending transaction from being visible until mined.
Combined market cap of cryptos
Tactics haven't dented the optimism of crypto asset backers.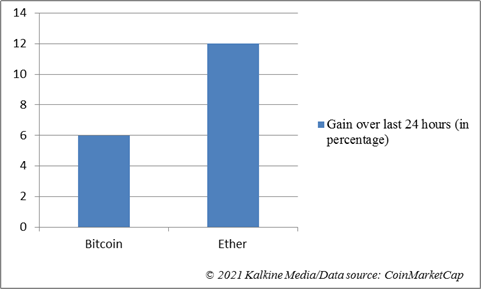 Recently, escalation of China's crackdown on crypto assets resulted in Bitcoin and altcoins losing some market cap. However, much of lost ground has been regained. At the time of writing, Bitcoin is trading at US$43,850, having gained nearly six per cent over last 24 hours. Ether, the token of Ethereum's protocol has gained almost 12 per cent over last 24 hours. It is trading at nearly US$3,100.
Also read: Can Bitcoin be termed as the 'asset of the century'?
Bottom line
Tactics like sandwich trade can affect amateur buyers of crypto assets. They enable users to view pending transactions by using bots and make quick profit. Despite the impact these tactics have on crypto trading, the interest of crypto backers is intact, which reflects in gains made over last 24 hours.