Highlights

Phoenix Global is a blockchain that provides support, and competes with Solana and others
PHB token migration from Neo to BSC materialized in November 2021
Over the past few hours, PHB (new) token had reached US$0.9 before falling to US$0.68
Cryptos like Bitcoin and Ether are currently undergoing a phase of near-stagnation. On the contrary, a relatively less popular altcoins are displaying signs of activity.
The year 2021 was dominated by altcoins including Solana, Dogecoin, Axie Infinity and Shiba Inu. But a range of other altcoins with a humble market cap is also out to earn investors' patronage. One of these is Phoenix Global, with ticker PHB. Let's know more about PHB crypto.
Also read: Is investing in altcoins better than Bitcoin?
What is Phoenix Global cryptocurrency?
According to PHB's official website, Phoenix Global is decentralized apps (DApps)-focused blockchain. The project claims to have multi-chain support for smart contracts and DApps developed on it. Off-chain storage is also available.
What is Phoenix Global network? A peek at PHB token price prediction
The project is an enterprise blockchain solution provider. This is done using the Phoenix Mainnet, which PHB claims has better scalability for decentralized products. A two-fold consensus mechanism underpins Phoenix's multi-layered blockchain solutions.
What is PHB token?
The project will use PHB as the native token of the network. PHB crypto will be used for payments and rewards within the Phoenix Global blockchain. The official white paper says that PHB's supply will be increased in phases, 10 per cent every year. The project has yet to decide the token burning mechanism for PHB.
PHB has two tokens listed – PHB (old) and PHB (new). The former uses the Neo platform and the latter uses the Binance Smart Chain (BSC). The migration to BSC happened in earlier his month. Binance had announced that PHB (old) would assume the ticker PHBv1 after the migration. Users of the older version were eligible for new PHB swaps.
Also read: 7 Altcoins up over 1000% in 2021
PHB crypto price
PHB (old) token is currently priced at nearly US$0.0085. The market cap of the token is nearly US$33 million. In early November 2021, PHB (old) token had reached a price of over US$0.9.
PHB (new) token is priced at nearly US$0.67 as of now. The token had peaked to US$0.9 over the past few hours and then lost much of the gains.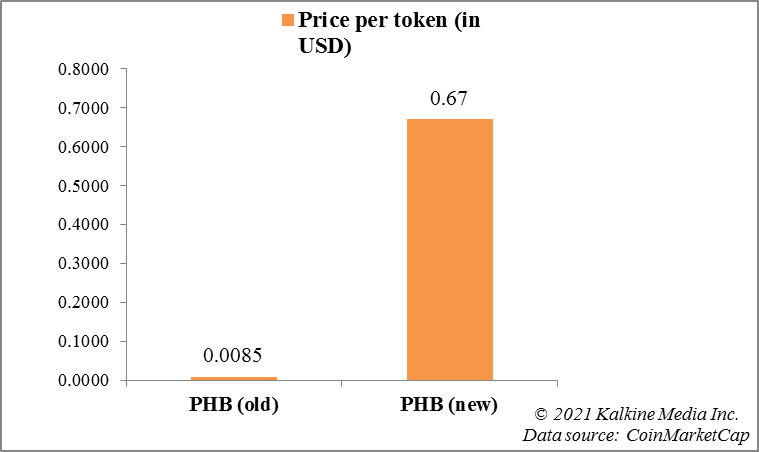 PHB crypto price prediction
PHB (new) BSC token has a market cap of US$25 million. Though it ranks in top 1,000 cryptos, the price data is not enough on its own or comparable to other high cap cryptos, and hence prediction of PHB can be a little complex.
PHB (new) traded above US$0.75 during the first half of November before a bearish trend set in. A spike and a fall over past few hours is indicative of increased activity, and this can lead to further interest in the crypto. By 2022, PHB price may breach the US$1 mark is the activity persists.
Also read: Is Bitcoin better than gold as hedge against high inflation?
What next?
Phoenix Global blockchain has joined an already crowded space that has players like Ethereum, Cardano and Solana, all multi-billion dollar market cap cryptocurrency projects. However, the initial days of any new crypto project are usually humble. PHB migration to BSC can add value to the project. Any further price change in near-future can rely on speculation. However, medium-to-long term price changes may be influenced by PHB blockchain adoption.