Highlights

Moonbeam is a new project that is claiming to bridge the gap between Ethereum and Polkadot
GLMR crypto performed well on its debut, but it has since lost substantial value
Moonbeam may find more utility if Polkadot becomes a preferred blockchain network of smart contract developers
Can any blockchain network have monopoly in the decentralized apps (DApps) space? Today, networks including Ethereum, BSC, Cardano, Polkadot, and Solana are competing with each other to become the preferred blockchain for developers.
Amid this contest, one project is claiming to be a bridge between two leading blockchains -- Ethereum, and Polkadot.
What is Moonbeam blockchain project?
Moonbeam harnesses the potential of Polkadot network and claims to provide a platform to developers to move their DApps from Ethereum to Polkadot.
Developers may not need to rewrite the codes to move to the Polkadot infrastructure. Moonbeam claims that it can support multiple blockchain-powered smart contract languages including Solidity and Vyper. Tools like MetaMusk that exist on Ethereum's blockchain are also accessible on Moonbeam.
Moonbeam crypto
Moonbeam's primary crypto is GLMR coin. GLMR crypto serves as the native token. It is deployed on the Moonbeam network, and Polkadot is used as the underlying relay chain.
Another crypto, Moonriver or MOVR, is the utility token of a Moonbeam-based Moonriver Network.
What is Moonbeam GLMR crypto & its Polygon based network?
Moonbeam crypto price
Moonbeam's GLMR crypto ranks among top 150 coins in the CoinMarketCap listing. As of now, the market cap is nearly US$514 million. Moonbeam crypto is trading at nearly US$6.5.
Over the past 24 hours, price has declined by nearly five per cent, and trading volume is down by almost two per cent.
Also read: Algorand crypto price prediction: Can ALGO pull off a comeback?
Moonbeam crypto price prediction
Moonbeam is a new cryptocurrency with a very limited trading history. On January 11, 2022, the token started with a price of almost US$11, which peaked to US$24 within a few hours.
By this measure, Moonbeam crypto has lost value so far. The downward slide has continued unabated. It may mean that GLMR might need more time to stabilize and manifest a predictable trend. In the near to medium term, price may be a product of demand of Moonbeam's network by DApps developers.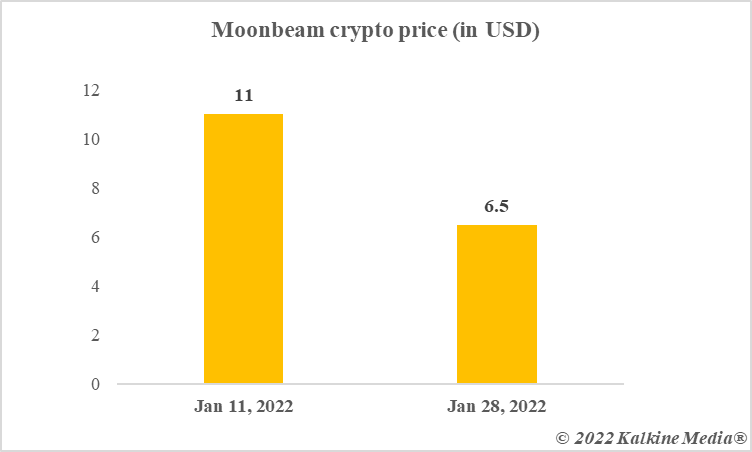 Data provided by CoinMarketCap.com
Prices of Ethereum and Polkadot
Moonbeam's utility relies on Ethereum and Polkadot, which are both leading cryptocurrencies. Ether is second only to BTC in terms of market cap, while DOT ranks 11th as of now.
Both Ether and DOT have lost value so far in 2022. But this is the case will almost every major crypto including BTC. Separately, other blockchain networks are also gaining ground. Solana's SOL was one of the top performing crypto assets of 2021.
Also read: Is crypto dead & what is in store for blockchain in 2022?
Bottom line
Moonbeam crypto is a new blockchain-based project that claims to help developers redeploy Ethereum-based smart contracts in Polkadot's ecosystem. GLMR crypto would find usage within the Moonbeam network, and any price movement will depend on the demand of the network services. For now, it is a subdued phase for cryptos, with most assets trading below their peak prices.