Highlights

DeSo hit an all-time high on December 13.
DeSo is a new kind of blockchain that is designed to power Web 3.0 decentralized social networks.
DeSo's price was up over 41% on December 14.
The year 2021 has witnessed a rally of digital currencies. While various cryptocurrencies have reached their record highs, many have debuted in the market after initial coin offerings. Investors also cheered on cryptos for the returns the digital currencies are providing.
Even though the common names that pop up in mind while talking about the cryptocurrencies are Bitcoin and Ethereum, there are various other meme coins and other digital assets that have gained traction in the market in recent quarters. Bitcoin (BTC) gave a return of around 66.17% YTD, while Ethereum (ETH) surged 421.57% YTD.
Today, we will discuss the Decentralized Social (DESO) coin, that was trending among the investors due to its recent rally.
Also Read: 5 US real estate stocks to watch in 2022
What is the Decentralized Social (DeSo) coin?
DeSo is a new kind of blockchain that is designed to power Web 3.0 decentralized social networks. It was conceived in 2019 and DeSo aims to solve problems created by presenting social media centralization.
In recent times, various social media private firms arguably control the public discourse, while earning huge profits. However, the social blockchain of DeSo treats media content as a public utility, enabling its availability for anyone without any permission.
Also Read: Olympus (OHM) crypto rallies after falling for a week
It combines the paradigm of an open P2P financial system provided by cryptocurrencies with effective and upgradable database infrastructure, that is designed to bring the next generation of Web 3.0 social networks.
Various apps are built on the DeSo blockchain, which includes Diamond, Pulse and Polygram, among others. Nader Al-Naji founded Decentralized Social in January 2019. Nader Al-Naji was a software engineer at the D.E. Shaw Group and later he was at Google, part of the Google Search and Google Ads teams, after completing his graduation from Princeton University. Previously, before DeSo, he had raised more than US$133 million to launch an algorithmic stablecoin, Basis, in 2017.
Also Read: Top 8 US vaccine stocks of 2021
Notably, in October 2021, the Octane Fund, a developer fund of US$50 million, was announced by the Decentralized Social foundation. All the content on DeSo is stored on a decentralized ledger and is available to a large and rising network of independent third-party apps, similar to DeFi applications on the Ethereum blockchain.
Also Read: 5 US cybersecurity stocks to watch in 2022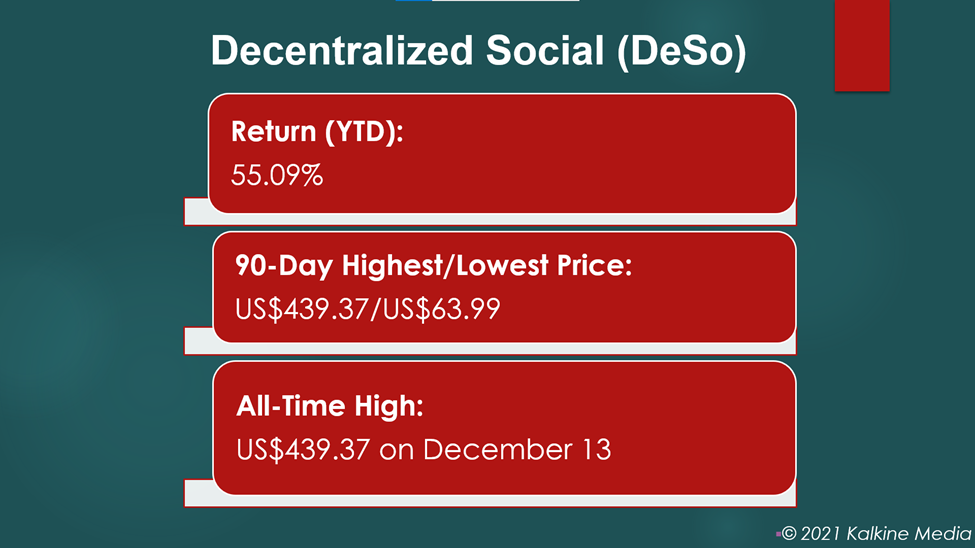 Data provided by CoinMarketCap.com
Also Read: Why is EverGrow (EGC) crypto getting attention?
Pricing of the Decentralized Social (DeSo) coin:
The DeSo coin was priced at US$135.93 at 9:12 am ET on December 14, up 41.75%. It has a market cap of US$1.39 billion and its fully diluted market cap is US$1.46 billion. The last 24-hour volume of DeSo was worth US$4.10 million.
The 90-day highest and lowest price of DeSo coin was US$439.37 and US$63.99, respectively. It has reached its all-time high of US$439.37 on December 13. The DeSo gave a return of 55.09% YTD.
Also Read: Veritaseum (VERI) token hits all-time high - Know Why?
What is Decentralized Social (DESO) Coin and why is it trending?
Bottom line:
Apart from supporting traditional social media features like creating profiles, posting, and other related services, the DeSo blockchain also offers blockchain-based features like tipping, social tokens, and NFTs. However, investors should also focus on the volatility and risks associated with the crypto world before considering an investment.