Highlights

Native tokens like ETH and GARI have become big contenders to the biggest cryptoasset, Bitcoin.
The GARI token belongs to Chingari (an app to upload content), both of which exist under the umbrella of GARI Network DAO
GARI has lately lost value, which has forced the project to tweet and deny any hack claims
Can cryptocurrencies act as a medium of exchange within certain online communities? Twitter co-founder Jack Dorsey envisions Bitcoin eventually becoming the internet's "native currency". The concept of a native token within a specific project, for example ETH in Ethereum, and AUDIO in Audius has taken the cryptoverse to another level.
Having adopted the same model is the GARI token, which is native to Chingari, a social media platform with services like TikTok. As of writing, the GARI crypto's trading volume has skyrocketed by over 10,000%, with its price has declined almost 70%. What is the reason? Let us explore.
What is GARI crypto?
GARI is to Chingari what AUDIO is to Audius. Audius is a streaming platform, which allows creators to share content in a decentralised manner with fans. Chingari also provides similar services; however, it is uncertain whether its platform is fully based on decentralised ledger or not. GARI Network DAO is the umbrella under with Chingari and GARI exist.
Chingari projects itself as a "watch-2-earn" platform for fans and a "create-to-earn" place for creators. Users of the app are rewarded with the GARI token for watching content, while creators also earn the token as incentive. Chingari claims it has tens of millions of users for its social media app, which now has added services like cryptos, non-fungible tokens (NFTs), and play-to-earn.
The project claims to be a player in Web 3.0, citing the drawbacks of Web 2.0, where it claims big tech companies pocket the majority of revenue.
Also read: Everything you need to know about Vauld suspending withdrawals
GARI token price
The price of the GARI token has exhibited volatility ever since its listing on CoinMarketCap in January this year. It started with nearly US$0.7 per token, hitting over US$0.9 in February, only to fall under US$0.3 in April.
As of writing, the token is under intense pressure, having lost almost 70% over the past one day. The price currently stands at under US$0.2. Apart from this, the wider crypto market is in the green, with BTC and ETH both having gained value.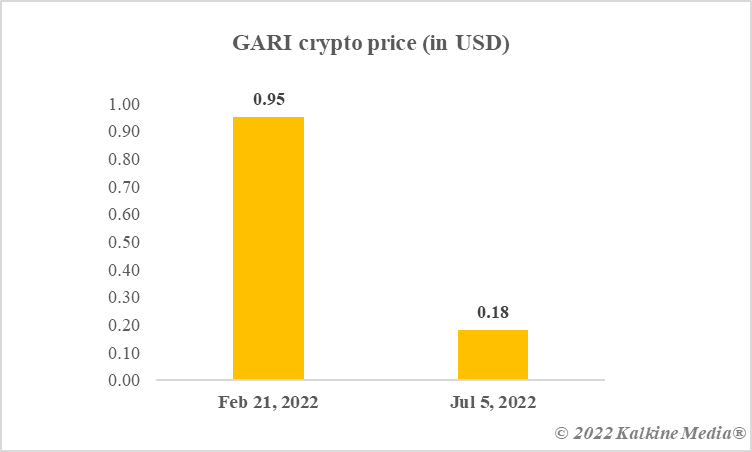 Data provided by CoinMarketCap.com
Why is GARI crypto falling?
The decline seems to have commenced after the reports of the GARI token's hacking hit some crypto circles. In an apparent attempt to prevent any further damage to the token's value, GARI Network DAO refuted the reports, tweeting there had been no hack identified.
Bottom line
The GARI token of Chingari app serves as a way to incentivise both content creators and consumers. The wider ecosystem is named GARI Network DAO, which appears to be reflecting Chingari's shift toward blockchain and decentralised governance. The token has lost value lately, which could have been triggered by the claims of the token's hacking. The project has denied any hacking event in a tweet.
Also read: Understanding basics of cryptocurrency taxation in Australia
Risk Disclosure: Trading in cryptocurrencies involves high risks including the risk of losing some, or all, of your investment amount, and may not be suitable for all investors. Prices of cryptocurrencies are extremely volatile and may be affected by external factors such as financial, regulatory, or political events. The laws that apply to crypto products (and how a particular crypto product is regulated) may change. Before deciding to trade in financial instrument or cryptocurrencies you should be fully informed of the risks and costs associated with trading in the financial markets, carefully consider your investment objectives, level of experience, and risk appetite, and seek professional advice where needed. Kalkine Media cannot and does not represent or guarantee that any of the information/data available here is accurate, reliable, current, complete or appropriate for your needs. Kalkine Media will not accept liability for any loss or damage as a result of your trading or your reliance on the information shared on this website.