Highlights

Metaverse cryptos are set to enter 2022 with a bang, thanks to the wild interest investors have in these coins
Blockchain gaming may not be exactly like metaverse but the two have identical underpinnings like fiction and revenue generation for users
Cryptos like AXS, MANA and SAND are leading metaverse cryptos, all of which have gained in 2021
Metaverse – regardless of virtual reality and fiction underpinning it – is the hottest thing in the real world today. The world of cryptocurrencies is filled with metaverse projects like Decentraland, The Sandbox, Aliens World, and Enjin Coin. But before we jump to which is the best metaverse crypto, let us know the latest happenings.
The investor rush in metaverse
It might have all started with the rumors, which eventually turned true, about Facebook's Meta shift. Soon, players like SoftBank, a leading investor in technology startups, and sportswear giant Adidas jumped in.
SoftBank has invested over US$90 million in The Sandbox, a metaverse gaming cryptocurrency, which has had a phenomenal year so far in terms of price appreciation. Adidas too has announced building its own version of metaverse on The Sandbox. A couple of weeks back, a piece of land on the fictional world of Decentraland, another blockchain game, sold for a nearly US$2.4 million. This is no mean feat even at a time when the property market is at its record high in the US and Canada.
Decentraland crypto returns are also very impressive, much more than what Bitcoin price could do for its backers.
Also read: 5 breakout altcoins with metaverse underpinning
Top metaverse crypto
As far as the biggest metaverse and blockchain combo crypto is concerned, Axie Infinity seems to fit the bill.
Axie Infinity was rising even before there were rumors about Facebook's name change. One can even say that this blockchain game earned its patronage on its own. It differs from conventional video games on multiple counts.
First, Axie Infinity, since it based on distributed ledger technology, allows users to have a say in how the game functions. Governance is in the hands of its users that own the native AXS token, which helps them participate in voting. Second, Axie has non-fungible token (NFT) attributes. NFTs in themselves are now a force to reckon with. Beeple's artworks and digital characters created by CryptoPunk project have sold for millions of dollars each this year.
Also read: Explained: Cryptocurrency categories – DeFi, NFT, Metaverse
Axie creatures within the game are NFTs. These can also be used as a tradable asset on platforms like OpenSea to earn money. This 'play-to-earn' feature of blockchain games is the biggest puller.
Axie Infinity price prediction
As stated earlier, AXS coin has been on a wild ride in 2021. On January 1, it was trading at nearly US$0.5 and the real rally began in July. By early-September, AXS crypto had touched almost US$90.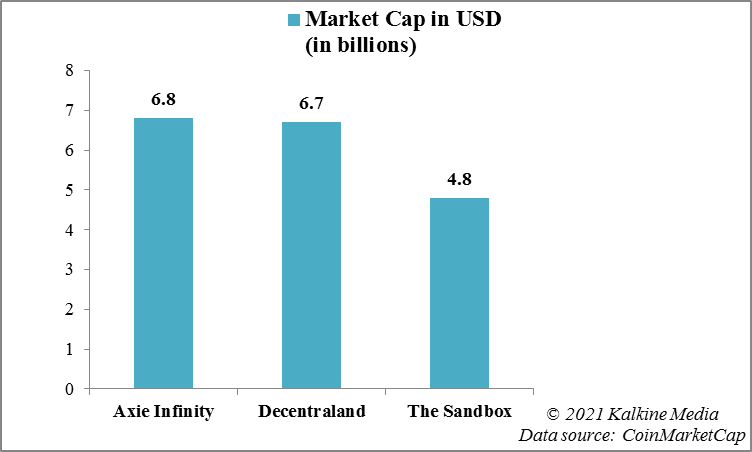 A sharp bull-run in early October took the price skyrocketing to over US$150. By November, AXS was trading at over US$160, before bears set in. As of now, AXS is priced at nearly US$110 apiece.
By the end of 2021, AXS can likely regain at least some lost ground. By the end of first quarter of 2022, it may cross US$200, but only if the buzz around metaverse and blockchain games doesn't fade.
Also read: What are DeFi games & which are the most popular DeFi games?
Bottom line
Axie Infinity can be said to be the top metaverse crypto owing to its solid fundamentals. It has the highest market cap among its metaverse peers like Decentraland and The Sandbox. Price volatility, however, ails metaverse tokens just like any other cryptocurrency, and hence investors must exercise caution. That said, metaverse tokens were one of the most profitable cryptos of 2021.