Highlights

Web 3.0 is all about a decentralized internet where users are more powerful than tech entities

Dozens of projects are working on Web 3.0, but ones with high market cap and a defined utility make an interesting watch

Crypto prices have been rising of late, and all the below-mentioned Web 3.0 cryptos are trading in the green
There are a lot many things that blockchain's decentralized tech has changed. From storage of data over distributed networks to smart contracts and from tokens as a form of money to crypto assets as investment options, blockchain technology has made strides.
Now the buzz is around Web 3.0, popularly known as the iteration of the world wide web which could move the internet from centralized control of a few tech giants to decentralized control. A range of projects are working in this field, and their linked tokens could be among investors' favorites this year. Before we look at a few of these top Web 3.0 projects, let's quickly understand what Web 3.0 is about.
What is Web 3.0?
Web 3.0 can be understood as the likely shift of the internet toward decentralized ledger technology.
Also read: Meta ceases Diem: What does Facebook token's end mean for crypto space?
The advocates of Web 3.0 claim much of the control over the internet rests in the hands of big companies today. These so-called tech giants decide how data is stored and how internet-based applications work. These big corporations have immense power, and there is nothing the common user can do to. Here, blockchain may decentralize the entire field through decentralized autonomous organizations (DAOs).
A DAO is a concept where users can vote on the governance of any project or application. Besides, tokens of blockchain projects, like Ether of Ethereum, could play a greater role in Web 3.0 economics. Below are five Web 3.0 projects that along with their linked tokens can be a close watch.
Polkadot (DOT)
No list of Web 3.0 projects can arguably be complete without Polkadot. Polkadot is a top ten cryptocurrency as of now on the CoinMarketCap listing. What it does is enabling cross-chain movement of data.
Multiple blockchains like Ethereum, Fantom and Solana are competing to provide a network where developers can do everything from building DApps to minting non-fungible tokens. Polkadot claims it can help multiple blockchains in sharing of information.
Also read: 5 altcoins that brought high returns in the last week
Polkadot has staking features, besides allowing decentralized governance. The linked DOT token can be traded on exchanges like Binance and Huobi Global. Over the past one week, DOT has gained over 25 per cent, and it is currently trading at nearly US$22. The market cap is nearly US$22 billion.
Filecoin (FIL)
Filecoin claims it is an enabler in the field of decentralized storage of data. The project mentions how big cloud storage entities like Amazon store data in a centralized manner. In contrast to this, the Filecoin blockchain, which works on proof-of-replication and proof-of-spacetime, could be the answer for distributed storage with no central authority. Filecoin says users' control over personal data is its competitive advantage over conventional platforms.
The native linked token of Filecoin is FIL, which has a nearly US$3.6 billion market cap as of now. It is up almost 20 per cent over the past seven days and is presently trading at nearly US$23 apiece.
Also read: Top 5 altcoins to watch in February
Basic Attention Token (BAT)
That Web 3.0 is an agent of change is the underlying theme of the entire concept. By that measure, it should change how two parties connect and interact. Basic Attention Token or BAT claims to use blockchain for revolutionizing the advertising industry.
BAT provides a platform where ad viewers can earn incentives for the time they give to ads. Advertisers also gain by knowing exactly how their promotions are being consumed. BAT says the network could be an answer to ad abuse and fraud, with benefits of engagement maximization for companies. In this arrangement, every stakeholder is said to benefit, and all benefits accrue in the form of BAT token.
The BAT token has gained almost 15 per cent over the past one week, and it is trading at nearly US$0.95 as of now. The market cap of the Basic Attention project is approximately US$1.4 billion.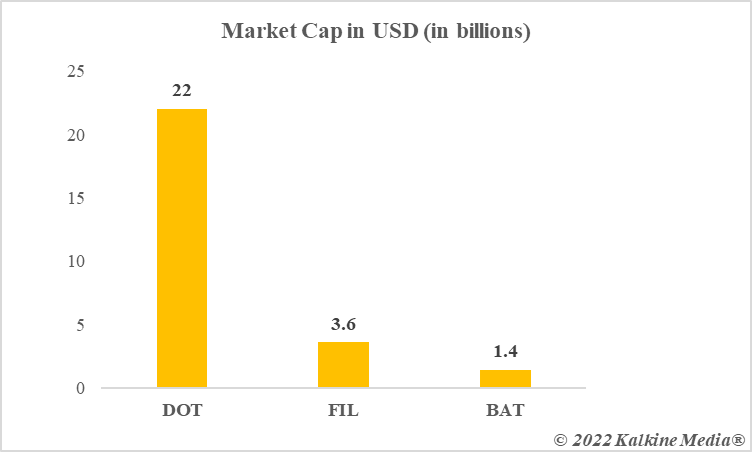 Data provided by CoinMarketCap.com
BitTorrent (BTT), and Stacks (STX)
These two are also multi-billion-dollar market cap cryptocurrencies with Web 3.0 underpinnings.
The BitTorrent project is pretty popular in the field of torrent file sharing. The project has moved to the TRON blockchain to harness the potential of decentralized file sharing. BTT is the linked token, and it is presently trading at nearly US$0.0000022. Its market cap is over US$2.1 billion.
Also read: What is Pocket Network & POKT crypto's price prediction?
Stacks on the other hand is a project that claims to bring DApps and other decentralized solutions to the most popular cryptocurrency Bitcoin. Bitcoin's dominance is waning with the rise of Ether and other altcoin blockchains. Stacks claims it can add more functionality to Bitcoin's blockchain. The STX token of the project is presently trading at nearly US$1.7, and its market cap is nearly US$2.2 billion.
Both BTT and STX have gained over the past one week. Almost every Web 3.0 project on the CoinMarketCap list has gained over the past few days, and this, in part, can be attributed to a broad-based bullish trend in crypto assets including Bitcoin. After a dull start earlier this year, riskier assets including cryptos and stocks are making a comeback. This makes the above five an interesting watch in the coming days.
Viewpoint
CoinMarketCap has listed at least 75 cryptocurrency projects under the Web 3.0 token category. The ones mentioned above are high market cap cryptos with defined utilities of the linked projects.
Web 3.0 is an emerging concept as of now, with some saying it has yet to demonstrate its potential. If the concept and Web 3.0 projects mentioned above prove their utility and long-term sustainability, the linked tokens may have a chance of price appreciation.
That said, these tokens can manifest the same volatility as other cryptos like Bitcoin and Ether. Prices can swing in any direction, and this at times may have nothing to do with the Web 3.0 concept.