Highlights

Bitcoin is under pressure, and so are altcoins, but many cryptos have recovered lately
Altcoins are native tokens, and it is a possibility that they might provide returns better than Bitcoin
February could be a month of inflows in cryptos, and a few altcoins might be preferred over others
Bitcoin's 2022 journey has so far remained subdued. Last year, Bitcoin -- which is the top crypto asset by market cap -- was outshined by altcoins like Solana and Axie Infinity in terms of returns. Ether's 2021 gains were also better than Bitcoin's.
Are there any altcoins that may shine bright in 2022? Can these altcoins help the crypto market recoup? Here are five altcoins to watch this month.
1. Ether (ETH)
No list of altcoins can be complete without Ether. The token of Ethereum's blockchain network, Ether, has the largest market cap in the cryptocurrency world after Bitcoin. As of now, Ether's share in the total market cap tracked by CoinMarketCap is over 18 per cent. Bitcoin's share is over 41 per cent, and BTC dominance in cryptos is shrinking with each passing year.
Ether has also lost value in 2022, but over the past few days, Ether's price has constantly gone up. Over the last seven days, Ether is up almost 10 per cent. This is no mean feat after all the negative sentiment that had gripped every risky asset including stocks.
Ether may find further use, thanks to its blockchain's utility in DeFi and NFTs. Its price, in this light, may see an uptick.
Also read: 5 key crypto predictions for February 2022
2. Solana (SOL)
Solana was one of the best performing cryptocurrencies last year. A possible Ethereum rival in terms of utility, Solana went from under US$2 to over US$100 in the matter of a few months in 2021. Though Solana is trading well below its all-time high price, it has gained more than 15 per cent over the last one week.
Solana is finding use in DeFi and DApps, and its proof-of-history consensus is drawing attraction. SOL may recover the lost ground in the coming months if it could find more backers for its blockchain.
3. Dogecoin (DOGE)
One of the most popular altcoins of last year, DOGE has had a not-so-impressive run so far in 2022. Dogecoin's price skyrocketed to nearly US$0.68 in early May 2021. As of now, this nearly US$19 billion market cap altcoin is trading at US$0.14.
Elon Musk recently tweeted about DOGE's acceptance as a form of money for purchase of Tesla merchandise. This triggered a limited rally in price.
Dogecoin has the capability of rising solely on the basis of a tweet by some influential person. The altcoin is also said to be used for tipping on platforms like Reddit. This meme currency is closely tracked by all crypto watchers.
Also read: 5 NFT cryptos to watch in February 2022
4. yearn.finance (YFI)
The YFI altcoin is not a top crypto by market cap, but it still ranks among the top 100.
What makes yearn.finance interesting is the project's field of work. It is an aggregator of decentralized finance (DeFi) platforms, which makes it an interesting watch for yield farming enthusiasts. Curve and Aave are two popular DeFi protocols, and yearn.finance allows users to maximize their returns.
YFI has a very high price per token. It is currently trading at nearly US$25,000 apiece, with a market cap of over US$900 million. DeFi protocols are being preferred by many crypto investors, and by this measure, YFI remains a close watch.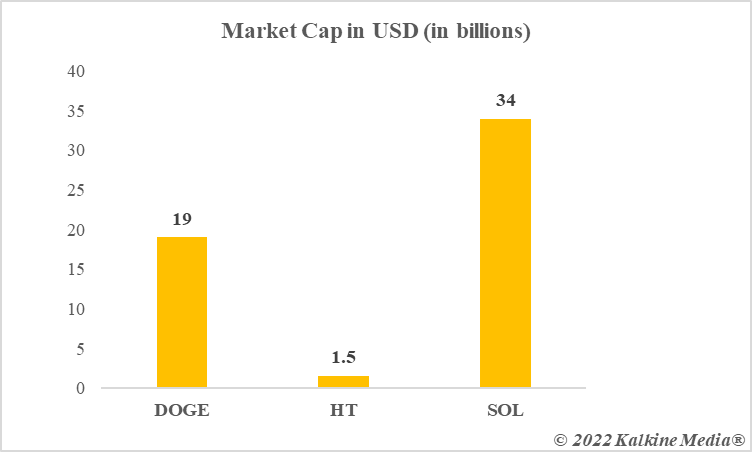 Data provided by CoinMarketCap.com
Also read: What is IOTA crypto & 'blockchainless' MIOTA coin's price prediction?
5. Huobi Token (HT)
Almost every crypto enthusiast knows about Binance Coin, a token linked to the Binance crypto exchange. But not all know about the Huobi Token, which is linked to another major exchange -- Huobi Global.
The token has a utility. The project claims that by having the native token, commissions paid by users on the Huobi exchange can be reduced. Besides, holders of the HT token can vote on governance issues. A discount is also offered to holders on VIP subscription plans.
Huobi Token has a market cap of nearly US$1.5 billion as of now, and it is trading at US$9.2. The HT token gained in mid-January, a time when most of the other cryptocurrencies were losing value.
Also read: Crypto Catch: Bitcoin bounces back but has it bottomed out?
Viewpoint
Altcoins and Bitcoin are different. While the latter is trying to find utility as a form of payment in the real world, the former are native tokens of a linked blockchain project. It is the success or failure of these projects that would decide the value of the linked token in the medium to long term. Altcoins like AXS performed better than Bitcoin last year, and it is a possibility that a few altcoins would give better returns in February as compared to BTC.