Highlights

Some governments entered the crypto industry with nefarious motives, knowing the flaws.
North Korea is the country responsible for laundering stolen assets from the cryptocurrency industry.
North Korea utilise those funds to support the country's ballistic missile and other weapons of mass destruction projects.
Globally, scammers, like investors, consider the crypto world a "safe utopia" to make a quick buck.
Imagine, a whole country getting defamed for scams. North Korea is the country which is gaining notoriety for increasing laundering of stolen assets from the cryptocurrency industry.
Let's dig deeper to understand how North Korea's cryptocurrency crimes are posing a threat to investors and other nations.
Recent Article: Crypto Scams that made headlines in 2021
What is Chainalysis' report on North Korea's crypto crimes?
According to a recent report from blockchain analysis firm Chainalysis, North Korea conducted at least seven attacks against crypto platforms in 2021, acquiring approximately US$400 million in digital assets, making it one of the most successful years for hackers.
According to the report,

The hacking targets, according to Chainalysis, were primarily centralised exchanges and investment firms like Liquid.com, which revealed in August that an unauthorised user had gained access to a number of Bitcoin wallets it controlled.
Several of last year's attacks were most likely led by Lazarus Group. The US has banned this hacker group, claiming it is managed by North Korea's Reconnaissance General Bureau, the country's main intelligence agency.
In addition, the group is accused of being involved in the WannaCry ransomware attacks, the hacking of customer accounts, foreign banks, and cyber-attacks on Sony Pictures Entertainment in 2014.
According to Chainalysis, North Korea accelerates its attempts to launder stolen cryptocurrency by considerably boosting its usage of mixers, or software tools that scramble & pool money from hundreds of addresses.
Surprisingly, the majority of assets stolen from North Korean hackers in the last year did not come from the world's largest crypto Bitcoin, according to the research. Only 20% of the assets taken in 2021 were Bitcoins, while 22% were altcoins or ERC-20 tokens, and for the first time ever, ether accounted for 58% of the funds stolen.
Chainanalysis also revealed US$240 million in current balances, which reflect stolen funds from 49 different hacks that took place between 2017 and 2021 and are still being laundered through services.
Chainanalysis further mentioned that since 2018, a couple of the most successful hacks included one on trading platform, KuCoin, and another on an undisclosed crypto exchange, with each reaping more than US$350 million on their own.
Recent Article: Five tips to avoid being conned by crypto fraudsters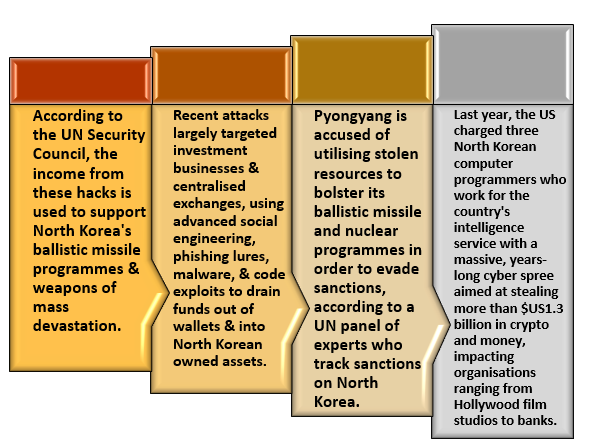 Accusations and claims by US and UN on North Korea based crypto scams (image ©2022 Kalkine Media®)
Final thoughts
North Korea-based hackers are currently making a fortune in the cryptocurrency market. If their crypto misdeeds continue, they will amass more money. Hence, investors and crypto exchanges, beware of the dark side of the crypto world!
Recent Article : What is cryptocurrency and why is it so popular?