Highlights

World's largest NFT marketplace, OpenSea, has appointed its first ever CFO, tech veteran Brian Roberts, who has stated his intentions for a public listing.
Investors are reportedly seeking to invest about US$ 1 billion into the company, for a valuation of above US$ 12 billion.
OpenSea had a valuation of US$ 1.5 billion, after raising about US$ 100 million from its Series B funding round in July.
OpenSea, which is the world's biggest non-fungible token (NFT) marketplace, has hired tech veteran Brian Roberts as the company's first ever Chief Financial Officer (CFO).
Mr Roberts in a media interview has stated his intentions to raise more funds for the NFT platform, potentially via an initial public offering (IPO).
OpenSea's potential IPO plans
OpenSea's founder and CEO, Devin Finzer, said the group is currently in discussions with investors in order to raise additional funds.
Meanwhile, Mr Roberts, in a Bloomberg interview, said that one would be foolish to not consider going public when a company is growing as rapidly as OpenSea.
OpenSea IPO: Is the largest NFT marketplace going public?
It is being said that though OpenSea didn't need to raise more funding, it could use the capital from IPO in various areas such as acquiring other companies, creating partnerships, establishing joint ventures to help in the expansion of NFTs into new industries and more.
Investors are reportedly looking to invest about US$ 1 billion into OpenSea, for a valuation of over US$ 12 billion.
OpenSea's existing investors include Silicon Valley based venture capital (VC) fund, Andreessen Horowitz or a16z, VC firm Founders Fund, crypto exchange platform Coinbase and blockchain focused VC firm Blockchain Capital amongst others.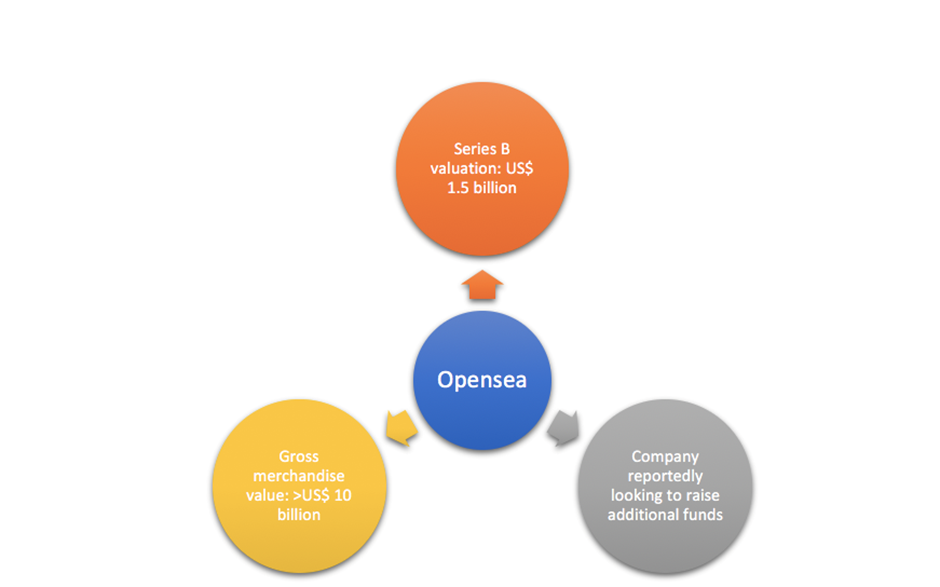 © 2021 Kalkine Media
OpenSea's recent valuation
OpenSea had a market valuation of US$ 1.5 billion, after raising about US$ 100 million from its Series B funding round earlier this year in July. Andreessen Horowitz or a16z had led the funding round.
The NFT platform had earlier raised about US$ 23 million from its Series A capital raising round in March. This round was also led by the Andreessen Horowitz VC fund
OpenSea, which was founded in 2017, currently offers over 80 million NFTs to more than 700,000 users. It has processed over US$ 10 billion in gross merchandise value or transaction value.
Brian Roberts
For joining OpenSea, Brian Roberts left his 7-year stint as the CFO at ride-sharing app, Lyft. Mr. Roberts had been a key part of Lyft's IPO in 2019.
He had earlier led the mergers and acquisitions activity at Walmart. Roberts had an earlier stint as the head of global corporate development at Microsoft.
Bottom Line
Cryptos and NFTS have boomed this year and have been seeing a surge in VC funding.
According to reports citing data from research company CB Insights, the crypto sector has seen an investment of over US$ 21 billion this year as of 30 November, rising by over 6 times, which represents more than the investment received in the past 10 years combined.