Highlights

Olympus (OHM) surged 8.97% on Monday at 8:06 am ET.
OHM's price fell around 45.8% in the last 30-days.
Olympus Pro launched Cohort 4 last week, where it added six new partners, namely Keep3r Fixed Forex, Ichi, Sandclock, THORswap, Unslashed, and Gelato.
Olympus's (OHM) traded at US$475.11 with an 8.97% gain on Monday at 8:06 am ET. Last week, Olympus Pro declared the launch of Cohort 4, its biggest in terms of token emissions to date, which it said will give it and its partner communities new bonding opportunities.
The six new Olympus Pro partners are Keep3r Fixed Forex, Ichi, Sandclock, THORswap, Unslashed, and Gelato. The token was on a downslide till Sunday, December 12, but jumped Monday without any latest update.
Also Read: Top consumer stocks that shined in 2021
What Is Olympus?
Olympus is a decentralized finance reserve that provides compounding interest to its users through the community-owned treasury claimed to be protected and sustainable.
It is a Decentralized Autonomous Organization (DAO), governed by the community through smart contracts. Olympus owns a treasury that mints OHM and sells it when it is above its floor price and burns when it trades below that.
Staking gives the highest reward for Olympus and it auto-compounds every eight hours. The purpose of a high reward is that users accumulate more OHM and the treasury grows. OHM is based on ERC-20 and constantly features new Olympus Improvement Proposals (OIP).
Also Read: Red hot blue-chip technology stocks to explore in 2022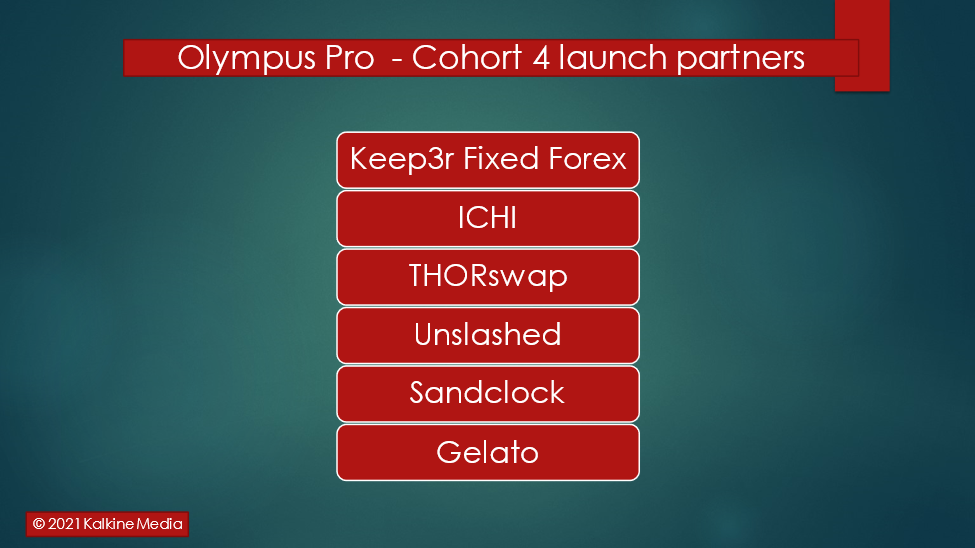 Also Read: Are these 7 utility stocks poised for another year of growth?
The Olympus Pro is a service used to supplement liquidity mining in emission programs with low cost and high impact. The protocols accumulate the infrastructural liquidity via liquidity mining through the bonding service.
They purchase the liquidity to save the cost, which comes at high-interest rates if taken on rent. And then, this liquidity is used as a revenue-producing asset that supports the platform's functionality.
Bonding has a significant benefit. It helps in stabilizing the token prices. The crypto market is volatile where bonding programs are considered to stabilize the prices and reduce risk.
Olympus provides infrastructure, expertise, and exposure to a marketplace to its users. The only requirement for the projects is to bring in their token and objective.
Also Read: 1inch, P4 eye Dec 13 debut of NFT collection on Binance– Know price
Financials:
OHM's price fell around 45.8% in the last 30-days, as per coingecko.com. But it jumped more than 8% in 24 hours.
Its current market capitalization is US$792 million, and the 24-hour volume is US$62.15 million, with an 87.09% increase.
Olympus's self-reported circulating supply is 1,663,068 OHM while its maximum supply information is not available, and the total supply is 1,416,029.
Where to buy it?
The token can be traded at BKEX, Uniswap (V3), Gate.io, Bitget, and ZT.
Also Read: Intensity Therapeutics (INTS) IPO: How to buy the stock?
Bottom line:
The Crypto market is highly volatile and is not regulated. Thus, the investors must understand the digital asset properly before going to invest in them.