Highlights

2022 could be a year of crypto projects defined for their real-world utility
Developments in metaverse space will be closely watched
Blockchain-gaming projects, thanks to metaverse underpinnings, may be among the most popular cryptos
The year 2021 was a mixed bag for cryptocurrencies. A few like Solana (SOL) and Axie Infinity (AXS) exploded in 2021, whereas biggies like Bitcoin (BTC) experienced several ups and downs.
In 2022, cryptocurrencies are likely to continue dominating news headlines again. We might see some new Bitcoin and Ether exchange traded funds (ETFs), new indices tracking the price of high market cap cryptos, and Bitcoin price finding its true resistance level. Which is the crypto that would explode in 2022? This is a tough question that warrants a thorough analysis.
Also read: 5 breakout altcoins with metaverse underpinning
2021 crypto trends
History repeats itself, and this phrase might hold true for cryptocurrencies.
By comparing two popular cryptocurrencies and their performance in 2021, we might get an idea what's coming in 2022. Bitcoin (BTC) and Axie Infinity (AXS) can be a good comparison. The former was the biggest, most popular crypto at the beginning of the year, and the latter wasn't even in the list of top 30 crypto assets by market cap.
Bitcoin and Axie Infinity comparison makes sense because these two are very distinct crypto projects. In the wake of the financial crisis of 2007-2008, Bitcoin started as a humble competitor to fiat currencies. Its creator, Satoshi Nakamoto envisaged a tomorrow where a blockchain-based digital currency could bring down the cost of remittances besides making money transfers quicker. From a few cents to a price tag of nearly US$ 29,000 on January 1, 2021, Bitcoin can be said to have a great ride.
Also read: Explained: Cryptocurrency categories – DeFi, NFT, Metaverse
Axie Infinity is a gaming project that uses the decentralized ledger attribute of blockchain technology to compete with conventional games. AXS is not a typical 'blockchain-based digital currency' project. The game uses AXS as its native token, which users can buy, earn, spend and sell. AXS is a kind of medium of exchange within the game, and outside, it is a tradable asset. From half a dollar on the first day of 2021 to nearly US$100 as of now, AXS dwarfs the 2021 returns of not just Bitcoin but also of Ether and Dogecoin.
This analysis indicates that 2022 could be a year of crypto projects that are loved by users for their real-world utility. Bitcoin, for now, is just an asset, which one can hold or trade. Next year could finally see a cryptocurrency with multiple dimensions to engage users.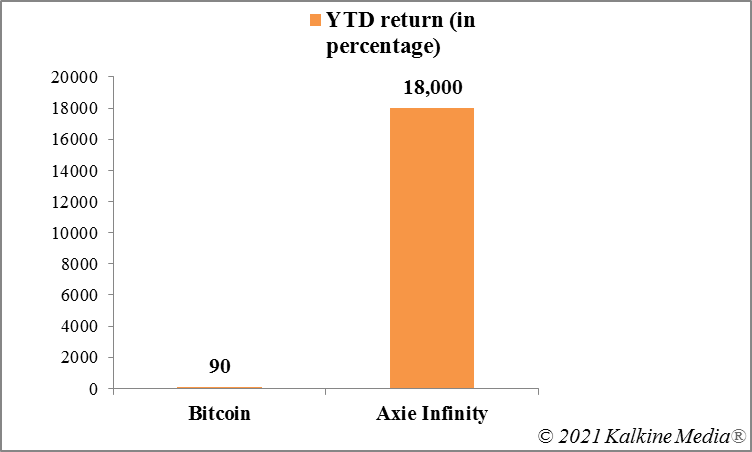 Data provided by CoinMarketCap.com
The rise of metaverse
In 2021, crypto enthusiasts closely followed the development in metaverse space. Much of its popularity can be attributed to Facebook's rebranding to Meta. If a tech giant with a multi-billionaire CEO is shifting focus to the metaverse, there's likely some compelling reasons behind it.
Metaverse allows users to enter a fictional world where they can literally do what they aspire to in the real world but cannot due to physical, legal and other barriers.
But before one assumes that it will be Facebook as the first mover in the metaverse, let's know about crypto projects in the space for very long. Axie Infinity is a metaverse for it allows gamers to enter into a virtual reality world, undertake combats, own fictional characters and so on. It also brings the possibility of owning non-fungible tokens (NFTs) and trading them to make money. That's the play-to-earn model, which of late has gained traction.
Axie Infinity has many competitors, of which Decentraland (MANA) and The Sandbox (SAND) are the biggest in terms of market cap. Axie's rise in 2021 could be one way to predict the rise of these two in the coming year.
Also read: What are DeFi games & which are the most popular DeFi games?
Decentraland (MANA) may explode in 2022
First, exploding here doesn't necessarily mean an exponential price appreciation. Even Bitcoin can be said to have exploded in 2021 – S&P Dow Jones created BTC indices and Bitcoin ETFs were launched – though price appreciation wasn't as high as its nearest competitor, Ether.
Decentraland's explosion in 2022 basically means that this blockchain-gaming project might remain one of the most popular cryptos, thanks to metaverse underpinnings.
Decentraland is a metaverse where users can own land, build on it and earn revenue, and so on – all in its virtual reality space. Built using Ethereum's blockchain network, which also makes Ether a good watch in 2022, Decentraland is a fairly new crypto project launched in February 2020. The project allows users to own the so-called parcels of land as NFTs, using Ethereum services. As we know, NFTs can be listed on multiple exchange platforms like OpenSea to monetize the holding.
The concept of the decentralized autonomous organization (DAO) also underpins Decentraland. Here, users of the platform can stake MANA token holding to participate in voting and take governance decisions without any centralized authority as it exists in conventional gaming.
Also read: How to invest in cryptocurrencies?
Interest in The Sandbox
The Sandbox is a close competitor to Decentraland. In the past few months, The Sandbox has earned the participation of SoftBank as an investor and of Adidas as a user of the project's metaverse.
Data provided by CoinMarketCap.com
Decentraland has yet to find such patronage, but it too attracted its fair share of support in 2021. In June, the famous Sotheby's auction house created a digital version of its headquarters on Decentraland. A piece of land on Decentraland's fictional world recently sold for more than US$2.4 million. Many analysts were shocked by the sale, which even defies the high inflation in the actual real estate world of the US.
Decentraland price prediction 2022
MANA crypto had a market cap of a few million dollars on January 1, 2021. As of now, it has a market cap of over US$5 billion. The true bull-run in MANA began in late October when the price of one token appreciated from under one dollar to over US$3.5 in less than a week. By late November, MANA touched US$5.5 before bears entered the wider cryptocurrency market.
As of now, MANA is trading at nearly US$3.2. The low price per token might be one of the reasons why investors would want to park money in it in 2022. Besides, its metaverse and NFT features are the real attraction. If Decentraland could repeat Axie's 2021 history, its backers are in for extraordinary price appreciation in 2022.
Also read: 5 emerging blockchains that may become Ethereum killers in 2022
Bottom line
Cryptos are profitable only when the investor parks money and books profit at the opportune time. There can be no exact prediction on which crypto will explode in 2022. But looking at 2021 trends, metaverse cryptos are a likely contender. Decentraland might repeat Axie Infinity's history and find more backers for its fictional world where assets can be owned and monetized.