Highlights

The FARM token was up more than 120% on Tuesday.


Its trading volume rose by over 7704% in the last 24 hours.


The token gave a 241% return YTD.
The Harvest Finance (FARM) token was in the limelight on Tuesday after its price jumped more than 120%.
So, what is Harvest Finance (FARM)?
Harvest Finance is an automated yield optimizer that generates yields through moving funds around the decentralized finance (DeFi) ecosystem. It is a yield-farming protocol for market participants interested in activities related to high-producing farming investments.
The crypto enables investors to generate profit from the decentralized finance (DeFi) platforms by utilizing the advanced farming approach.
FARM, built on the Ethereum blockchain, is the governance token of Harvest Finance, and it can be used for staking and yield-farming. Harvest Finance uses FARM as its currency.
Also Read: Why BiondVax Pharma (BVXV) stock jumped 31% today?
The FARM token was launched on Sept 3, 2020. Its circulating supply is 655,037 and the maximum supply is 690,420. Buyers can trade in the tokens from exchanges like Binance, HitBTC, Coinbase, etc.
Also Read: Yearender: Top EV stocks that continue to hog limelight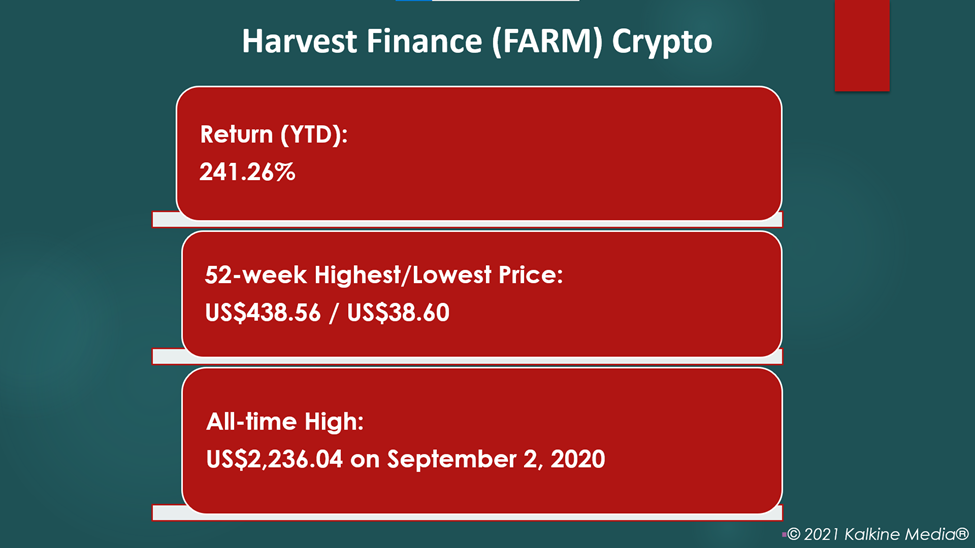 Source: *Data provided by CoinMarketCap.com
Also Read: How to buy Dent (DENT) token?
Pricing and other details of Harvest Finance (FARM):
The token was priced at US$223.91 at 1:08 pm ET on Dec 28, up 120.19%. It has a market cap of US$146.66 million, and its fully diluted market cap is US$154.59 million.
Also Read: Why Insignia Systems (ISIG) stock roared 65% higher today?
Its 24-hour trading volume to Tuesday evening was US$888.03 million, up of 7704.18%. The FARM token saw the highest price of US$438.56 and the lowest price of US$38.60 in the last 52-week. It hit an all-time high of US$2,236.04 on Sept 2, 2020.

Also Read: What is Paribus Crypto? How to buy it?

Bottomline

The FARM token saw significant growth in recent months. It gained more than 241% YTD. Driven by Bitcoin's swift gains, the global crypto market grew considerably this year. Currently, it has around 16,125 cryptos and about 447 exchanges in existence, with a total market cap of around US$2.28 trillion, according to CoinMarketCap.com.