Summary

Dogecoin is a meme currency, initially created as a joke.
It is significantly faster than its peers where it takes just a minute for completing one Dogecoin transaction.
Dogecoin uses a proof-of-work algorithm which is similar to that of Bitcoin.
Dogecoin is one of the many cryptocurrencies that are currently out in the market such as Ethereum, Bitcoin, Litecoin etc. It was created as a joke but is now amongst the most popular crypto coins around. Popularly known as a "meme currency", it is an open-source peer-to-peer (P2P) digital currency.
It's pronounced as "doje coin" after the once-popular 'Doge' Shiba Inu meme. Shiba Inu is a famous Japanese dog breed that featured in a meme that exploded in popularity in 2013.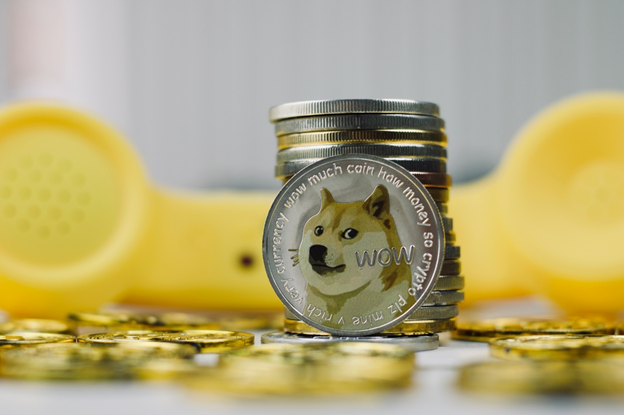 Image Source: ID 114923226 © B65381 | Megapixl.com
As earlier stated, it started as a joke in 2013, by creators Billy Markus and Jackson Palmer who were software engineers. They launched the satirical cryptocurrency as a way to make fun of Bitcoin and many other cryptocurrencies boasting grand plans to take over the world.
The creators of Dogecoin, wanted to create a fun and instant P2P crypto token with a wider reach than Bitcoin. They achieved this motive as Dogecoin is significantly faster than its peers where it takes just a minute for completing one Dogecoin transaction. To put things in perspective, a Bitcoin transaction takes around 10 minutes.
Markus based Dogecoin's algorithms on Luckycoin, which is itself is a derivative of Litecoin, and initially used a randomised reward for block mining, that was changed to a static reward in March 2014. Dogecoin has been made on Litecoin's scrypt technology and is a proof-of-work coin.
Read More: Dogecoin Surge Leads to Robinhood Crash as Investors Left Feeling Robbed
How Dogecoin is Different from Bitcoin?
There is no doubt that Dogecoin shares many similarities with Bitcoin on the technological front. However, they are not identical. There are some variances that separates Dogecoin from Bitcoin.
One of the biggest differentiating factors which separates dogecoin from the biggest cryptocurrency, is that, while Bitcoin's maximum supply has been capped at 21 million coins, amount of dogecoins that can be created is virtually unlimited.
Image Source: ID 217909521 © Zephyr1783 | Megapixl.com
Dogecoin uses a proof-of-work algorithm which is similar to that of Bitcoin. However, unlike Bitcoin, Dogecoin uses the Scrypt hash which is different from to Bitcoin's SHA256.
Dogecoin has also reduced block times compared to Bitcoin. However, this significantly high mining rate actually led to some issues later on in Dogecoin's development.
Read More: Dogecoin nosedives on Musk's remarks; what does it mean for the cryptocurrency?
So, what are the advantages of Dogecoin?
The transaction fees for Dogecoin are quite low as compared to other digital currencies, especially Bitcoin. Also, the transaction time is much faster as it roughly takes around a minute. Due to Dogecoin's low ticket size, it is widely used as a tipping system and as a mode of payment for online casinos and cryptocurrency gambling.
Due to Dogecoin's Scrypt proof-of-work consensus, which is different from Bitcoin's SHA256, Dogecoin can be mined via FPGA and ASIC devices with considerably less energy consumption as opposed to Bitcoin's requirement of very high-power mining rigs.
The uniqueness of Dogecoin is also attributed to its strong and vibrant community, which essentially has a cult following, making it different from the other cryptocurrencies.
Read More: Dogecoin Volatile Over the Weekend; Where is the Digital Currency Heading?
Some of the disadvantages of Dogecoin
While Dogecoin has better features, making it a better alternative than most of the other cryptocurrencies, it is still in its infancy where mainstream applications are concerned. Nevertheless, with crypto enthusiasts like Elon Musk and celebrity crypto proponents like Gene Simmons and Snoop Dog expressing interest in this crypto, it may find more real-world applications soon.
Although Dogecoin has a very wide and active community, there have been no major technological updates since 2015. This could be a bit of an issue and would definitely tick one spot under its drawbacks' list.
Read More: Dogecoin Wasn't the Only Crypto to Fall After Musk's SNL Appearance