Highlights

Trump has criticised cryptocurrency saying that he prefers to have the dollar as America's main currency
A UK regulator has banned two promotions advertising the Arsenal football club token
A top trader has said that two Altcoins appear ready to explode
Former US President, Donald Trump, has labelled cryptocurrency as "very dangerous" and has warned of a massive explosion someday.
In an interview with Maria Bartimoro, Trump criticised crypto saying that he prefers to have the dollar as America's main currency.
He voiced his concerns about the rising popularity of crypto, criticising the lack of government intervention in checking its rising influence.
Trump has been a long-time critic of cryptocurrency, saying earlier in the year that they need greater regulation and were a "disaster waiting to happen".
In the interview, Trump also talked about former First Lady Melania Trump's new non fungible token (NFT) project, titled "Melania's Vision".
Trump commented positively about the former First Lady's NFT and remained confident her project would be a success.
Arsenal's Crypto Ads Banned in the UK
Britain's advertising regulator has banned two promotions from Arsenal Football Club claiming they were misrepresenting the risks of investing in cryptocurrencies.
The Advertising Standards Authority (ASA) said that the club was trivialising investment in crypto assets and taking advantage of consumers' inexperience regarding the crypto market. They added they were misleading consumers over the risk of investment and not making it clear the 'token' was a crypto asset".
The two ads in question, published in August of 2021, promoted the Arsenal Fan token, one in a Facebook post and one on a web page. The Facebook post encouraged fans to claim a token in order to vote on which song would be played when the team wins a match.
Arsenal said it would seek an independent review of the ruling in order to get a clearer understanding.
Crypto News
A top trader has said that two Altcoins appear ready to explode.
Pseudonymous trader Cantering Clark told Twitter that he has high hopes for crypto, ICE, which is the native token of multichain yield optimisation platform Popsicle Finance.
Cantering Clark says the sudden strength ICE has shown in recently indicates that a larger trend shift is underway.
The trader also says crypto SPELL which is the native token of decentralised finance platform, abracadabra.money, is one to look out for.
He also says SPELL is showing a clear change in direction unparalleled in the rest of the crypto markets.
Winners and Losers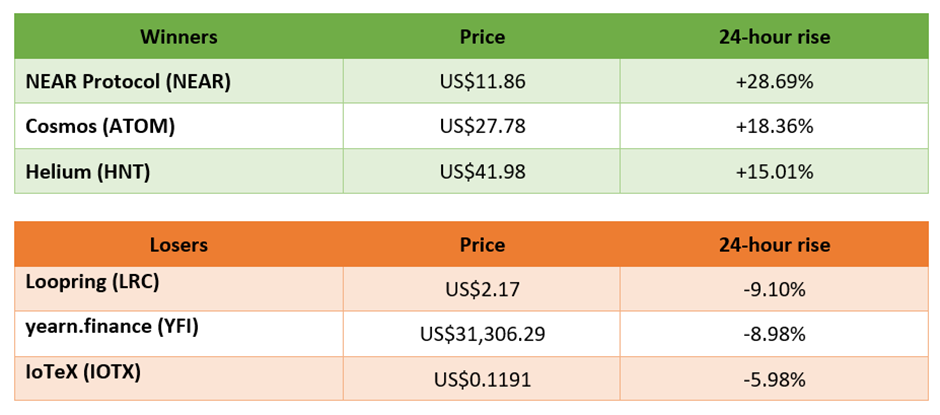 Note: this is the past 24 hours from 12:30pm AEST
Source: Coinmarketcap.com, based on top 100 cryptos.
Image Source @ 2021 Kalkine Media®