Summary

Coinbase has secretly filed for an IPO in the midst of the ongoing crypto rally and is awaiting Securities and Exchange Commission approval.
The company was worth U$ 8 billion, as reported in 2018. Investors will come to know the current market value once Coinbase goes public.
The crypto retailer platform presently has more than 40 virtual currencies on its exchange in the U.S, and it has 35 million customers in 100 countries, as per the Coinbase website.
Cryptocurrency exchange, Coinbase Inc, announced on December 17 that it has secretly filed for a public offering on the U.S. Securities and Exchange Commission (SEC), becoming the latest in high-profile startups to follow an IPO route in 2020.
If the SEC accepts Coinbase's offering plans, it would be a landmark triumph for cryptocurrency promoters competing for mainstream validation.
Coinbase came up with this listing just after Bitcoin hit an all-time high and surpassed the US$ 23,000 milestone on December 17, guided by rising interest from larger investors at Wall Street and online payment platforms like PayPal and Square.
The company was founded in 2012 as a simple platform to buy Bitcoin. Coinbase has now become a corporation of crypto-related operations and the standard-bearer for the industry. The company was valued at US$ 8 billion, as reported in 2018.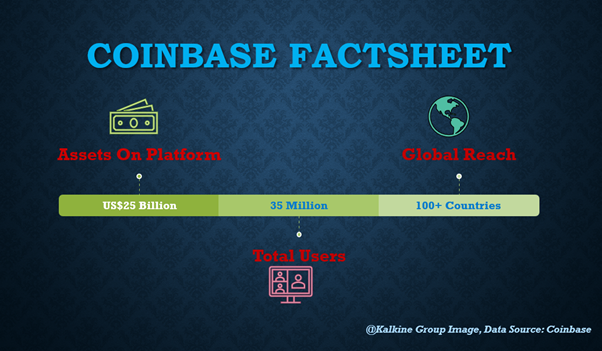 Coinbase operates a retail segment with its main exchange and offers more advanced trading on its Coinbase Pro product. It presently holds more than 40 virtual currencies on its exchange in the U.S. The crypto retailer has 35 million customers in over 100 countries.
Coinbase has garnered more traction as a site for retail investors looking to exchange their traditional money with cryptocurrencies. There are other competitor exchanges in the U.S. such as Gemini, Kraken; and globally like Binance, Huobi, and OkCoin. But Coinbase has built an exceptional brand recognition in this segment.
The Coinbase IPO would observe as the first U.S. cryptocurrency firm to go public, a breakthrough for the development of the crypto industry, and could be one of the strongest IPOs of 2021.
The company is yet to come out with an official statement on the detailed offerings value, and how much it wants to raise from the IPO.
However, the company has also made headlines due to multiple controversies in 2020.
In September, Coinbase CEO Brian Armstrong released a public memo stating claiming that the organization is apolitical in nature where employees do not talk about politics or social issues. The memorandum was reportedly released following an internal conflict that happened after Armstrong failed to answer a question about his position on the Black Lives Matter movement at a town hall meet. His memo was criticized by many inside and outside the industry.
Following the Coinbase memo, a US-based newspaper in November reported on a few of Black former employees who claim biased treatment by the organization.