Highlights

Civic was co-founded by Vinny Lingham and Jonathan Smith in 2015.


It was launched in 2018, a year after its initial coin offering (ICO).


CVC gave a return of over 555% YTD.
What is Civic (CVC) Coin?
Civic (CVC) coin or Civic is a blockchain-based identity management solution. It provides identity protection tools to individuals and businesses.
Civic was launched in 2018, a year after a successful initial coin offering (ICO) in 2017, in which about 33% of its 1 billion CVC tokens were offered to the public.
The crypto company was co-founded by Vinny Lingham and Jonathan Smith in 2015.
Also Read: BAT crypto - is it immune to market movements?
The platform offers a new identity verification process, which gives users more control over their personal information compared to the traditional solutions. In addition, it provides users access to various services without having to give out too many personal details.
For validating identity in real-time, its verification service uses distributed ledger technology, which is also used to share the details with its partners after the user permits it.
The users of the blockchain identity management platform store all sensitive data on their mobile devices and they can control the sharing of specific data or information with a biometric signature through the Civic app.
Also Read: HEX crypto (ERC20) gains 56% YTD: Should you explore this token?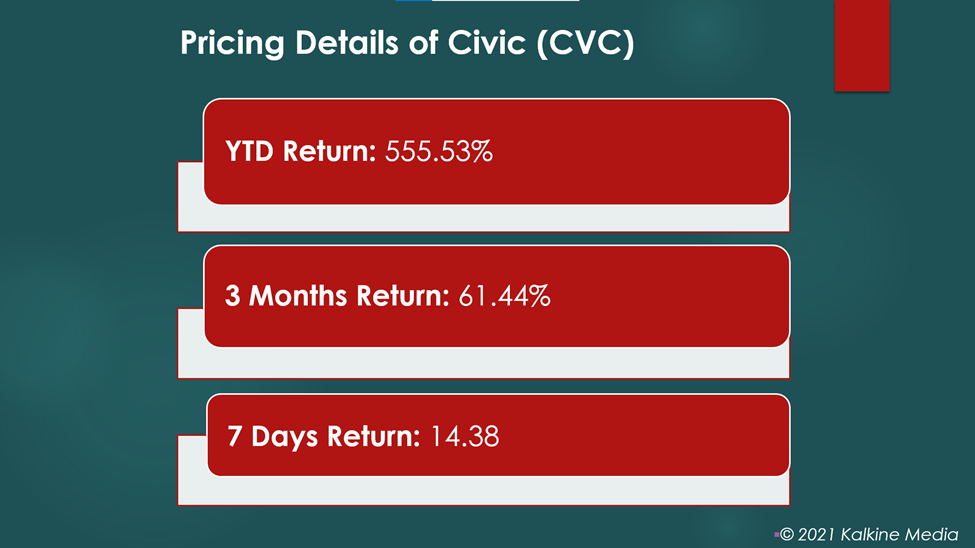 Also Read: Snook crypto (SNK) gains 80% in a single day – know why?
Pricing of Civic (CVC)
The Civic coin was priced at US$0.5542 at 12:11 pm ET on November 26, up 10.38%. Its market cap and fully diluted market cap are US$371.31 million and US$562.21 million, respectively.
The CVC's trading volume for the last 24 hours is worth US$540.92 million, representing an increase of 519.44%. The crypto gave a return of 555.53% YTD.
Also Read: Is Shiba Inu (SHIB) on track to be among top 10 cryptocurrencies?
Bottomline
Civic is designed in a way to make the identity verification process easy for users while retaining full control over personal data. As of December 2020, its main products are Civic Wallet, a mobile crypto wallet, and Health Key. Its wallet can be used to store various cryptos. On the other hand, Health Key is an application that allows employers to verify employees' health. Still, their privacy is not compromised in the process.