Highlights

No analyst can perfectly forecast the price movements of cryptocurrencies due to the underlying volatility.

Past price performances can be a clue just like technical measures including resistance level and moving averages.

A few major cryptocurrencies grew multi-fold in the first quarter of 2021, and rewarded backers who invested at the most opportune time.
There is no certainty whether any cryptocurrency will rise or fall in the coming days. The space is volatile in terms of price. But if past performance is any clue, it may shape investors' interest.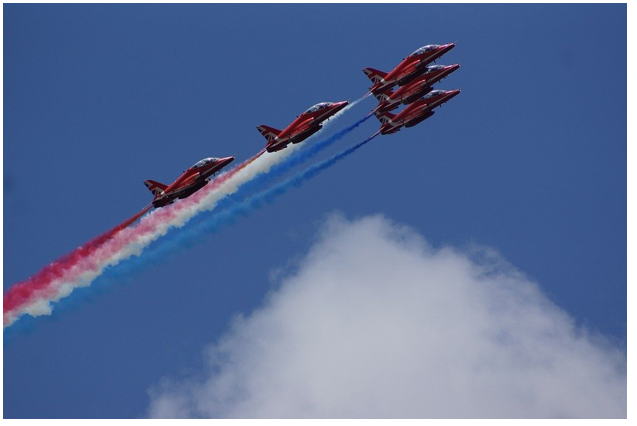 Source: Pixabay.com
The year 2021 is coming to an end with just two full months remaining. Bitcoin has reclaimed its glory by gaining value over the past few weeks. There is even talk around Bitcoin surpassing US$100,000 by the year's end.
In this light, let's find out five crypto assets that rose in value in the first quarter of 2021. Only time will tell if they can repeat history in 2022, but it should be an interesting watch.
1. Bitcoin (BTC)
Yes, before that mid-year slump in prices owing to the crackdown on mining and trading in China, Bitcoin was on a rising spree all through the first quarter.
Also read: Can Bitcoin be termed as the 'asset of the century'?
Bitcoin's price on January 1, was nearly US$29,000. By the first day of April, BTC has skyrocketed to nearly US$59,000. This is an approximate 100 per cent return on investment in just three months. This is no mean feat for a cryptocurrency that has never managed to fully convince regulators like the SEC.
But lately, the SEC has green-lit the first-ever US Bitcoin ETF. This is seen by many as a seal of approval for Bitcoin, which also became legal tender in a country in 2021. Bitcoin has been hailed by prominent tech billionaires like Jack Dorsey, who calls it the "native currency" of the internet, and Elon Musk, who has lately revealed that he holds Bitcoin besides two other cryptos.
Also read: Elon Musk's crypto holdings & how they've performed in 2021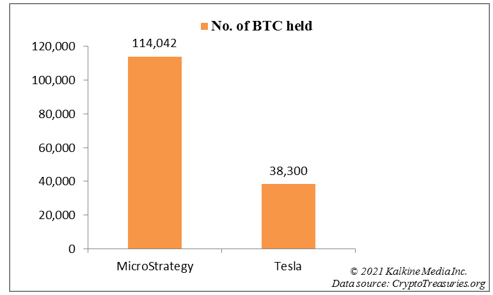 As of now, Bitcoin is trading at nearly US$60,000. This is not very high considering some late positive developments, and the fact that in mid-April it touched nearly US$65,000.
2. Ethereum (Ether)
Ether is second only to Bitcoin by market cap. The latter has surpassed Facebook's market cap, and Ether is gaining traction due to multiple reasons.
On January 1, Ether was trading at nearly US$730. By April 1, it was above US$1,900. The first quarter was almost the same for BTC and Ether. The key factor behind Ether's surge is dependency on its blockchain, Ethereum, for multiple other crypto tokens and even NFT platforms. Did you know that most NFTs record ownership on Ethereum's blockchain?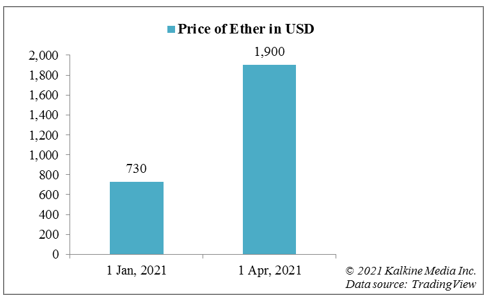 Ethereum has spawned several new cryptocurrencies, some of which have a billion-dollar market cap. In 2021, the blockchain continued its dominance in the decentralized finance space, although new blockchains like Solana are fast catching up.
As of now, Ether is trading at nearly US$4,200.
3. Binance Coin (BNB)
It was a multi-fold surge in price for Binance Coin in the first quarter. From nearly US$37 on January 1 to a whopping US$300 on April 1, BNB token's rise was phenomenal.
Binance Coin owes its popularity to Binance, the popular exchange for trading cryptocurrencies. Binance was launched almost a decade after Bitcoin, but its utility has made BNB the third biggest cryptocurrency by market cap. Now, Binance aims to become a complete blockchain ecosystem on the back of the Binance Smart Chain that hosts other blockchain projects.
Also read: Can these 5 altcoins hedge against inflation?
The token BNB is used for multiple transactions carried out on the Binance infrastructure. In 2021, a fall in the price of BNB, when it lost almost half its value, was witnessed in May. This was triggered by fears of a crackdown on Binance in multiple jurisdictions.
As of now, BNB is trading at nearly US$480.
4. Solana (SOL)
Solana is a rival blockchain to Ethereum. The difference is that Solana uses the proof-of-history consensus mechanism for transactions while also using the traditional proof-of-stake.
Solana has had a phenomenal 2021 so far. Much is owed to the popularity of decentralized apps (DApps) that are producing new decentralized exchange platforms for cryptos. Solana claims to have scalability features better than Ethereum, with relatively lower transaction fees. Solana's blockchain also targets the small-time users of blockchain by providing DApps services.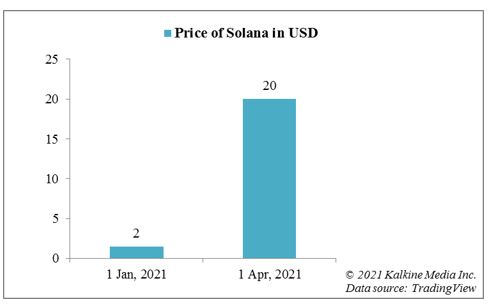 At the beginning of 2021, Solana was priced at nearly US$2. By April 1, the price was nearly US$20. And as of now, Solana is priced at nearly US$190. Solana is one of the best performing major altcoins of 2021.
5. Polygon (MATIC)
Polygon introduces features in Ethereum's blockchain that don't let multi-chain platforms like Polkadot have an edge. Polygon claims to resolve scalability issues in the blockchain.
Also read: Can Bitcoin end 2021 with a price tag of $100,000?
Polygon's native token is MATIC. This is one of many ERC-20 (Ethereum-based) cryptos that command a very high market cap of their own. Polygon works on a "plasma" framework to support DApps, and the ability to achieve tens of thousands of transactions in a single block makes it unique.
MATIC's price was nearly US$0.018 on January 1. The first quarter gains were immense and by the beginning of April, the price was nearly US$0.35. As of now, MATIC is trading at nearly US$1.8.
Although most headlines from the cryptocurrency world revolve around Bitcoin, the year 2021 was nearly a year of altcoins. Of all the above five, the gains registered by Bitcoin in the first three months are the lowest. But Bitcoin still dominates the crypto space with almost a 44 per cent share in the overall market cap of all cryptocurrencies. Bitcoin is also the most mainstreamed cryptocurrency with the S&P Dow Jones tracking its price, Bitcoin Future ETFs and recognition as a legal tender.
Bottom line
It is not certain that the surge in the price of these cryptos in the first quarter of 2021 will be repeated in 2022. But this does demonstrate investors' interest in the cryptocurrency space, and how returns on some dwarf gains posted by the best exchange-listed stocks. Timing is the key in cryptos as volatility is very high.