Highlights

Solana performed better than most other blockchain networks including Ether in 2021
Solana's SOL token has lost half the value so far in 2022, and the network recently suffered outage
Price in the medium-to-long term might be decided by a slew of factors
Top cryptos including Bitcoin and altcoins like Ether and Solana are down as compared to their all-time high price levels.
Does this mean that 2022 might be the year when cryptocurrencies will underperform after a nearly two year long bull-run? The cryptocurrency market, after recent developments in metaverse, NFTs and new blockchain networks is not about Bitcoin or Ether alone. There is a fair chance that a few cryptos might defy the odds in the coming months.
In this light, where does Solana, the so-called 'Ethereum killer' crypto stand. Let's find out.
Solana in 2021
Solana was one of the best performing cryptocurrencies of last year.
SOL, the native token of the Solana's proof-of-history consensus-based network, started 2021 at a price tag of under US$2. The price entered double-digit territory in mid-February. The bull-run continued in the following months and the price breached US$50 in mid-May 2021.
This was the time when Bitcoin price struggled to maintain the momentum due to talks around its high energy consumption. Solana also manifested a bearish trend and the price was down to US$25 on May 23. A major surge was noticed in late-August, and price peaked to nearly US$260 by early November.
SOL ended 2021 at nearly US$170, registering whopping 1-year return for its backers.
Also read: Flash loans on DeFi. The pros and cons
Solana in 2022 so far
Solana has lost almost half its value so far. The over US$27 billion market cap cryptocurrency is trading at nearly US$88 as of now.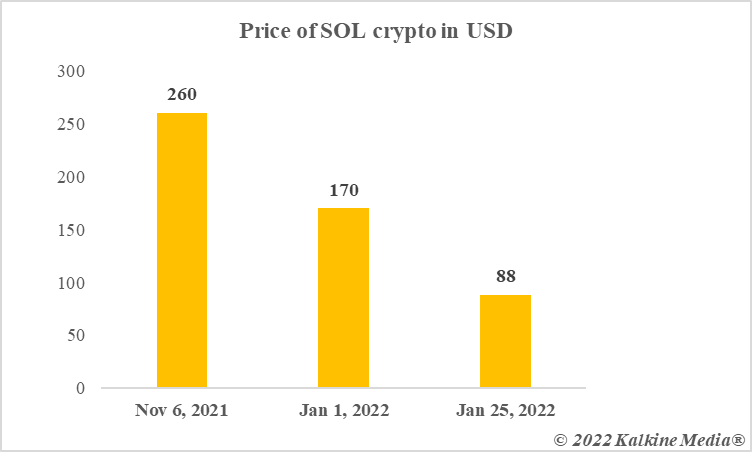 Data provided by CoinMarketCap.com
Solana's underperformance - Reasons
First, the wider crypto market is under pressure ever since the investors has factored in policy rate hikes in their decisions. Bitcoin has also lost almost half its market cap, but it has lately regained some ground. Ether, the token of Solana's biggest competitor Ethereum, is also down. And so are major meme coins Dogecoin and Shiba Inu.
Second, Solana network has recently suffered a major technical glitch. According to reports, bots were responsible for the outage that prevented Solana DeFi users from getting their loan collaterals tweaked. This caused Solana to tweet about the congestion to prevent users from speculating.
Solana price prediction 2022
The blockchain network sector is undergoing many developments. Ethereum might soon fully shift to the proof-of-stake consensus. Ethereum and Binance Smart Chain are popular DeFi service providers, and Solana will have to prove its mantle.
By this measure, the price might remain subdued in the near-to-medium term. But since many users are flocking to DeFi apps for yield farming and staking, SOL token may have more demand. Together, if a positive sentiment hits the wider crypto market, SOL price may hit approx. US$100 by the end of first half of 2022.
Also read: Top cheap cryptocurrencies with high market cap
Bottomline
Predicting the price of any cryptocurrency is a very complex thing considering all cryptos are volatile, no matter their multi-billion-dollar market cap. Solana might reach US$100 by end of June 2022, but a sustained rally in the overall crypto sector can make this happen.