Highlights

Bitcoin made a remarkable resurgence in August after being cast to the crypto pit following epic price crashes mid-year.
Bitcoin's legitimacy has been bolstered by noteworthy events, particularly Bitcoin's adoption by other countries and major companies.
Faster payment processes, lower fees and increased accessibility are few Factors which may lead to increasingly wider adoption of Bitcoin.
Bitcoin is the largest cryptocurrency by market capitalisation and also the world's first digital currency, having been introduced in 2009. By no means was there any fanfare during the revolutionary coin's inception. In fact, to say that Bitcoin went largely unnoticed for years isn't a far stretch. Twelve years later, not only has Bitcoin become a recognised online cryptocurrency, but it has also encroached upon the territory of traditional currencies. However, some may still see it as a passing fad.
Image Source: © Lembergvector | Megapixl.com
For Bitcoin, if anything, 2021 has proved that its price can move either up or down at a frantic rate. Whilst this makes it difficult for pundits to predict where Bitcoin's price will be two years from now, it hasn't stopped Bitcoin bulls from making some bold predictions with some even going so far as to predict a US$500,000 price by 2023.
The question of whether this is a realistic assessment or bullish-fuelled speculation is up for debate.
So let's dissect this very question: Can Bitcoin hit the US$500,000 mark by 2023?
Bitcoin's 2021 Resurrection
Bitcoin made a remarkable resurgence in August after being cast to the crypto pit following epic price crashes mid-year. On 23 August 2021, Bitcoin broke the US$50,000 mark for the first time since the beginning of May when it had suffered a massive correction, falling from around US$58,000 on May 3 to around US$35,000 by May 17.
What Determines Bitcoin's Price?
Bitcoin's price particularly in the past few years has been determined largely by how accepted it is among the wider financial system.
Once seen as a way to purchase, shall we say, obscure online items, Bitcoin's legitimacy has been bolstered by particular noteworthy events, especially in recent times.
These include Bitcoin's adoption by a few countries and also by major companies.
On 9 June 2021, El Salvador became the first country to officially adopt Bitcoin as a legal tender.
The move to have Bitcoin accepted in El Salvador was bolstered by Jack Mallers, the creator of the Zap and Strike Bitcoin payments app.
At that time, Salvadoran President Nayib Bukele said Bitcoin's adoption would make it simpler for Salvadorans abroad to send money back home.
In August, Bukele announced that the country would be installing 200 Bitcoin ATMs by 7 September 2021.
Although no other countries have followed suit yet, the global adoption of Bitcoin has increased by close to 900%.
Moreover, it's been reported that Paraguay is seriously considering following in El Salvador's footsteps and adopting Bitcoin as a legal tender.
It should also be noted, however, that Bitcoin's adoption in countries and subsequent legitimacy it brings to the cryptocurrency is a double-edged sword. Many countries place heavy regulations on cryptos or otherwise ban them entirely. This has had a devastating impact on Bitcoin's price.
Most notably, this year saw China imposing heavy regulations on both the trading and mining of Bitcoin which correlated with the dramatic price dive experienced by Bitcoin earlier this year.
Another factor that runs very much along these lines is Bitcoin's adoption by large companies. The most notable example of this has been Bitcoin's flip-flop relationship with electric car manufacturer, Tesla, who's Chief Executive, Elon Musk, decided in March that it would begin accepting Bitcoin as a mode of payment for its products. This announcement, along with Tesla's purchasing of US$1.5 billion worth of Bitcoin saw a significant rise in the cryptocurrency's price as at that time, it seemed that Bitcoin was well on its way to the absolute acceptance for business transactions or purchases. Just over two months later, however, Musk announced Tesla would immediately cease accepting Bitcoin due to the revelation of Bitcoin mining's harmful impact on the environment through excessive energy usage. This happened at around the same time as Bitcoin's woes in China, and although it should be stated that correlation does not necessarily equal causality, it's hard to believe it had no impact at all on Bitcoin's simultaneous price plummet.
The Factors That Influence Bitcoin's Wider Adoption
To what extent Bitcoin will continue to be accepted by major institutions and companies depends on a few key factors. One of these, which has already been mentioned, is its energy usage.
This is a tough one for Bitcoin to get around because if what research has said is true, it appears Bitcoin's mining practices are irrefutably damaging to the environment.
A study from the University of Cambridge earlier this year revealed some alarming data in regards to the energy consumed by Bitcoin mining. One finding that stood out particularly was Bitcoin's annual energy consumption was equal to that of some small countries like Egypt or Malaysia.
While there's been pushback from Bitcoin supporters who claim Bitcoin, in fact, uses clean energy, if the criticism is true, it's not exactly easy to rectify given that Bitcoin's blockchain requires a proof-of-work consensus, meaning the coins are mined through large computers solving complex algorithms. It's these large computers which supposedly consume vast amounts of energy.
Other blockchains that are considered much more environmentally friendly, like Cardano, for example, use a proof-of-stake consensus, which requires much less computing power.
Given that Bitcoin's blockchain is quite old (the oldest), it's difficult to see how its mining practices become less energy consuming.
Other factors, though, which may very well lead to the increasingly wider adoption of Bitcoin, include faster payment processes, lower fees and increased accessibility – all of which Bitcoin is more than capable of achieving.
So will Bitcoin Reach the Half-a-Million mark by 2023?
When you consider that before Bitcoin's crash in May this year, the previous 12 months to May 2021 had seen a growth rate of over 400%. If this proves anything, and
If the same rate of growth continues for the next six months, Bitcoin will go from its current price of US$49,624 to around US$200,000 this time next year.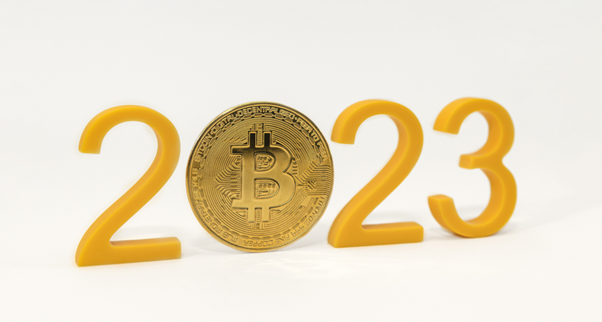 Image source: © Sergejsolomatin | Megapixl.com
While this is no easy feat, if Bitcoin has proved anything, it's that indeed anything is possible. Given Bitcoin's massive aforementioned mid-year price dives, it's difficult to believe that the same kind of plummet can't and won't happen again at some point between now and 2023.
Whatever the case may be, the next two years are going to be monumentally important for the world's first cryptocurrency.