Highlights

Bombcrypto project seems to be a competitor to blockchain games like Axie Infinity
BCOIN token has a relatively very low market cap, and its price has shown volatility
BHERO NFTs are a part of the game's play-to-earn model, also aided by BHOUSE NFTs
Blockchain-powered projects, which combine features like gaming, non-fungible tokens (NFTs), native tokens, and a 'play-to-earn' model are often viewed as a metaverse.
Last year, Mark Zuckerberg lifted the status of the metaverse sector when he announced the change of his company's name to Meta. Now in 2022, some experts are viewing Microsoft's purchase of a gaming entity, Activision Blizzard, as a likely entry of the tech giant in the metaverse sector. No one can exactly forecast how the sector would unfold in the coming years, but for now, blockchain-based games seem to be piquing the interest of many.
Axie Infinity and The Sandbox have gone on to become multi-billion-dollar market cap cryptos. Today, let's look at a comparatively smaller project, which is claiming seemingly similar features.
The Bombcrypto game
With a game that can be played over the web, the Bombcrypto project has two NFT assets -- BHERO, and BHOUSE. The game is based in a fictional space, titled Bomberland. A bomber hero or BHERO, the project claims, must fight against odds to rescue the people inhabiting Bomberland.
Also read: What is Big Time blockchain game & does it have a crypto token?
As stated earlier, a BHERO comes with NFT attributes, meaning each such character would have some unique feature. The game mentions that the NFT can either be acquired by engaging in rescue quests, or it can be bought from the in-house shop or in an auction. The other piece of NFT is the house where the bomber hero returns after having engaged in quests. These BHOUSE can be personalized by users.
Also read: Pawtocol crypto's trading volume soars: What is it & UPI token?
Bombcrypto token (BCOIN)
The project has BCOIN as the native token. The BCOIN token is a BEP-20 cryptocurrency. It enables users to enter the game, besides being used in staking and in gaining access to exclusive things.
Bombcrypto is available on exchanges like PancakeSwap and Biswap. The project mentions BCOIN's maximum supply as 100 million tokens.
Also read: What is Biswap DEX? BSW crypto trading volume spikes 25,000%
Bombcrypto price
Though Bombcrypto seems to be a competitor to projects like Axie Infinity, it had a comparatively very low market cap as of writing. Bombcrypto or BCOIN token was trading at nearly US$0.3.
It is notable that after starting the year with a price of nearly US$2.7, the BCOIN token surged to almost US$4.3 in mid-January. However, the price came under pressure and declined to nearly US$0.2 in late-February.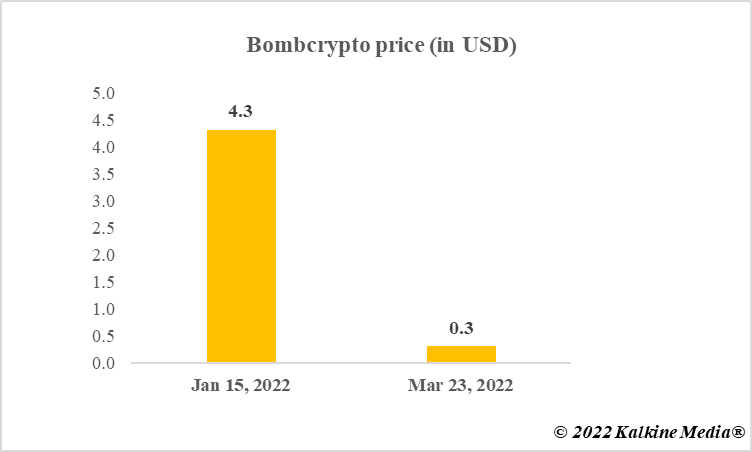 Data provided by CoinMarketCap.com
Bottom line
Bombcrypto's Bomberland has features like play-to-earn and digital assets like BHERO. The game has yet to become a large market cap cryptocurrency. The price of the native BCOIN token has manifested volatility so far in 2022, and hence, Bombcrypto price prediction for the rest of the year is not possible. Moreover, many major crypto assets, including BTC, have lost value in 2022, which means nothing can be said with certainty. Therefore, one must perform due diligence ahead of making any decision.
Risk Disclosure: Trading in cryptocurrencies involves high risks including the risk of losing some, or all, of your investment amount, and may not be suitable for all investors. Prices of cryptocurrencies are extremely volatile and may be affected by external factors such as financial, regulatory, or political events. The laws that apply to crypto products (and how a particular crypto product is regulated) may change. Before deciding to trade in financial instrument or cryptocurrencies you should be fully informed of the risks and costs associated with trading in the financial markets, carefully consider your investment objectives, level of experience, and risk appetite, and seek professional advice where needed. Kalkine Media cannot and does not represent or guarantee that any of the information/data available here is accurate, reliable, current, complete or appropriate for your needs. Kalkine Media will not accept liability for any loss or damage as a result of your trading or your reliance on the information shared on this website.