Highlights

Bitcoin has risen more than 50% from its lows hit in July 2021.
Bitcoin's peers such as Dogecoin, Ethereum, Ripple etc. have also marked their presence with their wild upswings.
The fundamental regulatory roadblock has clipped the wings of the market, making it not so easy to reach to US$100,000 mark.
Having fallen 50% since April's all-time high, the world's largest cryptocurrency has staged a sharp comeback. From the lows of ~US$29,300 in July to the recent peak of ~US$48,100 in August, Bitcoin has had a steep rally of over 50% in less than a month's time, posting positive returns in all four weeks.
Price chart of Bitcoin (Yellow) with 20-day EMA (Blue)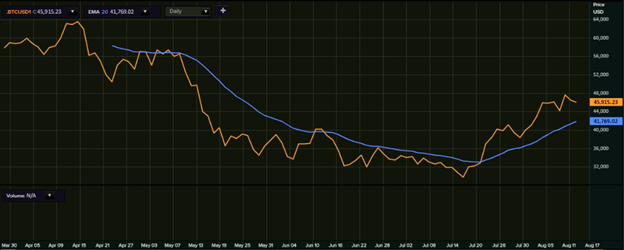 Image Source: Refinitiv; Analysis: Team Kalkine
This has reignited the animal spirit in crypto enthusiasts, advisors and traders who all are now aiming for the moon. With Bitcoin shooting up fairly quickly, some are rooting for astronomical price targets – as high as US$100,000.
Bitcoin is continuing its upward march despite the regulators around the world trying to curb the crypto space. Not to forget the crackdown in China over Bitcoin mining and ceasing of services related to Bitcoin, which was one of the main reasons of its fall from ~US$60,000 as China is the largest hub for Bitcoin miners.
It's not just Bitcoin that has shown a remarkable rally in the past few weeks. Being the bellwether of the crypto space, its peers such as Dogecoin (Doge), Ethereum (ETH), Ripple (XRP) etc. have also marked their presence with their wild gains. The market wide rally has lifted the market capitalisation of cryptocurrencies back above US$2 trillion, according to data from CoinMarketCap.
Image Source: © Ironjohn | Megapixl.com
According to Jehan Chu, founder of Kenetic Capital, even if Bicton climbs all the way to US$55,000, still investors should not expect much and prepare for a significant reversal back to ~US$30,000. Here, it might rest before continuing towards thee US$100,000 mark in 2022. The reason for omitting Bitcoin's potential to make a record high in the near term is the fundamental regulatory roadblock, which has essentially clipped the market's wings. This might take some more time to turn things in favour of the crypto community.
Cryptocurrency exchange Luno's head of business development Vijay Ayyar also doesn't expect Bitcoin to run to US$100,000 in one shot. However, he expects Bitcoin to reach a record high if the resistance around US$48,000 – US$50,000 gets breached.
Related article: What are Bitcoin debit cards and where all you can use it?
Bottom line
Bitcoin is famous for its high volatility and unexpected price swings. The one-sided rally from US$14,000 in October last year to above US$64,800 in April 2021 shows the potential of this mammoth crypto, which does not rule out the possibility to hit US$100,000.
However, as governments around the globe are cracking down on this space and escalating instances of crypto frauds – like the recent US$600 million worth of coins being hacked – would surely make it a bumpy road ahead for the crypto.
Related article: Which are the five leading crypto exchanges in Australia?