Summary

Bitcoin rebounded back sharply by almost 93% in just two monthsafter making a low of USD 9,825 in September 2020.
Bitcoin emerged as a new potential safe haven against the market uncertainty with Bitcoin outperforming gold prices from August 2020 to date.
Paypal Bought 70% of the freshly mined Bitcoin last month due to higher demand from their online consumer which supported the rally in bitcoin prices.
The recentprice action of the digital currency from August – November 2020 defies the price seasonality for the last 5 years.
Bitcoin was trading at USD 18,334 at the time of writing.
Bitcoin prices have rebounded and how! Just in two months time span the crypto currency is up 93% to USD 19,348 on 24th November 2020 after making a low of USD 9,825 in September 2020. Bitcoin prices broke a symmetric triangle pattern on a monthly chart in the July period.
Bitcoin :(BTC=) rebound to three-year peak: Will it be able to make new all-time highs?
Bitcoin(BTC=) Monthly Chart (Source: Refinitiv Eikon, Thomson Reuters)
After the initial breakout from the symmetrical triangle, prices retraced back and took the support of the downward sloping trendline and then reversedupside , confirming the triangle pattern breakout on the monthly chart
At present, Bitcoin prices are showing a volume support with an increase in prices on a monthly time frame, reflecting that bulls are currently taking control of the market over the bears.
Also, Bitcoin prices are currently trading above 50-period and 21-period simple moving averages on a monthly time frame which suggest that the currency is trading in a primary bull trend.
Technical Indicator: RSI (14) is hovering around 80 on a monthly time frame which suggests prices are trading at an overbought region.
The long term resistance levels for Bitcoin are at USD 19,600 and USD 24,593 level on the upper side. Immediate support of the Bitcoin prices is at USD 16,526 and USD 14,267.
Theprices found immediate resistance near the all-time high level at ~ USD 19,600 which also lie at the upper trendline. The ability of the currency to break and sustain above the present resistance level of ~ USD 19,600 would further dictate the price. A break followed by a confirmation could seed further bullish sentiments ahead while a failure to do so could attract bearish sentiment.
Bitcoin the New Gold?
In the rough times of COVID-19, when countries are again trying to implement lockdown in their respective regions, Bitcoin is moving a step ahead in comparison to gold. While the gold prices are losing shine, Bitcoin is rewarding the investing community with its prices outperforminggold, which is surely keeping the momentum in favour of Bitcoin against gold in the race to fetch the label of safe haven for the year 2020.
Gold (XAU) and Bitcoin (BTC=) YTD Daily Charts, Source: Refinitiv Eikon, Thomson Reuters
The above charts represent how both the gold and bitcoin markets behaved post-COVID-19 period especially after August 2020 where gold prices were showing a weak trend while Bitcoin is showing a significant growth in prices during the same time period.
Bitcoin is best described as digital gold. It has been long claimed about bitcoin that it is a safe haven to invest money as against the stock market during times of crisis. However, many are skeptical about Bitcoin acceptance as an alternative to the real currencies and consider it as the last option for investors to invest who are offloading equity stocks from their portfolios.
Interesting Read: Gold Prices Tepid, what is ailing the precious metal bulls?
Paypal Crypto Service Impact the Bitcoin prices
Paypal announced that it's more than 300 million active customers will now have the access to buy, sell, or hold bitcoin and other digital assets by using their PayPal accounts.
Pantera Capital, a cryptocurrency and investment firm, recently claimed that 70% of the total new supply of bitcoins has already been purchased by Paypal which is a major influencing factor that drove bitcoin prices up in recent weeks.
In addition to this, Paypal recently raised the bitcoin purchase limits to USD 20,000 from the USD 10,000 set initially, which ultimately increased the bitcoin demand from its online investor/consumer segment.
Must Read: PayPal throws its hat in the cryptocurrency ring, Bitcoin to become ubiquitous
Bitcoin 5 Year Monthly Price Seasonality Pattern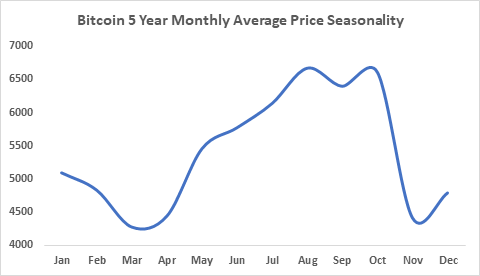 Data Source: Refinitiv, Thomson Reuters, Chart Source: Kalkine Group.
Bitcoin 5 years monthly average prices depict that the currency reached its peak in August month and started moving southwards from mid--September till November.
However, at present, Bitcoin prices defy the existing price seasonality considering the heavy upside movement of prices in Bitcoin in the period between August – November 2020. Meanwhile, historical price data shows Bitcoin prices followed seasonality in 2018 and 2019 where prices either fell or consolidated in August to November.