Highlights

Basic Attention Token (BAT) is ranked 69th among the crypto assets in the market by coinmarketcap.com.
The BAT token was launched in 2017; it provides rewards, cost-saving options to users, advertisers.
BAT rose by 36% in the last seven days and 108% in one month.
The Basic Attention Token (BAT) price was up more than 13% at 7:50 am ET on Friday. Conversely, at the same time, the global crypto market was down around 8%.
BAT's 24-hour trading volume ended at 7:50 am ET was US$3,08 billion.
Its price has been rising over the past one month following a dip after April. Its latest gain contrasted with the overall crypto market's decline.
The altcoin rose 36% in the last seven days and 108% in one month. BAT's latest price rose to the same level registered in April 2021.
Its market capitalization was US$2,26 billion and the circulating supply was 1,492,503,789. BAT's maximum supply is 1,500,000,000.
Also Read: HEX crypto (ERC20) gains 56% YTD: Should you explore this token?
BAT can be purchased from exchanges like Binance, Mandala Exchange, FTX, Huobi Global, OKEx, etc.
But what is the reason that BAT is rising while other currencies are falling.
Also Read: 5 cryptos with high utility to explore in 2022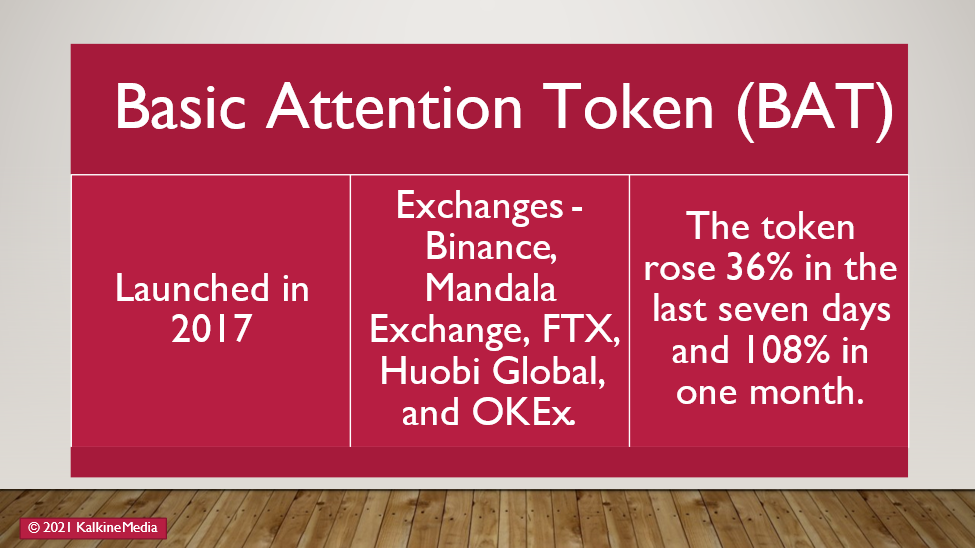 Also Read: Five metaverse cryptos that are making news
What is Basic Attention Token (BAT)?
BAT is a token developed to power the blockchain-based platform for digital advertising. It provides an attention-based ad experience to users through its Brave Rewards program.
BAT's Brave browser gives users a "privacy-preserving" advertisement. Users also get rewards for watching the ads. It provides advertisers security from ad frauds.
The BAT token is distributed to users and advertisers based on their online activity. It is also used for buying ad space and avail reward on its 'Brave' web browser.
The company pays back 70% of its ad revenue to users through its rewards program.
The coin was co-launched by Brendan Eich and Brian Bondy in 2017 through an initial currency offer (ICO).
BAT has 3.5 million on-chain transactions, 7.8 million wallets, and 1.3 million creators. Brave browsers have 42.1 million monthly active users and 14 million daily active users.
Also Read: Top oil and gas stocks to explore after US taps strategic reserves
The BAT coin jumped 10.28% to US$1.50 on Friday, Nov 26, 2021, at 7:26 am ET.
This contrasts with the overall crypto market's decline in recent days due to covid fears and the government's plans to introduce a bill to ban some private cryptocurrencies.
Also Read: Top 10 crypto wallets to explore in 2022
Bottomline
The BAT token is ranked 69th among other crypto assets by coinmarketcap.com. Its recent price gains could be due to the attention-based ad and reward model that can reduce cost.