Highlights

As a crypto investor, the main goal should be to maximise profits while minimising risk.
Using risk management strategies is advisable as the crypto market is volatile.
Portfolio diversification is an effective risk-mitigation strategy for crypto investors.
An investor should be prudent while allocating their money in trading assets. Especially if trading includes investing in cryptocurrencies as the market is quite volatile, making it a risky venture.
Now, if you are a crypto investor, your main goal should be to maximise profits while minimising risk. And, by employing appropriate strategies, this aim should be met
Related Article : Race to crypto throne: Which currency will dethrone Bitcoin?
In this article, we'll look at how to maximise returns by diversifying your crypto portfolio.
What is a crypto portfolio?
Many people are unfamiliar with the term "crypto portfolio". An investor's collection of cryptos coins and Crypto financial products is known as a portfolio.
6 tips to maximise your crypto portfolio return
When an investor allocates a variable percentage of funds to various crypto assets, it is known as crypto portfolio diversification.
Why is diversification in crypto portfolios important?
Crypto investing is incredibly volatile, with prices fluctuating many times each day. As a result, while volatility increases profits, it also causes losses.
Factors affecting a crypto portfolio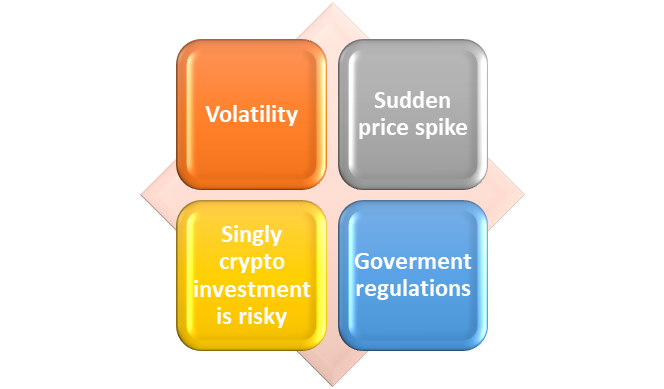 Source: Copyright © 2021 Kalkine Media
It is not surprising to witness a sudden 50% spike in Bitcoin price, and then market correcting itself, bringing Bitcoin prices down.
It is best not to rely on a single cryptocurrency but diversify your investments across multiple cryptos. The optimal investment approach would reduce risk and spare you from a massive loss.
Related Article : Crypto obsession: Would you like to get paid in Bitcoin?
How can you diversify your crypto holdings?
All investors should divide their portfolio into low, medium, and high-risk investments, with suitable weightings.
When it comes to crypto investment, geography is crucial. It is best not to put all your money on crypto ventures in the same country or region.
There should be no second thoughts about researching crypto performance worldwide.
When necessary, reshuffle portfolio as per market performance. The crypto market is highly volatile, investment decisions should be taken based on the current scenario.
Holding stablecoins is a good idea for the portfolio. Stablecoins, which are the backbone of many DeFi platforms, can help lock in winnings quickly.
When making investment decisions, remain cautious. If you had a large return from Bitcoin today, that does not guarantee that you will receive the same return tomorrow. As a result, strategic capital allocation is required.
Related Article: A match made in heaven: Nobility brings esports and crypto together
Outlook
If you want to drive deep into the crypto ocean, you should don a safety jacket. In addition, you should use risk management strategies. Keeping in mind the volatility in the crypto market, portfolio diversification is an effective risk-mitigation strategy for crypto investors.
Related Article : Welcome to Disney's NFT paradise! Elsa, Simpsons, and Iron Man might be yours