Highlights

If Ethereum's Ether token is competing with Bitcoin, other blockchains are mounting a challenge to Ethereum network
Blockchain technology is evolving, and new blockchain networks are adding unique advantages
From altcoins to NFTs, virtually everything needs an underlying blockchain platform, which adds to the competition between Ethereum and others
That blockchain is good but Bitcoin and altcoins are not so good is a separate debate. Even some staunchest critics of cryptocurrencies steer clear from writing the blockchain technology off.
Overall, 2021 was a good year for cryptocurrencies. Despite all the volatility in prices, many crypto assets gained on a year-to-date (YTD) basis. A few like Dogecoin and Shiba Inu rode the meme currency wave. Others, including Solana, surged on the back of their use within the crypto ecosystem, which relies on blockchain tech more than anything else.
5 emerging blockchains that may become Ethereum killers in 2022
Ethereum's token Ether is the second largest cryptocurrency, but will 2022 tilt the balance toward other promising blockchain networks? Here are five blockchains that can mount a formidable challenge.
Also read: 5 breakout altcoins with metaverse underpinning
1. Solana (SOL)
Solana is relatively a very young blockchain network. But technology is one field where new participants can topple even the most established players. Facebook was not the first social media platform, and hence even Solana, launched in 2020, can make its way to the top.
There are a few valid arguments why. Solana uses proof-of-history protocol, which is claimed to be better than proof-of-work or proof-of-stake. Here, it is important to note that all consensus protocols claim their own set of advantages.
Image description: Price of Ether in 2021
In the decentralized ledger world, the time consumed in validating a transaction is of utmost value. Solana blockchain claims to have superior processing speed. Besides, costs matter a lot. Developers must pay gas fees to the blockchain network for using their services. Solana might win on this count. It provides almost the all services, including smart contracts execution and development of DApps to its users.
Solana's rise in 2021 was phenomenal. At one point in November, SOL surpassed US$250 after having started the year at a price of mere US$1.5. Over the past few weeks, price has shown volatility, however, YTD returns are superb.
Also read: Is investing in altcoins better than Bitcoin?
2. Binance Coin (BNB)
Crypto assets are of little use if they cannot be easily traded. Crypto exchanges have been an enabler, and Binance is one of the leading names.
Binance has forayed into many fields, and Binance Chain has is now a top blockchain network. Ironically, this Ethereum rival began its journey as an Ethereum-based altcoin. From an ERC-20 token to now an altcoin completely run on Binance's own blockchain, BNB is also the third largest crypto by market cap.
Binance blockchain works on proof-of-work consensus, the one used by Bitcoin. This protocol is said to have many limitations, but as stated earlier, the debate is ongoing. Binance's sway in the crypto exchange industry makes the blockchain a worthy competitor to Ethereum.
Binance had a volatile 2021, with price rising from US$37 on January 1 to US$670 by mid-May, and then falling sharply over the next few weeks. It has since recovered and reached US$600 by early November.
Also read: What are DeFi games & which are the most popular DeFi games?
3. Cardano (ADA)
Cardano uses proof-of-stake protocol, which Ethereum is now adopting in a phased manner. Cardano has demonstrated its competence in using the protocol, which provides it an edge over Ethereum. In the latter half of 2021, Cardano launched smart contracts and non-fungible token (NFT) support.
As of now, most NFTs are reliant on Ethereum's blockchain services. The rise of blockchain gaming and metaverse can bring a boom in NFTs, and Cardano may find more takers in 2022.
Cardano has gained in 2021, but not as much as some other cryptos like Solana or Axie Infinity. ADA is a low-priced token as compared to some cryptos with a very low market cap. This attribute can attract a few more backers in 2022 considering the exponential rise of low-priced cryptos in 2021.
4. Polkadot (DOT)
Polkadot adds more flavor to the distributed ledger space by providing multi-chain support services. This means it can allow web-based applications to function on multiple blockchains. The concept has its own share of advantages. For example, by linking private and public blockchains, Polkadot might bring out the best in both and overcome their weaknesses.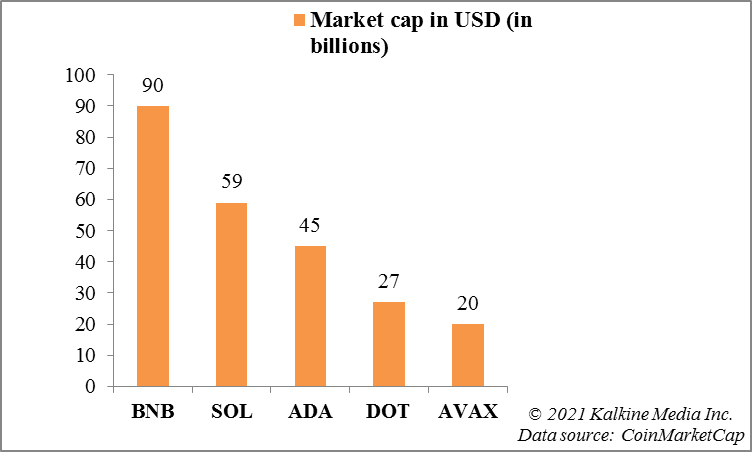 Image description: Market cap of Ethereum rivals
Another unique advantage is Polkadot's self-scalable network capability, which does not need any fork. It uses a unique nominated proof-of-stake mechanism to validate transactions.
Polkadot's DOT token is up on YTD basis, but it exhibited extreme price swings throughout 2021. 2022 could be the year when at least some of this volatility subsides.
5. Avalanche (AVAX)
Avalanche's unique selling proposition (USP) lies in its layered blockchain capability, which consists of three separate chains. The network claims to resolve different issues using three different blockchains, all running on a single network.
It also claims to have earned the patronage of a few Ethereum's blockchain based projects. The services are more or less the same as Ethereum, but functionality is distributed among different chains within the network. Avalanche's another unique feature is the absence of any blocks for transaction validation. This, it claims, makes processing faster.
AVAX token has gained multi-fold in 2021. At one time in November, it reached US$140 mark before a wider correction in the crypto market affected most tokens.
Also read: Is Bitcoin better than gold as hedge against high inflation?
Bottom line
One may even say that Ethereum has yet to find any rival given its wide use within the blockchain space and a market cap that dwarfs the nearest competitor, Binance Coin. A few are also prophesying that 2022 could be the year when Ether finally trumps Bitcoin as the largest crypto by market cap.
Ethereum rivals are claiming to have unique advantages. As of now, the decentralized ledger tech can be said to be evolving. This makes picking the best blockchain network a little difficult. The best consensus mechanism is a matter of debate and it is too early to say that Ethereum's high gas fees are unjustifiable. In 2022, some dust might settle, and backers of Ethereum's rivals may likely get rewarded.