Source: pedrosala, Shutterstock
Stocks of Takung Art Co. Ltd. (TKAT:US or NYSE: TKAT) have continued to rally and put up another stellar trading session on Monday with over 65 per cent returns, propelled by the Non-Fungible Token (NFT) craze.
The Hong Kong-based firm offers a software platform for artwork trading to fine art workers in Asia. Its artwork is known for glass-free three-dimension technology, which went viral on social media such as StockTwits, a digital platform for entrepreneurs and investors.
In the same segment, the share price of Jiayin Group Inc. (JFIN:US or NASDAQ: JFIN) also rose as much as 78.10 per cent on Monday, led by the speculation related to its upcoming NFT application.
The Chinese FinTech company provides a digital stage for borrowers and investors via its cloud-based software.
NFT investors have been showering their money on these two Asian NFT leaders. Let us explore their remarkable stock performances:
Takung Art Co. Ltd. (TKAT:US or NYSE: TKAT)
The art stock has skyrocketed over 484 per cent to US$ 49 per piece in the past one week. Its 10-day average volume is 18.90 million shares against its existing 11.27 million outstanding shares. It has a current market cap of US$ 552.3 million, along with a price-to-book ratio of 100.
It has surged more than 5,949 per cent in the last one year, beating the S&P 500 index that has swelled 2,040 per cent relatively. It is up nearly 3,2011 per cent by the ongoing NFT frenzy.
Takung's One-Year Stock Performance Chart. (Source: Refinitiv)
The stock hit its all-time high of US$ 52.20.90 per common share on Monday. Takung share price is up 2,575 per cent compared with its 52-week low of US$ 0.7726 per share (Recorded on August 12, 2020).
The budding NFT market could push this surge in the upcoming weeks. Hence, investors can keep track of this art brokerage stock.
Jiayin Group Inc. (JFIN:US or NASDAQ: JFIN)
The online service provider engages in advanced analytics and algorithms to assess the risk of potential borrowers. Its present market cap of almost US$ 791 million. The tech ledger stock is also on the NFT collectors' radar.
It has returned an outstanding growth of 380 per cent year-to-date (YTD). Its share price stands at US$ 16.64, which is still 51.20 per cent down from its 52-week high of US$ 30 per common share (set on June 10, 2020).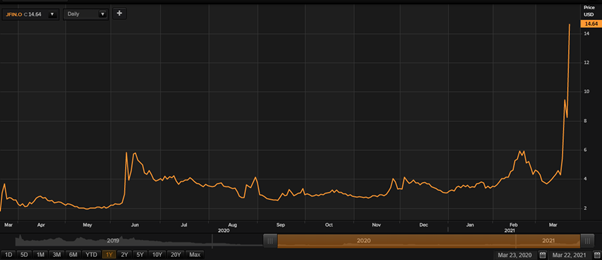 Jiayin's One-Year Stock Performance Chart. (Source: Kalkine)
The FinTech stock has soared nearly 731 per cent in the past one year, surpassing the S&P 500 Consumer Finance Index that has delivered 54.68 per cent returns relatively.
The company registered a loan volume worth US$ 490.5 million in the third quarter of 2020, a jump of approximately 49 per cent quarter-over-quarter.
The above constitutes a preliminary view and any interest in stocks should be evaluated further from an investment point of view.