Highlights

Penny cryptos, experts say, are those that are trading under US$1
These may pique the interest of a section of crypto investors that looks for quick profits
Prices may swing in any direction, and hence it is good to know what the project is offering
Despite all the underlying risks, cryptocurrencies are on many investors' radars. And why not? A few coins last year made their backers rich, indeed if they bought and sold off the asset at the right time. Solana's SOL and Axie Infinity's AXS were two tokens that rose from a price of nearly US$1 to a three-digit price per token
This also shines the spotlight on cryptos that may have a very humble price tag, but their returns could dwarf the price appreciation of biggies like BTC and Ether. A few analysts say that low-priced tokens have a unique lure, which may attract retail as well as institutional investors. These low-priced tokens are popularly referred to as 'penny' cryptos.
What is a penny crypto?
A penny crypto, according to a broad consensus among crypto experts, is a token that can be purchased at under US$1. The cryptocurrency universe, which comprises native tokens, fan tokens, and NFTs, is still evolving, and many tokens may not be priced very high.
But it does not mean these tokens cannot appreciate well. A steep rally in a short time can bring windfall returns for backers. That said, these cryptos are relatively more volatile, with prices fluctuating in either direction.
Hereunder are ten penny cryptos that make for a close watch in 2022.
Also read: Top 5 cryptos to watch long term
1. XRP (XRP)
XRP is the native token of the popular XRP Ledger, which houses the RippleNet platform. According to the project, the XRP Ledger is distributed and open source but is not based on a blockchain.
XRP, with its market cap of nearly US$38 billion, ranks in the top ten cryptos list of CoinMarketCap, but the price per token is nearly US$0.80 as of writing. XRP's high market cap, and the wide popularity of the Ripple platform, thanks to the SEC-Ripple lawsuit, make the XRP penny token an interesting crypto.
2. Cardano (ADA)
Ideally, ADA should not feature on this list. But there exists no official definition of penny stocks, and hence, ADA's price of just above US$1 makes it.
A popular blockchain network, Cardano may be said to be a formidable competitor to other blockchains like Ethereum and Solana. The latter soared in leaps and bounds in 2021. Might ADA see something similar in the coming months?
Cardano's price might be a product of how its blockchain makes further inroads in the world of DeFi and DApps. One of the top ten cryptos, ADA's humble price tag may attract many.
Also read: Nubank: Warren Buffett's Berkshire Hathaway parks $1B in crypto backer
3. Dogecoin (DOGE)
There was a huge buzz lately about McDonald's' approval of Dogecoin as a form of payment, but it remained wishful thinking. That aside, Elon Musk is seemingly one of the supporters of this penny crypto, which was trading under US$0.15 as of writing.
Dogecoin's market cap of over US$18 billion makes it one of the top cryptos, and its low price could be a good attraction. Dogecoin may find utility in the so-called Web 3.0, where token-based economics might rule as the preferred medium of exchange.
Data provided by CoinMarketCap.com
4. Shiba Inu (SHIB)
SHIB is making noise in the crypto market. In the coming days, the Shiba Inu project may add a new blockchain network, Shibarium, as well as a new stablecoin SHI. Shiba Inu, like Dogecoin, emerged as a meme token, but both are gradually making it into the mainstream crypto universe.
SHIB has the lowest price per token among cryptocurrencies with significant market capitalizations. It is trading at nearly US$0.00003 as of now, and 2022 could be the year when SHIB may come closer to US$1, but this largely depends on the ability of the project to attract more backers.
5. Crypto.com Coin (CRO)
BNB, which is linked to the Binance cryptocurrency exchange, is famous. CRO is linked to the Crypto.com exchange, but it has yet to make similar noise. Matt Damon's appearance in a Crypto.com ad made some heads turn, but the CRO token has yet to build on the momentum.
As people warm up to cryptos, the Singapore-based Crypto.com exchange may find more users, and its CRO token, which facilitates incentivizing users, may grow in value.
Also read: BTT, SHIB & XEC: Top 3 cheap cryptocurrencies with market cap over $1B
6. TRON (TRX)
The TRON network focuses on decentralized content sharing. The popular token BTT of torrent file-sharing project BitTorrent uses the TRON blockchain, which claims to have faster transaction speed than Bitcoin's blockchain or that of Ethereum's. It can support the deployment of DApps.
TRON is one of the top 25 crypto assets according to CoinMarketCap, and its price per token is under US$0.10 as of now. TRX may rise to US$1 by the end of this year, but for this, its blockchain must be able to excite more DApps developers.
7. Algorand (ALGO)
Using the proof-of-stake consensus method, to which Ethereum is shifting, Algorand is another network that is competing in the blockchain space. It claims to provide low transaction fees to users, besides the opportunity to create DApps.
ALGO token holders can also stake their holding for validation purposes, and thus earn revenue without having to sell cryptos. ALGO was priced over US$1 at the beginning of this year, but the price is under US$1 as of writing. The price may breach US$5 by the end of this year if more developers flock to the network.
8. Stellar (XLM)
IBM Corp. is said to be using the network of Stellar. The Stellar network wants to team up with large tech corporations in order to make cross-border remittances less costly. Stellar is major penny crypto, and if the blockchain can attract more tech firms in the future, the native XLM token may return well in the medium-to-long term.
9. Hedera (HBAR)
Heard of Hashgraph, a decentralized network that claims to be better than a blockchain? The Hedera project is linked to Hashgraph, which can support smart contracts and decentralized apps just like blockchains.
Hedera also provides support for the minting of non-fungible tokens. HBAR serves as the native token, and it can be used for staking functions. Presently trading under US$0.3, HBAR may rise if Hashgraph can emerge as a strong contender to blockchain's supremacy.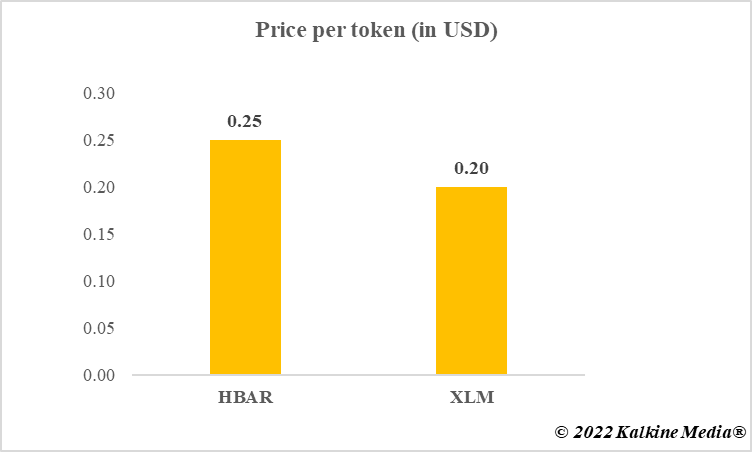 Data provided by CoinMarketCap.com
10. VeChain (VET)
Ranked among the top 50 cryptocurrencies, VeChain is a network working in the field of decentralized data sharing. VeChain claims it has use in various sectors including energy and even SDGs.
VET is one of the two tokens of VeChain, and it is priced under US$0.10 as of writing. If VeChain can make the global supply chain decentralized and more efficient, as it claims, the VET token may rise as a result of demand by users of the VeChain network.
Also read: Bitcoin price prediction 2025: Can Web 3.0 catapult BTC to $300,000?
Bottom line
Penny cryptos may rise above US$1 at any time, but they may also lose value. That said, these remain a close watch for crypto enthusiasts.