Highlights

Meridian Energy posts on-par financial performance and strong momentum in its operating business.
Reports a reduction of 36% in its 1HY22 net profit, owing to lower Tiwai Point revenue.
Will distribute 5.85 cps as interim dividend in April.
Meridian Energy Limited (NZX:MEL, ASX:MEZ) today published its 2022 interim results, wherein the Company witnesses reduced first-half earnings.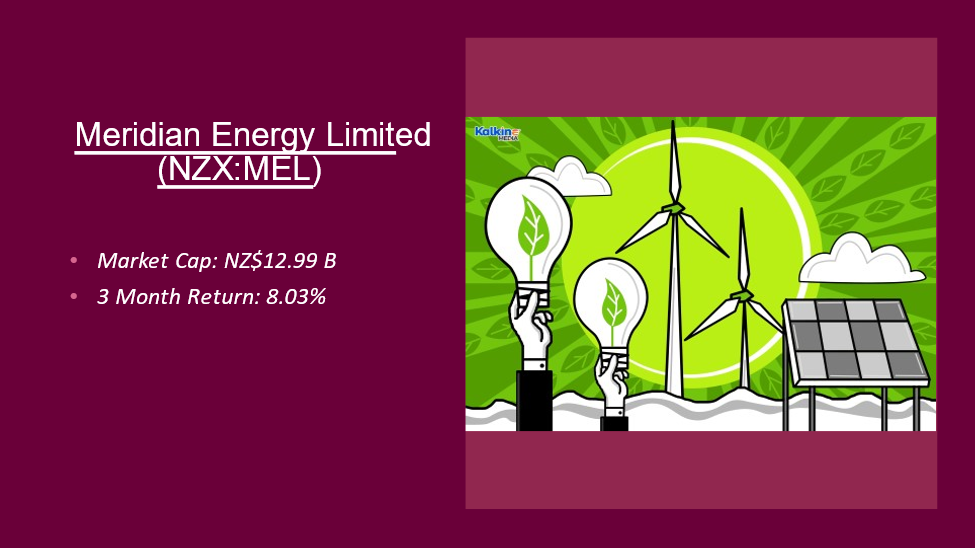 Source: © 2022 Kalkine Media® data source- Refinitiv
Gains offset by reduced revenue from the Tiwai Point Aluminium Smelter
MEL, one of the leading electricity generators across the country, has posted a slump of 36% in its net profit from continuing operations, which amounted to NZ$145 million for the six months ended 31 December 2021, majorly on account of negative changes in the net value of hedge instruments.
Its total revenue for 1HY22 was recorded at NZ$1,672 million, down by 1%, despite higher power generation.
Further, the Company's EBITDAF stood at NZ$394 million, a decline of NZ$1 million from the same period in 2020.
Neal Barclay, MEL's Chief Executive, states the operating performance in 1HFY22 includes reduced revenue received from the Tiwai Point Aluminium Smelter, its largest customer.Hence, the Company witnessed on-par financial performance and strong momentum in its operating business.
Do Read: 3 NZX green stocks on investors' radar- CEN, MEL, GNE
Further, increased retail and wholesale contracted sales and higher generation volumes helped Meridian in offsetting impacts of reduced pricing on the contract with New Zealand's Aluminium Smelter.
Increased interim dividend when compared to preceding year
MEL has announced paying an interim dividend of 5.85 cps, a rise of 2.6% from the previous year's interim dividend.
The same would be paid on 8 April to its shareholders, with the record date being 18 March.
It is noted that the Dividend Reinvestment Plan will be applied to the above-mentioned interim dividend, and new shares will be issued on 8 April, under the said reinvestment plan.
Working on developing the first large-scale green hydrogen plant across the globe
Further, the energy company has completed the sale of MEA in January 2022, the sale price of which was settled at AU$740 million.
Related Read: What is Meridian Energy Limited's (NZX:MEL) latest sale all about?
MEL expects the gain on the said sale to be recognised in FY22.
Talking about the Southern Green Hydrogen project, Meridian's joint venture with Contact Energy, four potential partners have been selected for the next phase of the project for investigating the possibility of developing the world's first large-scale green hydrogen plant in Southland.
Bottom Line
Meridian Energy Limited remains committed to providing excellent customer service and support and working in tandem with its stakeholders, sector and the government.
At the time of writing, Meridian share pricewas down by 5.86% at NZ$4.980 on 23 February.